I
f you cannot view our HTML newsletter with photos, click here to read it at our Web site.
Weaver's
Newsletter
An Online newsletter of
"The Andy Griffith Show" Rerun Watchers Club (TAGSRWC)
**** Merchandise Update ****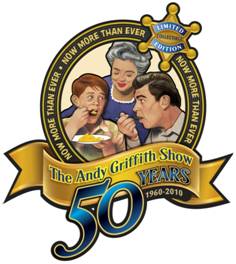 Things have really been popping in the world of Mayberry merchandise during the last few months. There's something for everybody. A lot of the activity has been centered around the 50th Anniversary of the show, which kicked off on Oct. 3. The celebration is expected to continue well into 2011 as more new products roll out. You'll find dozens upon dozens of great items in all price ranges on the online shelves of www.weaversdepartmentstore.com.
Here are some of the newest items, including two that are coming out between now and Christmas:
Mayberry's Finest Brand Foods, the official food licensee of "The Andy Griffith Show," is commemorating the show's 50th Anniversary with the issue of...
Mayberry's Finest Special 50th Anniversary Edition Lithographed Gift Tin
https://www.weaversdepartmentstore.com/catalog.php?item=303
Featuring a CD by The Grascals
$22.00 NEW!!!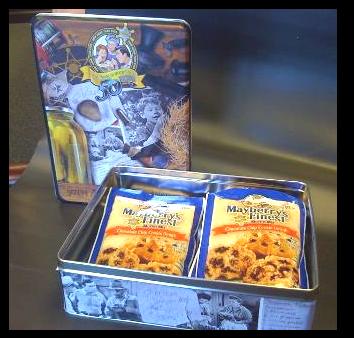 Fresh from the oven in December, this gift tin will contain four of the most popular varieties of Mayberry's Finest baking mixes, such as Peach Cobbler and Cinnamon Toast muffins. As a treat for fans of the show, the collectible tin features images of some of Mayberry's most representative memorabilia.
And as a special feast for the ears, the gift tin will include a brand new CD of Mayberry tunes by the awarding bluegrass band The Grascals. Among the songs that will make you laugh is a tune they worked up just for this CD. It's called "Boy, Giraffes Are Selfish."
The 50th Anniversary gift tin will be available for shipment after Thanksgiving on the Mayberry's Finest website, through a TV direct marketing campaign, and at a very few select retailers, including Weaver's Dept. Store!
We're now taking pre-orders for the gift at Weaver's. We expect the first gift tins to be ready for us to ship out around Dec. 12, in plenty of time for Christmas. There will be a very limited number of these gift tins available this year. We feel sure that we'll sell out quickly, as will the handful of other retailers chosen to offer this initial allotment. It's not often that we suggest folks in Mayberry hurry, but this would be one of those times.
"The Andy Griffith Show 50th Anniversary-The Best of Mayberry" DVD
https://www.weaversdepartmentstore.com/catalog.php?item=304
$25.00 $22.00 New!!
Release Date: Dec. 21st—Taking Pre-Orders Now!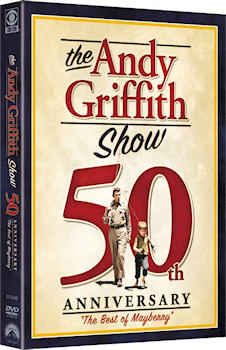 O.K., this is a really exciting new item-one we've long been hoping for-but it's really going to be cutting it close for Christmas. The official release date is Dec. 21. Yipes! The good news is that we're counting on our shipment arriving in time for us to ship a little bit before that date, so that the DVDs can be delivered to all Mayberry homes in time for Christmas. All indications from the distributor are that that should happen.
In any case, this is definitely a DVD worth waiting for. Here's some of what's on it:
* 17 Favorite Episodes:
"Christmas Story"

"The Pickle Story"

"Barney and the Choir"

"Mr. McBeevee"

"Convicts-at-Large"

"Man in a Hurry"

"Class Reunion"

"The Darlings Are Coming"

"Barney's First Car"

"Dogs, Dogs, Dogs"

"Mountain Wedding"

"Opie the Birdman"

"The Sermon for Today"

"Citizen's Arrest"

"Fun Girls"

"Barney's Sidecar"

"Goober and the Art of Love"
* "Danny Meets Andy Griffith" (the "Danny Thomas" pilot for TAGS)
* Clips from Season Premiere nights for the 1962-63 and 1963-64 seasons
* The 1986 Return to Mayberry reunion movie
* "Fishin' Hole" montage
* Sponsor commercials featuring cast members
* And a couple of more special features

This collection is chockfull of great Mayberry moments. And the price makes for a truly unbeatable combination of quantity, quality and value. It's a dream come true for Mayberry fans everywhere.

"A Mayberry Christmas" Color Print
https://www.weaversdepartmentstore.com/catalog.php?item=300
$60.00 $30.00 New!!!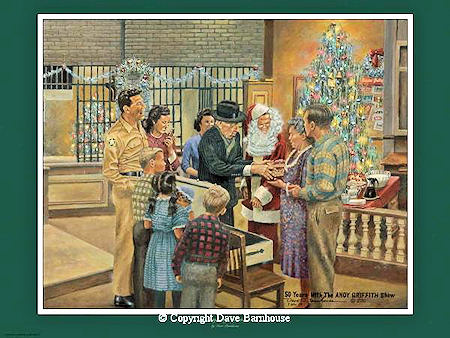 Released in time for the holidays, this is the third print in the initial release of three prints in the officially licensed series of Mayberry artwork by acclaimed artist Dave Barnhouse. (The first two in the series are called "Together Forever" and "Mayberry, My Hometown." See them below.)
Dave Barnhouse has captured the sentiment of the touching Courthouse scene in the "Christmas Story" episode when Ben Weaver generously expresses the spirit of Christmas. It's one of the all-time classic moments of the series, and one that is sure to instantly cause feelings of holiday joy for anyone who sees it.
The image size of the full-color print measures 18 in. x 24 in. (the image itself is 16 in. x 20 in.). Dave Barnhouse has signed each print in this open-edition work.
Apparently already feeling good with the Christmas spirits, Ol' Ben Weaver has trimmed the price of this outstanding print from $60 to an unbelievable $30. Yes, that's right....half off! We think Ben's feeling so generous just because he's depicted in the painting, but we'll take whatever price break he gives us! That 50% savings will definitely "merry up Christmas" for the rest us! Thanks, ol' Ben!
Bring a little Mayberry cheer into your home and the homes of friends...even if you don't have a skinny Santa Claus to deliver it!
"Mayberry, My Hometown" Color Print
https://www.weaversdepartmentstore.com/catalog.php?item=299
$60.00 $50.00 NEW!!!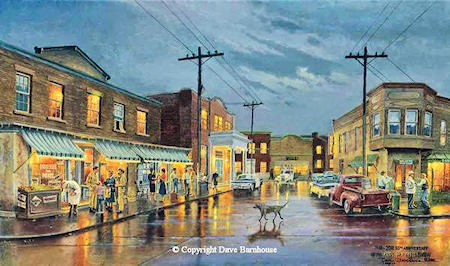 Released in September, this is the second print in the initial release of three prints in the officially licensed series of artwork by top nostalgia artist Dave Barnhouse.
The image size of this giant full-color paper print measures 17.5 in. x 30 in. The engaging scene of Main Street at night beautifully captures favorite Mayberry characters and landmarks. What a wonderful depiction of gentle Mayberry life!
Once you have this print on a wall, you can sit back and take a stroll with your imagination and escape into this inviting Mayberry scene!
Dave Barnhouse has signed each print in this open-edition work.
And as a bonus, we've now got this huge print at $10 off the suggested price!
.
Limited Edition "Together Forever" 50th Anniversary Color Lithograph
https://www.weaversdepartmentstore.com/catalog.php?item=298
by Dave Barnhouse $130.00 $100.00 NEW!!!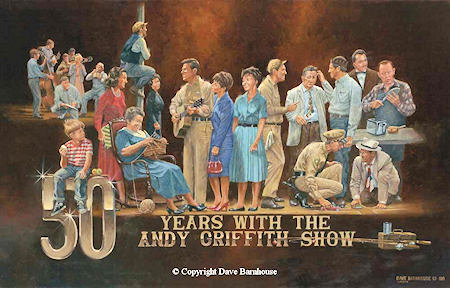 This spectacular print is titled "Together Forever" and is brand new and just in time for the 50th Anniversary of "The Andy Griffith Show." It's a beautiful rendering by renowned Americana artist Dave Barnhouse.
The image size of the full-color lithograph measures a generous 17.75 in. x 28 in. and includes 21 favorite Mayberry characters.
The Edition is limited to a total of 5,900 pieces, all signed by the artist. We expect them to sell out very quickly.
What a marvelous commemoration for the 50th and beyond that Dave Barnhouse has created for Mayberry fans!
And even better for Weaver's customers... we've now got this beautiful print for $30 off the suggested price. We've reduced it from $130 to $100 as a way to celebrate the 50th and make it a little kinder to Christmas budgets as we head into the holiday shopping season.
I Wish Life Was Like Mayberry CD
https://www.weaversdepartmentstore.com/catalog.php?item=301
by Rodney Dillard $16.00 NEW!!!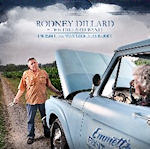 This CD, released in September, features Rodney Dillard singing lots of favorite Darlings tunes from "The Andy Griffith Show," along with other popular Dillards tunes and some later songs about the Darlings. These are some classic bluegrass and Mayberry songs for any fan of, well, bluegrass and Mayberry!
Features 19 tracks and some bonus material. Ol' Ben Weaver knows a toe-tappin' good deal when he sees one!
TRACKS:

1. MAYBERRY MOMENT

2. THE DARLIN' BOYS

3. THERE GOES THE NEIGHBORHOOD

4. THERE IS A TIME

5. WICKER ROCKING CHAIR

6. DOOLEY

7. DOUG'S TUNE (Instrumental)

8. SALTY DOG

9. EBO WALKER

10. THE MAYBERRY HAT

11. BANJO IN THE HOLLOW (Instrumental)

12. LEANING ON THE EVERLASTING ARMS

13. THE ANDY GRIFFITH SHOW

14. WET SHOES IN THE SUNSET SUITE

15. LEAKY BOAT

16. G-MAN BARNEY

17. PICTURES

18. GOOBER AND ROY

19. PARENTING
Bonus Material: A Tribute to Mayberry Values
From the archives of the popular radio show "Mayberry Minute," hosted by Rodney. The radio show ran nationally for three years as Rodney took a look back at "Andy Griffith Show" episodes and the life lessons they taught.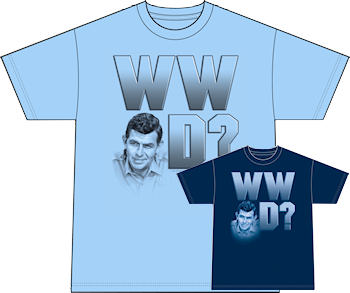 What Would Andy Do? T-Shirt NEW! $18.00
https://www.weaversdepartmentstore.com/catalog.php?item=302
This design on a preshrunk 100% cotton T-shirt in Carolina Blue poses the question whose answer will always get our attention. (Of course, we all already know the answer..."the right thing.")
Sort of like a rebus puzzle or the old "Concentration" TV game show, this shirt might give passersby a slight pause before they break into a knowing grin and nods of agreement.
This is a shirt that makes a statement without ever saying (or even spelling!) a word.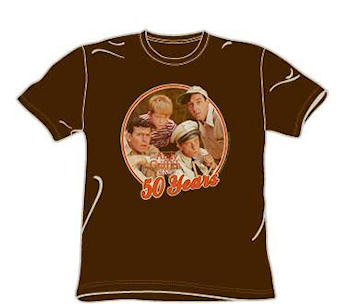 * 50th Anniversary T-Shirt $18.00
https://www.weaversdepartmentstore.com/catalog.php?item=290
Can it really be 50 years? Shazam! This shirt has a classic image of Andy, Barney, Opie and Gomer on a heavyweight 100% preshrunk cotton shirt. The color of the shirt? Courthouse Coffee, of course!
Limited Edition "The Andy Griffith Show" 50th Anniversary Portrait
Special Price: $60.00 $40.00
https://www.weaversdepartmentstore.com/catalog.php?item=259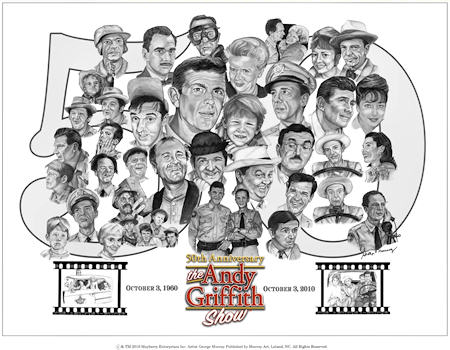 What a beautiful way to celebrate the 50th Anniversary of TAGS! This handsome print is sure to be a cherished lifetime keepsake marking this special time in the history of TAGS. But more than a keepsake, it's a superb work of art whose many smiling faces will bring instant grins to the faces of everyone who sees it.
Printed with premium inks on archival paper, this outstanding 12 in. x 16 in. collage pencil portrait is signed and numbered by talented Wilmington (N.C.) artist George Murray and officially licensed by CBS Consumer Products. It's limited to a maximum of 10,000 prints.
The suggested gallery price for this commemorative print is $60, but we've got it at Weaver's for just $40.
And More...
We have the first five seasons of "Matlock," along with all seasons of TAGS (including a Box Set with all eight seasons, the "Danny Thomas" pilot and the Return to Mayberry movie) and all five seasons of "Gomer Pyle, U.S.M.C." And we have a nice assortment of the best movies starring Andy Griffith and Don Knotts. They're in the DVDs Section at Weavers's.
Also, be sure to check out our Collectibles & Special Items at Weaver's. There are some unique and rare items there that make special gifts.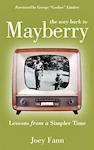 Two Mayberry books have come out with new editions in time for the 50th Anniversary. First, Joey Fann has added a touching new Introduction (and a new cover) to his The Way Back to Mayberry: Lessons From a Simpler Time book, based on the Mayberry Bible Study Class that he created. The price is still the same ($13.00).

And The Andy Griffith Show Book by Goobers Beck and Clark is marking its 25th year with...a new starburst that says 50th Anniversary Edition instead of 40th Anniversary Edition. (After 25 years of letting the writers tinker with updates, we guess the publisher was just too happy with things to encourage more changes.) And while the new edition will now cost you 4 cents more in stores (with a cover price going up from $17.95 to $17.99), it's still just $15.00 at Weaver's.
Phone Orders
In addition to accepting orders online or by mail, our Weaver's Dept. Store has a phone number FOR ORDERS ONLY (615) 604-1298. The phone number is generally in operation from 9 a.m. to 6 p.m. CT Monday through Saturday. (They sneak out to go fishin' a lot, so if you miss them during business hours, just leave a message with a number where they can call you back.)
Please call this number only for ordering or for inquiring about orders placed by phone. All inquiries about online orders and mail orders should be made online and by mail, respectively.


Floyd's Barbershop
Bulletin Board & Event Calendar
The Andy Griffith Museum, featuring Emmett Forrest's amazing collection of Andy Griffith artifacts and memorabilia, is open on its regular daily schedule in Mount Airy, N.C. For info, visit the Web site at www.andygriffithmuseum.org or call (336) 786-1604.
* Oct. 3: 50th Anniversary of the airing of the first episode of "The Andy Griffith Show" on CBS!
* Nov. 11: Rodney Dillard and the Dillard Band perform at the Reliving the Memories Dinner Theatre in Sardis, Ala., from 7:00-8:30 p.m. For more info, visit www.legendsinmotion.com.
**** 2011 ****
* Jan. 14: The Dilemma, Ron Howard's latest movie as director, opens in theaters nationwide.

* Mar. 3-5: The George Lindsey/UNA Film Festival in Florence, Ala. Details and guests TBA. For more info, visit: www.lindseyfilmfest.com.
* Sept. 23-25: 22nd Annual Mayberry Days in Mount Airy, N.C. Shows already confirmed include two concerts by The Doug Dillard Band, "An Afternoon with James Best," "Tied Up in Knotts" starring Karen Knotts, Memories of Elvis with Michael Hoover, the "Salute to Mayberry" with the VW Boys, Professor Brower's Lecture with Neal Brower, the Golf Tournament and Banquet, and Colonel Tim's Talent Time. Tickets are on sale online at www.mayberrydays.org. More stars and events TBA.
* Nov 12-17: A Cruise to Mayberry 6 5-day Western Caribbean cruise aboard Royal Caribbean's "Jewel of the Seas." Leaving from Tampa, FL with ports of call in Cozumel, Costa Maya and 2 days at sea. For more details, contact Sharon at All About Cruises by phone (10am-5pm ET) 1-800-832-7993. More details to come. (Note: You must be part of the "Mayberry Cruise" in order to attend Mayberry portions of the cruise.)
**** News of Cast & Crew ****
Andy Griffith has been getting lots of attention and weathered some partisan controversies about his three recent public service TV commercials (and some print ads) for Medicare. In case you've missed them, here's a link to the first one: AndyGriffithMedicarePSA. And, the North Carolina Music Hall of Fame inducted Andy on October 7 (he did not attend the induction ceremony).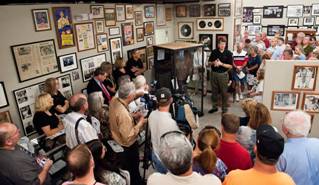 An overflow crowd gathered at the Andy Griffith Museum for the unveiling of the suit donated by George Lindsey to Emmett Forrest's Andy Griffith Collection. Photo by Hobart M. Jones.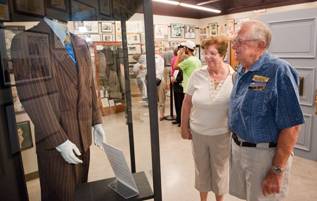 Margaret and Sparky Sparkman of Walkerton, N.C., admire George Lindsey's suit following the unveiling. Sparky is also blocking our view of the original Sheriff sign from the courthouse door on TAGS. (Attaboy, Sparky!) Photo by Hobart M. Jones.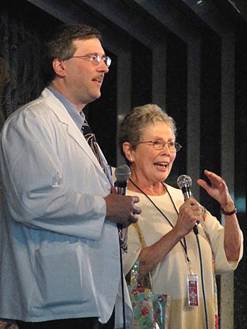 Allan Newsome and Jackie Joseph onstage during this year's Mayberry Cruise. Photo by Jan Newsome.
Ron Howard's next film as director is The Dilemma, which stars Vince Vaughn, Jennifer Connelly, Kevin James, and Winona Ryder. It'll be in theaters in January. Ron has also secured rights to make movies and a TV series of Stephen King's Dark Tower. Production is expected to begin next year.
Daughter Bryce Dallas Howard has a lead role opposite Matt Damon in Clint Eastwood's Hereafter, which is now in theaters nationwide. And Ron has frequently been in the gallery watching son Reed play in golf tournaments during recent months (and years). After a successful collegiate career as an amateur, Reed is trying to qualify for the pro tour this fall.
Here's a link to a good interview with Ron by reporter Pat Gallagher for AOL's Popeater: Ron Howard Interview.
Clint Howard has a fun part in The Dilemma, and he also has a fun, politically-tinged (conservative) video that's getting lots of attention online. Here's a link: ClintHowardHeritageforAmericaVideo. And he stays constantly busy working on independent films.
George Lindsey received an incredible amount of media coverage in the last couple of months. Or at least a suit he wore on TAGS and others shows did. George donated a brown striped suit he wore as Goober to the Andy Griffith Museum in Mount Airy. George was unable to attend the unveiling on Aug. 27th in person, but he did offer this comment: "It's an honor for me both to have my stuff on display and also that people want to see it. Of course, this 'stuff' was on TV a long time-and still is. Generations of TV watchers continue to love Mayberry and all of its characters. I'm proud to have portrayed one of those characters. The love is mutual."
Mount Airy residents Betty Lynn and Emmett Forrest, Andy Griffith's lifelong friend whose collection makes up most of the museum's exhibits, were on hand for the unveiling and to welcome a capacity crowd. The suit's unveiling made the front pages of at least two newspapers and also received prominent coverage in dozens of other newspapers across the country, including the Los Angeles Times and Kansas City Star, as well TV stories. It was big!
George Lindsey was also recently profiled in his hometown (Jasper, Ala.) newspaper. Here's a link: MountainEagleGeorgeLindseyArticle.
And Betty Lynn continues to greet visitors and sign autographs once a month at the Andy Griffith Museum. (She sometimes greets and signs more than once a month as she did in September and in October, when she was also at the Museum to mark the 50th Anniversary of TAGS on Oct. 3.) She's usually there during the afternoon of the third Tuesday of the month, but check the museum's website for the schedule and updates at www.andygriffithmuseum.org.
Maggie Peterson and Rodney Dillard were a big hit for the annual DARE fundraiser in Troy, N.C., on Aug. 7. Here's a link to their performance of "There Is a Time" in memory of fellow Darling Mitch Jayne, who passed away just days before the Troy event: ThereIsATimeTroy.
Doug Dillard was featured as the Master Artist for a seminar and Annual Bluegrass Concert at Glenville State College in Glenville, W.V., on Oct. 19. Keep up with Doug at www.dougdillard.net and www.hillbillyhollywood.com.
Rodney Dillard has been touring with his Rodney Dillard Band in support of the I Wish Life Was Like Mayberry CD, which was released in September. (See listing above in the merchandise section.)
Dean Webb is wrapping up another season performing with the Missouri Boatride Bluegrass Band. Most of their dates are near the band's home base in Missouri. You can see their complete schedule at www.missouriboatride.com.
Fresh on the heels of Mayberry Days, Jackie Joseph was a big hit on the Mayberry Cruise 5 to the Bahamas this month. She was joined by the VW Boys, several Mayberry tribute artists and waves of fans.
Richard O. (Dick) Linke, TAGS associate producer and longtime personal manager for several TAGS stars, celebrated his 93rd birthday on Oct. 23. Family and friends gathered at his palatial home on the Big Island in Hawaii. Dick reports that he and wife Bettina have just completed another large addition to their home.
And here's one more Cast & Crew link, this one from near the Pebble Beach Links. It's a nice newspaper article from August about TAGS director Peter Baldwin, one of the great talents behind the camera: PeterBaldwinmontereyherald.
**** Remembering Mitch Jayne 1928-2010 ****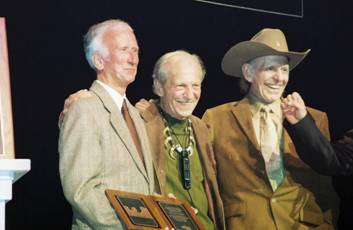 Mitch with Dean Webb (left) and Doug Dillard (right) at last October's IBMA Hall of Fame induction of The Original Dillards in Nashville.
Amid our anticipation about the 50th Anniversary, Mayberry and the world lost one of the all-time greats when Mitch Jayne died this summer. Mitch was the pipe-puffing bass player in Mayberry's Darling family and he was the storytelling voice of The Dillards. He was also so much more.
Mitch was a person who was beloved by all. He's also one of those people who, even after they have passed, leave you still feeling their presence. Not in the way of a Hiram, the fiddling ghost in Mitch's awarding-winning Fiddler's Ghost novel, but simply in the way that his love of life and adventure, the embroidery of his velvety storytelling, and his wry laugh stay with you.
Mitch lived life to the absolute fullest. He savored every moment in a total embrace. When the time came for him to leave us, he did so with tremendous grace and humor and peace, just as he had lived.
There's so much that could be said about Mitch, but the official obituary from his family says it about as well as anybody except maybe Mitch himself could say it. Here's the text they submitted:

Author, musician and humorist Mitch Jayne, 82, died Monday, Aug. 2, 2010, in Columbia. Jayne was the author of five books, a weekly newspaper column published in the rural Ozarks for 20 years, and more than a dozen bluegrass songs recorded by The Dillards. He hosted a radio show in Salem that attracted national attention for its satire, including the "Snake and Tick Market Report," a regular feature that reported market prices for Hoo-Boy White Dot Crushproof Dry Valley Wonder Ticks and black, copperhead, coachwhip, garter and rattle snakes.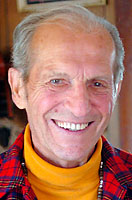 A memorial service is planned for the fall in the Ozarks, the time and place Jayne loved best and never tired of sharing through his stories and music.
Jayne was born July 5, 1928, in Hammond, Ind., the son of Bea and Gus Jayne. After a stint at the University of Missouri, he began teaching in one-room schools in Dent County, where he documented the use of the forgotten words and phrases of Elizabethan English spoken by his pupils.
He once asked a 6-year-old what his father did for a living. "He principally farms," the youngster told him, "and when he isn't farming, he sits on the porch and plays the fiddle, just to beguile the time." One day when a student learned he wanted to see a beaver in the wild, the student told him, "Mr. Jayne, there's a beaver a workin' forenent the mill." When Jayne asked a student to stay after school for some chore, the boy replied, "No, Mr. Jayne, I'd best haste home. Mother don't sanction us being dilatory."
Jayne published his recollections of his students' use of Elizabethan English in 2000 in Home Grown Stories & Home Fried Lies, illustrated by his wife, artist Diana Jayne. He lamented the consolidation of one-room schools, comparing it to the influence of TV and radio that brought homogeneity to language and culture, ultimately leading to the demise of the rich old English phrases in their last sanctuary in the remote Ozarks mountains.
In 1962, Jayne befriended talented bluegrass musicians Douglas and Rodney Dillard, who invited him along to seek their musical fortunes in California. Jayne learned to play the bass lying down in the back of their station wagon en route to the West Coast. They played several venues, including the hungry i in San Francisco, where they caught the attention of critics for their hard-driving melding of electrified bluegrass and rock. They were invited to play on "The Andy Griffith Show," where they appeared regularly as the Darling Family for three years.
Jayne authored many of The Dillards' best-known works, including "Dooley," "The Old Home Place" and "The Whole World Round." The group recorded more than 20 albums from 1963 to 2006, but Jayne's participation in the group waned in the late 1970s.
While in California, Jayne also published his first books, The Forest in the Wind in 1966, and Old Fish Hawk in 1973. Old Fish Hawk, about an Osage Indian, was made into a movie starring Will Sampson in 1979. Jayne returned to Missouri around 1974 and built a house adjacent to the Marcoot region of the Mark Twain National Forest. One week before Christmas in 1981, a spark from the massive stone chimney of his house caught the handmade shakes of the roof on fire and destroyed his home. Two weeks later, his bluegrass friends held a benefit concert to raise money to rebuild the house, which he moved into in 1983.
His popular radio show, "Hickory Holler Time," broadcast on KSMO in Salem, featured local news, bluegrass music, "The Snake and Tick Market Report," and a variety of satirical sketches, including a July Fourth episode in which Thomas Jefferson and George Washington trade foxhounds. He invented a character, Zeke Reeferzottum, who shared folklore such as predicting the severity of winter by looking at "wooly caterpillows. Not their color, their size! I been skinnin' 'em and tannin' their hides!" "Mother Mitch's News" was a spin-off of the "Mother Earth News," providing practical advice for living off the land, including making your own toilet paper ("perforations can be added with a spur or pizza cutter") or a sturdy truss out of old shoe tongues and Band-aids.
The radio show-especially "The Snake and Tick Market Report"-had a wide following. A pilot once told Jayne he diverted his plane to fly over Salem so he could entertain passengers as they passed through his air space.
Jayne started a third novel, the yet-to-be-published Glory Hole War, a story about Ozarkian saboteurs who take exception to a government plan to dam their spring. He also began writing his weekly column, "Driftwood," which appeared in several Missouri newspapers and magazines, and went on the lecture circuit to talk about conservation, not just of natural resources, but of culture and history.
In his last decade, he received the official praise that in earlier years might have been the object of his gentle jokes. In 2002, The Dillards reunited to play to a packed audience in Carnegie Hall. In 2009, they were inducted into the Bluegrass Hall of Fame at the Grand Ole Opry.
The publication of his fourth novel, Fiddler's Ghost, in 2007 led to the 2008 Governor's Humanities Book Award, and it was named one of the 10 best books of the year by the St. Louis Post-Dispatch.
In addition to his wife of 16 years, Diana Jayne, he is survived by a brother, Sears Jayne of Boston; and daughters Carole Jayne of Eminence, and Valerie Jayne of St. Charles.
Family and close friends were with him during his final days of compassionate care at Truman Memorial Veterans' Hospital, where he entertained and told stories until he was too weak to talk. When asked by a friend how he was doing, he replied, "I don't know. I've never died before."
We've put several links to other remembrances of Mitch in the Memorials section dedicated to him on the front page at www.mayberry.com. We also have created an album of photos of Mitch on TAGSRWC's Facebook page at this link Mitch Jayne Photo Album.
TAGSRWC has made a donation in Mitch's memory to the Surry Arts Council and its efforts with the annual Mayberry Days festival.
**** 50th Anniversary Happenings and Coverage ****
There was extensive coverage of the 50th Anniversary with stories by TV Guide, USA Today, countless local papers and TV and radio stations. Here are links to three of the best newspaper stories.
* Charlotte Observer Story by Mark Washburn
* Chicago Sun-Times Story by MikeThomas
* Cleveland Plain Dealer Story by Mark Dawidziak
* The annual Mayberry Days in Mount Airy, N.C., was the single biggest Mayberry event of the year. Maybe the biggest Mayberry event ever. The four-day festival drew record crowds (estimates of 60,000 or more) that filled the streets, performance venues, restaurants, hotels and shops throughout the area. Wonderful stars and beautiful weather added to the enjoyment of the festival.
We could go on and on with words about Mayberry Days, but we think we can do even better with photos, and there's no better way than with photos by official Surry Arts Council photographer Hobart Jones. Here's a link to his Mayberry Days Gallery. And we can never thank Tanya Jones and the Surry Arts Council enough for organizing, hosting and handling every detail of this magnificent event, which has been a fun-filled, heartfelt celebration of Mayberry for 21 years...and counting!
There was also extensive coverage of Mayberry Days by Mondee Tilley in the Mount Airy News. You can click on this link and then do an article search for "Mayberry Days" to read in-depth coverage of the Mayberry Days week.
And the 2010 Mayberry Confidential, official newspaper of Mayberry Days also has detailed info about the festival, as well as the preliminary schedule for 2011. Some tickets are already available at www.mayberrydays.org. (When packaging constraints allow, Weaver's also sends a paper copy of The Mayberry Confidential with orders.)
* The debut of the "Andy Griffith Show" car at NASCAR's Bank of America 500 Sprint Cup race at Charlotte Motor Speedway on Oct. 16 got a lot of attention. Driver Dave Blaney started the race in 41st position, and had improved his position to 32nd by the end of the race. Though not one to "speed-speed-speed" like Mayberry's Gilly Walker, Blaney successfully avoided all Checkpoint Chickies that befell several other drivers. He did Mayberry proud. Some merchandise featuring the car is in the works, but not yet available.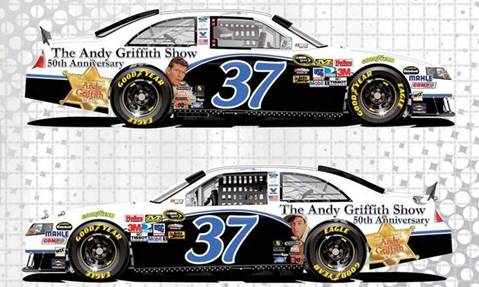 * Hallmark has a 50th Anniversary TAGS Christmas Ornament this year. (It's very similar to one produced by Carlton Cards in 2008.) It's shaped like a vintage TV set, plays the TAGS theme music and sells for about $22.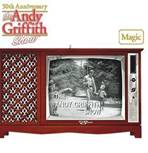 We won't have this one at Weaver's. Check your nearest Hallmark store for availability.
**** Mayberry on the Web ****
For over two years now, www.mayberry.com/podcasts has been the home of the Two Chairs, No Waiting Internet Radio Show (a podcast) hosted by Allan Newsome.
As most of our readers likely know, Allan is our Webmaster at mayberry.com and has been very active in TAGSRWC since 1992. If you've attended various Mayberry events through the years, you've probably seen Allan as a tribute artist for Floyd the Barber.
Two Chairs, No Waiting has TAGS news, interviews and pretty much whatever happens to be going on in and around Mayberry. Allan is doing a really bang-up job on these podcasts. There's a new episode every Tuesday and also an Archives in case you want to listen to episodes you've missed. (There have been over 100 episodes so far!) We think you'll find these podcasts creative, fun and informative. There's a lot of info and discussions that you simply won't find anywhere else.
If you've got sound on your computer or have an iPod or similar device, you can easily tune in or download these podcasts. There are all sorts of ways to interact with the podcasts, including several options for giving your feedback. So pull up a chair and enjoy the fun of bringing what is basically Radio Free Mayberry to you wherever you are!

And TAGSRWC's official page on Facebook has just celebrated its first year! So far, over 6,000 friends have joined our Facebook group, which you can find at www.facebook.com/tagsrwc. We hope you'll check out our Facebook page and be a part of helping it grow and spreading the word about Mayberry news and activities by becoming a fan with TAGSRWC. Drop by when you have a chance and say, "Hey!"
"Wooo-ooooooo!"

Happy Halloween!

**** POST NOTE ****

Between issues of the Weaver's Newsletter, keep up with the goin's-on in Mayberry with the more-or-less daily "Who's Been Messin' Up the Bulletin Board?" Digest. It's a free subscriber list that consists entirely of comments, news flashes, and questions and answers from subscribers. You can sign up for that list by going to the "Mailing Lists" link at www.tagsrwc.com.

TAGSRWC also publishes The eBullet in more or less alternate months to the Weaver's Newsletter. The eBullet is the online successor to our longtime printed newsletter, The Bullet. Like the Weaver's Newsletter, The eBullet is free. It includes some of the same news as the Weaver's Newsletter, but with more features and depth and a little less emphasis on merchandise news. To sign up, go to www.tagsrwc.com/ebullet/joinebullet.htm.
TAGSRWC's other main vehicle for Mayberry information is simply our Web site at tagsrwc.com. It has extensive content and links for just about everything a Mayberry fan might be looking for.

The next issue of Weaver's Newsletter is scheduled for December with an issue of our main online newsletter, The eBullet, coming out in November.

That's all for now. We hope you have fun browsing at Weaver's and visiting mayberry.com.

To unsubscribe from Weaver's Newsletter enter your subscription email address: