I
f you cannot view our HTML newsletter with photos, click here to read it at our Web site.
Weaver's Newsletter
An Online newsletter of
"The Andy Griffith Show" Rerun Watchers Club (TAGSRWC)
December 2009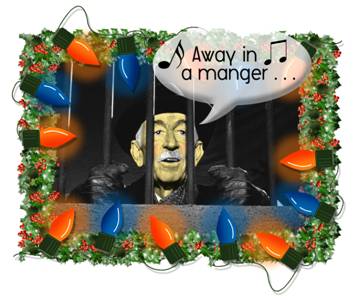 Even ol' Ben Weaver is a softy this time of year.
Happy Holidays and
Best Wishes for a New Year That's
**** Merchandise Update ****
There's still plenty of time to get the Mayberry items you need for Christmas gifts. We're shipping Christmas orders received as late as Noon CT on Dec. 21 for delivery by Christmas Eve at no extra charge-just our flat rate of $5.00 per order (not per item) for shipping and handling. (We'll also ship orders received as late as Noon on Dec. 22, but at that point it'll require the extra charge of FedEx to guarantee delivery by Christmas Eve.)
And for those Mayberry items you hoped you might receive for Christmas, but that maybe fall off Santa's sleigh on the way, we'll be at the ready after Christmas to ship any items you want to buy for yourself.
Here are some of the items that have been favorites so far this holiday season:
Christmas Is Here Again DVD $15.00
https://www.weaversdepartmentstore.com/catalog.php?item=48
Not even Scrooge-like Ben Weaver can resist the joy of offering this Holiday DVD featuring Andy Griffith as Santa Claus! The all-star cast of voices in this 75-minute animated production includes Ed Asner, Kathy Bates, Shirley Jones, Norm MacDonald and Jay Leno as the narrator.
Enjoy watching the beginning of a new Holiday tradition!
* 2010 Andy Griffith Show Wall Calendar $15.00
https://www.weaversdepartmentstore.com/catalog.php?item=111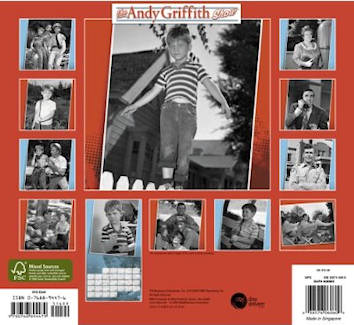 We've got the 2010 TAGS Wall Calendar in stock now. Like the 2009 calendar, it has all black-and-white images. Many will seem very familiar. We also have a Special Combo with 2009 and 2010 Wall Calendars for $23.00. And we still have several calendars from previous years. (They've become popular collectibles!)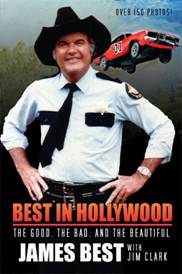 * Best in Hollywood-The Good, the Bad and the Beautiful by James Best $25.00 (autographed!)
https://www.weaversdepartmentstore.com/catalog.php?item=90
If you know James mostly as Rosco P. Coltrane on "The Dukes of Hazzard" and of course as Jim Lindsey on TAGS, then you'll have an opportunity to learn a lot more about his fascinating life, including the Golden Era of Hollywood. The 320-page book includes more than 150 photos from James' personal collection. It's getting a great response from readers all over the country. (And yes it does include a chapter on TAGS!)
We have a limited number of autographed copies (including a custom-made bookplate) of the soft-cover book for the cover price of $25 at Weaver's.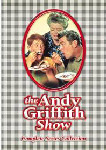 * "All New" Box Set of All Eight Seasons of "The Andy Griffith Show," Plus the "Danny Thomas" Pilot and Return to Mayberry $192.00
https://www.weaversdepartmentstore.com/catalog.php?category=36

The suggested retail price for this Box Set of every episode of "The Andy Griffith Show" (plus the "Danny Thomas" pilot episode and the 1986 Return to Mayberry movie) is over $240.00. The previous 8-season box-set release (without the pilot and the movie and now also discontinued) carried a suggested retail price of $320.00. We think that makes $192 a pretty swell price...about 77 cents an episode, plus the pilot and reunion movie!
We also sell individual complete seasons of TAGS on DVD at a nice price. And we have individual seasons and the complete series box set of "Gomer Pyle U.S.M.C." and the first three seasons of "Matlock."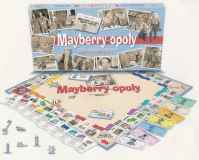 * Mayberry-opoly Board Game $30.00
https://www.weaversdepartmentstore.com/catalog.php?item=53
You won't be bored with this board game. It's a dream come true for "Barney Fife, Realtor" and anyone who has ever wished to own a little piece of that paradise we know and love as Mayberry!
If you enjoy Monopoly and Mayberry or you know somebody who does, then you're sure to love Mayberry-opoly.
At just $30.00 per game, Mayberry-opoly is worth the price just to have the cool design of the box and the board to look at or display. We think it's the most fun "opoly" game ever created.

* The Incredible Mr. Don Knotts $27.00 $22.00
https://www.weaversdepartmentstore.com/catalog.php?item=63
This oversized 320-page hardcover book (coffee-table style) is compiled by Steve Cox and Kevin Marhanka. The thoroughly researched book has lots of interviews with people who worked with Don Knotts and has more than 200 photos, including a 16-page section of color photos.
It's a great gift for any Barney Fife and Don Knotts fan to give or receive. And best of all, we've got it for $5.00 off!
As Barney himself said, "Aw, big ain't the word for it!"
And Weaver's also has nice deals on these great DVDs of favorite Don Knotts movies-the ideal accompaniment to this fascinating book about Don's film career: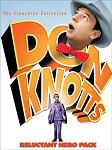 * Don Knotts 4-Movie Reluctant Hero DVD Pack $29.00
https://www.weaversdepartmentstore.com/catalog.php?item=142
Featuring The Ghost and Mr. Chicken, The Reluctant Astronaut, The Shakiest Gun in the West and The Love God? This super Hero collection of four classic Don Knotts movies from the 1960s on DVD is hard to beat. You get all four movies for a nice price that even cost-conscious Barney Fife would jump at.

* Classic Barney Necktie $25.00
https://www.weaversdepartmentstore.com/catalog.php?item=3
This tie is out of production, so it's now even more of a collectible. This silk necktie features Barney in black and white (it therefore coordinates with any outfit). Anyone who wears this tie is guaranteed to look suave and worldly. Wear it with the old salt and pepper, and it'll be just right for the dips. Made with fine silk from the Orient.
**** First One Thing and Then Another ****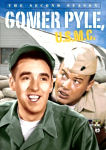 Whether you're looking for a Mayberry T-shirt, something Mayberry for your car, decorative wooden building fronts (always especially popular during the holidays), Mayberry-related comedy and music CDs, posters, tin signs and artwork (including some autographed pieces), all variety of books and cookbooks, and even a Barney Fife light switch covers and a thermometer, we've got most things Mayberry online at Weaver's at mayberry.com. Drop by and have fun looking around.
Phone Orders
In addition to accepting orders online or by mail, our Weaver's Dept. Store has a phone number FOR ORDERS ONLY (615) 604-1298. The phone number is generally in operation from 9 a.m. to 6 p.m. CT Monday through Saturday.
Please call this number only for ordering or for inquiring about orders placed by phone. All inquiries about online orders and mail orders should be made online and by mail, respectively.


**** Floyd's Barbershop Bulletin Board & Event Calendar ****

The
Andy Griffith Museum
, featuring Emmett Forrest's amazing collection of Andy Griffith memorabilia, is now open on its regular daily schedule in Mount Airy, N.C. For info, visit the Web site at
www.surryarts.org/agmuseum
or call (336)786-7998.

* Dec. 9-12: Ronnie Schell performs at the Harvey's Comedy Room at Stateline in the Lake Tahoe area.

* Dec. 14: All aboard with Mayberry Deputy David Browning and a trainload of celebrities and others filled with goodwill in Stuart, Va., as they head out to spread holiday cheer to those in need in the Appalachian Mountains with the 23rd Annual Morgan Shepherd Charitable Fund Trip. For more info, visit www.morganshepherd.com.
**** 2010 ****
* Feb. 26 and 27: Ronnie Schell hosts Veterans of Comedy Wars X at McKenna Theater on the campus of San Francisco State University. Guests announced so far include Tim Conway, Tommy Smothers, Kevin Pollack, and Will Durst. More details TBA.

* Mar. 4-7: 13th Annual George Lindsey/UNA Film Festival at the University of North Alabama in Florence, Ala. Special guests announced so far include actress Lea Thompson, actor James Tolkan, actor Marc McClure, and screenwriter, director and producer Bob Gale. All have extensive credits, but their common bond is that they all worked on Back to the Future. So, the film festival will in part be a mini-reunion for that movie. For more info, visit www.lindseyfilmfest.com.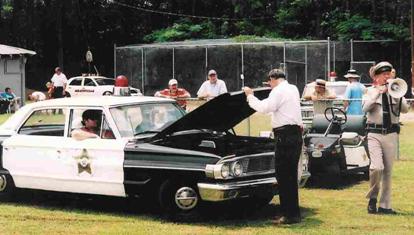 * July 10-11: 10th Annual Mayberry Squad Car Nationals and 6th Annual "Mayberry Comes to Graysville" Festival in Graysville, Ala. Doug Dillard and Rodney Dillard are the first guests announced. Other guests and details TBA.
* July 23-24: Mayberry in the Midwest IV in New Castle, Ind. After an absence of a few years, one of the favorite Mayberry events returns to the lineup to help celebrate the 50th Anniversary of "The Andy Griffith Show." Stars and other details TBA. And a Web site with ongoing updates will be up and running soon. For now, just mark the date!
* Sept. 23-26: 20th Anniversary Edition of Mayberry Days in Mount Airy, N.C. Details TBA. Tickets to some portions of the weekend are already available online at www.surryarts.org.
* Oct. 3: 50th Anniversary of the airing of the first episode of "The Andy Griffith Show" on CBS.
* Oct 16-21: A Cruise to Mayberry 5 to the Bahamas aboard Carnival's Fascination with the VW Boys and Mayberry tribute artists and others TBA. For more info, call (336) 538-4926 or toll-free (800) 832-7993, or visit www.allaboutcruisesnc.net.
---
**** News of Cast & Crew ****
Ron Howard has several projects in development as executive producer with his Imagine Entertainment studio. Among them, an Arrested Development feature film is due for release in 2011, and the "Parenthood" TV series is set for its launch on NBC in the spring.
On Oct. 30, Rance Howard received a Silver Spur Award from the Reel Cowboys, an organization dedicated to classic Westerns. Ron Howard was in attendance at the 12th annual awards show in Universal City, Calif., to enjoy the salute to his father.
Jim Nabors performed a special encore edition of his Christmas show for dates Honolulu in late November.
George Lindsey got very good reviews for his pivotal parts in Larry the Cable Guy's Christmas special on CMT. The show has continued to air during this holiday season on CMT and is also available on DVD.
Darlings boy Rodney Dillard is recovering well from knee surgery a few weeks back.
Elinor Donahue reports that's she's doing well and is still very much enjoying her official retirement from show biz. She has fun visiting her children and grandchildren around the country whenever she can.
James Best has continued to be busy doing interviews and other promotions for his Best in Hollywood memoirs, which has been receiving an enthusiastic response from readers.
The 54th Annual Thalians Ball was held in Beverly Hills in early November and Ruta Lee, a founder of the Thalians organization, helped organize the annual fundraiser for the mental health services of Cedars-Sinai Medical Center.
**** Mayberry on the Web ****
For the past year, www.mayberry.com/podcasts has been the home of the Two Chairs, No Waiting Internet Radio Show (a podcast) hosted by Allan Newsome.
As most of our readers likely know, Allan is our Webmaster at mayberry.com and has been very active in TAGSRWC since 1992. If you've attended various Mayberry events through the years, you've probably seen Allan as a tribute artist for Floyd the Barber.
Two Chairs, No Waiting has TAGS news, interviews and pretty much whatever happens to be going on in and around Mayberry. Allan is really doing a bang-up job on these podcasts. There's a new episode every Tuesday and also an Archives in case you want to listen to episodes you've missed. We think you'll find these podcasts creative, fun and informative.

If you've got sound on your computer or have an ipod or similar device, you can easily tune in or download these podcasts. There are all sorts of ways to interact with the podcasts, including several options for giving your feedback. And there are other links, including a companion Facebook page, to keep up with all the goings-on. And probably the easiest way to make sure you don't miss an episode is to subscribe to the podcasts. (They're free.)

So pull up a chair and enjoy the fun of bringing what is basically Radio Free Mayberry to you wherever you are!

And TAGSRWC has an official page on Facebook now, too! It's www.facebook.com/tagsrwc. We've launched our page during just the last few weeks and it already has bunches of Mayberry friends connect. Of course, there are several tribute pages to TAGS on Facebook, including some for individual TAGSRWC chapters and members. There are some mighty good folks to have as Facebook Friends.

The purpose of our official TAGSRWC page (the page called "The Andy Griffith Show" Rerun Watchers Club) is to serve as our Facebook clearinghouse for links to all of the assorted Mayberry fan and TAGS-related pages on Facebook-much as www.mayberry.com serves as our go-to place for Mayberry and TAGS info and links to related sites. It makes it simpler for us from an administration and communication standpoint. We can just direct TAGSRWC members and others to our Facebook page and the mayberry.com Web site, rather than needing to continually provide a laundry list of links, pages, and sites one at a time.

As our Facebook page is just getting underway, you can be a part of helping it grow and spreading the word about Mayberry news and activities by becoming a fan with TAGSRWC on Facebook. We hope you'll check in regularly when you have a chance and say, "Hey!"

**** POST NOTE ****

Between issues of the Weaver's Newsletter, keep up with the goin's-on in Mayberry with the more-or-less daily "Who's Been Messin' Up the Bulletin Board?" Digest. It's a free subscriber list that consists entirely of comments, news flashes, and questions and answers from subscribers. You can sign up for that list by going to the "Mailing Lists" link at www.tagsrwc.com.
TAGSRWC also publishes The eBullet in more or less alternate months to the Weaver's Newsletter. The eBullet is the online successor to our longtime printed newsletter, The Bullet. Like the Weaver's Newsletter, The eBullet is free. It includes some of the same news as the Weaver's Newsletter, but with more features and depth and a little less emphasis on merchandise news. To sign up, go to www.tagsrwc.com/ebullet/joinebullet.htm.
TAGSRWC's other main vehicle for Mayberry information is simply our Web site at tagsrwc.com. It has extensive content and links for just about everything a Mayberry fan might be looking for.

The next issue of Weaver's Newsletter is scheduled for February (with an eBullet coming out in January).

That's all for now. We hope you have fun browsing at Weaver's and visiting mayberry.com.

To unsubscribe from Weaver's Newsletter enter your subscription email address: