I

f you cannot view our HTML newsletter with photos, click here to read it at our Web site.




Weaver's

Newsletter


An Online newsletter of
"The Andy Griffith Show" Rerun Watchers Club (TAGSRWC)
May 12, 2008

Here's the latest news from our store and around town that we've managed to wheedle out of ol' Ben Weaver.

We apologize for the delay in getting this issue out (it was scheduled for April). We had some peculiar hitches in our get-along (that is, server problems with the distribution of our various online newsletters). If you're a subscriber to TAGSRWC's other online newsletter, The eBullet, and didn't receive the April issue, you can read it in our Newsletter Archives at https://www.tagsrwc.com/ebullet/archive/index.htm

We think we've got the newsletter distribution glitches nipped in the bud. (Maybe using bigger wires did the trick!)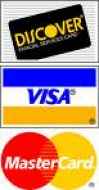 **** Merchandise Update ****
Along with Visa and MasterCard, Weaver's Dept. Store now is set up to accept DiscoverCard! Brace yourself…we're flying head over heels into the 21st Century! Unfortunately, we don't see the American Express Card in our future, so you can still leave that one at home for now.
* Goober's Great 2008 Grab-Bag of Mayberry Stuff $60.00
https://www.weaversdepartmentstore.com/index.php?item=67
Goober rummaged around in the garage again while taking inventory earlier this year and he came up with another Grab-Bag of interesting Mayberry items. All of the items are no longer in production and are therefore now in the category of "collectible."

At a minimum, each Grab-Bag has the following items:
* 1 Officially Licensed T-Shirt with Barney Fife on it (The shirt design included is our choice according to availability, but you'll need to specify in the Comments section of the online order form whether you want Medium, Large, or 2XL. Size XL is not available for this offer. The default choice if you don't indicate a size is Large.)
* 1 110-card Set of Series 3 "Andy Griffith Show" Trading Cards (note this Grab-Bag includes Series 3 cards for the first time)
* 1 Mayberry-related book with an original price of at least $10
* 1 "Andy Griffith Show" ornament
* 2 Different newspapers with coverage of major Mayberry events
* 1 Officially-licensed Mayberry license plate
* 1 Mayberry mouse pad
* 2 Vintage (that is, not 2008) Mayberry wall calendars (still in their original shrink wrap)
* 3 Different wooden Mayberry building fronts (Mrs. Mendelbright's Boardinghouse, Mayberry Hotel, and All Souls Church)
* 3 Different Mayberry bumper stickers
* 1 Mayberry-related audio tape (still sealed)
* 5 Different Mayberry photos (8x10)
* 2 Pairs of 2 different Mayberry birthday balloons (a total of 4 balloons)
* Assorted Mayberry event and news publications and materials (fliers, newsletters, fans, magnets, buttons, etc.)

If the items were sold separately, their suggested retail prices would total over $120. But Goober is not the best at arithmetic and Ernest T. wasn't around to help us count by stomping his feet, so our price is only $60 for the whole Grab-Bag. We have only a handful to offer with this configuration of items because most of the items are in extremely short supply. Get 'em while you can.
All proceeds (not just the profits, but 100% of the $60 price) are going toward our annual support of the Surry Arts Council and its Mayberry Days festival in September in Mount Airy, N.C. So with a Grab-Bag purchase, you get a good deal while also supporting a good Mayberry cause!
* 2008 "Andy Griffith Show" Wall Calendar--Was $14.00; Now $10.00!
https://www.weaversdepartmentstore.com/index.php?category=44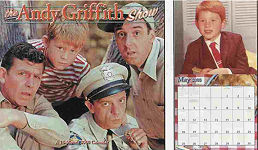 Now that we're four months into this year, we're knocking $4 off the price of this 2008 wall calendar. We expect this will be our only price reduction on this item because we don't have very many left. And these TAGS wall calendars have a history of going up in price again as collectibles as the years pass.
This fifth straight year of a TAGS Wall Calendar celebrates that milestone with all color photos for 2008. Now, don't panic. "All color" doesn't mean photos only from the color seasons. Several photos are from the black-and-white era. The photos are in color only because they're publicity stills. Some haven't been published since the first set of trading cards in 1990.
* Waitress DVD (widescreen version) featuring Andy Griffith On Sale…$22.00 https://www.weaversdepartmentstore.com/index.php?category=73
This hit independent film of 2007 features Andy Griffith as Old Joe, a crusty diner owner. It also stars Keri Russell.
There's a lot of wholesome pie-making in this romantic comedy, but there are also some mature themes that give it a PG-13 rating. The suggested price is $30.00, but we've got it for just $22.00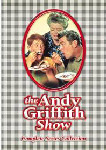 * All New Box Set of All Eight Seasons of "The Andy Griffith Show," Plus the "Danny Thomas" Pilot and Return to Mayberry $192.00
https://www.weaversdepartmentstore.com/index.php?maincat=72
The suggested retail price for this Box Set of every episode of "The Andy Griffith Show" (plus the "Danny Thomas" pilot episode and the 1986 Return to Mayberry movie) is over $240.00. The previous 8-season box-set release (without the pilot and the movie and now also discontinued) carried a suggested retail price of $320.00. We think our $192.00 price is an exceptional value.
We also sell individual Complete Seasons on DVD at nice discounts.

* Complete First Season of "Matlock" on DVD $39.00
https://www.weaversdepartmentstore.com/index.php?category=73

After years of anticipation, "Matlock" is finally available on DVD! The first season has 23 episodes plus the movie pilot on seven discs. "Matlock" always had great guest stars, and the first season certainly set the pace with Dick Van Dyke, Roddy McDowall, Billy Bob Thornton, Pipe Laurie, Desi Arnaz Jr., Norman Fell, Billy Zane, Jose Ferrer and lots of other familiar faces. The list price for this set is $50, but we've got it in stock now for just $39.00!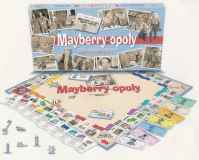 * Mayberry-opoly Board Game $30.00
https://www.weaversdepartmentstore.com/index.php?category=56
This board game, new in 2007, is a dream come true for "Barney Fife, Realtor" and anyone who has ever wished to own a little piece of that paradise we know and love as Mayberry!
If you love Monopoly and Mayberry or you know somebody who does, then you'll really love Mayberry-opoly.
At just $30.00 per game, Mayberry-opoly is worth the price just to have the cool design of the box and the board to look at or display. We think it's the most fun opoly game ever created.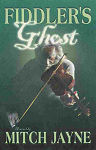 * Fiddler's Ghost by Mitch Jayne $15.00
https://www.weaversdepartmentstore.com/index.php?category=25
Darling boy Mitch Jayne's fascinating 2007 novel, Fiddler's Ghost, is getting fantastic reviews. It's absorbing reading for anybody who loves a good ghost story, music, skillful writing, or just plain great storytelling from a true master. Few people have as much of a command and appreciation of language (especially the Ozark variety) as Mitch. We don't want to give away the plot, but we will say that it's a charming, entertaining and engrossing tale. Mitch also has a new Web page (mostly info about his books so far):
http://mitch.jayne1.googlepages.com/home
Barney Fife's Guide to Life Love and Self-Defense $15.00
https://www.weaversdepartmentstore.com/index.php?category=28

This fun 1993 book (hardback, 166 pages) by brothers Len and John Oszustowicz imagines worldly advice coming from the mind of Barney Fife. Nuff said.
The popular book has been out of print for over 10 years and is now a sought-after collectible. We have a few copies from the First Printing that are still in brand new condition. And best of all, we're offering the book for just a couple of dollars more than the cover price (and less than the annual inflation rate has been.) Get 'em while you can before we change our minds about the price.
And we also have several other classic, out-of-print Mayberry books, including Inside Mayberry, Mayberry My Hometown and The Official Andy Griffith Show Scrapbook.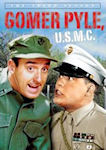 * Complete Third Season of "Gomer Pyle, U.S.M.C." on DVD $32.00 https://www.weaversdepartmentstore.com/index.php?category=91
The Complete Third Season of Gomer Pyle, U.S.M.C. (the first season featuring Elizabeth MacRae as Lou Ann Poovie) is now available at Weaver's, along with the First and Second Seasons.
* The Complete Fourth Season of "Gomer Pyle, U.S.M.C." https://www.weaversdepartmentstore.com/index.php?category=91 is coming out on May 20. We're taking pre-orders now. The list price is $39.00, but we've got it for just $32.00.
* Hallmark has a Mayberry greeting card with sound that's available in selected stores. We won't spoil potential surprises by telling what it is, but if Opie is shopping for a card, he might want to consider this one.
**** Floyd's Barbershop Bulletin Board & Event Calendar ****
* June 15: LeRoy and Jan McNees lead the chapel service for the 33rd Annual Father's Day Bluegrass Festival in Grass Valley, Calif. For more info, visit http://www.cbaontheweb.org.
* June 21: David Browning shines at the Greenville (Tenn.) Astros game.
* June 25-29: Ronnie Schell performs at Pechanga Resort & Casino in Temecula, Calif. For tickets and info, visit, http://www.pechanga.com.
* June 28 & 29: James Best appears at DukesFest at the Atlanta Motor Speedway. David Browning will be on hand for crowd un-control on the 28th as well. Visit http://www.dukesfest.com for more info.
* July 5: Doug and Rodney Dillard and their band perform at the 22nd Annual Sally Mountain Park Bluegrass Festival in Queen City, Mo. They will also be doing a special workshop at 11 a.m. called "Stories of Mayberry." For more info, visit http://www.sallymountainshow.com.

* July 9: Jim Nabors is in concert at the American Music Theatre in Lancaster, Penn. For more info, visit http://www.americanmusictheatre.com.
* July 11-13: LeRoy McNees performs at the Ernest T. Bass-approved Athy Bluegrass Festival in Athy, Ireland. For more info, visit http://www.athy-bluegrass.com/index.html.
* July 12: 8th Annual Mayberry Squad Car Nationals in conjunction with the 4th Annual Mayberry Comes to Graysville festival in Graysville, Ala. Details TBA soon.
* July 18 and 19: Don Knotts Birthday Celebration Festival in Morgantown, W.V. Don's daughter Karen Knotts will perform her one-woman "Tied Up in Knotts" show at the Metropolitan Theater. David "Mayberry Deputy" Browning will also perform. Memorabilia display, movies, trivia and look-alike contests, tours, and apple dumplin's are among the activities being served up. More details TBA.
* July 25: David Browning slides into Salem, Va., for an Avalanche game.
* July 26: David "Mayberry Deputy" Browning is on the path for fun (and how!) for the Danville (Va.) Braves game.
* July 30: Everyone hopes his socks aren't too porous and the tightly-knit crowd doesn't unravel when David Browning tells yarns at the Bristol (Va.) White Sox game.
* Aug. 1: David Browning's back to rock the stadium at the Salem (Va.) Avalanche game.
* Aug. 2: David Browning is a sight to see at the Asheville (N.C.) Tourists game.
* Aug. 5: David Browning is on patrol for National Night Out in Amherst, Va.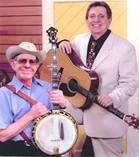 * Aug. 9: Doug and Rodney Dillard and their band and their TV sister Maggie Peterson Mancuso perform at the Second Annual Mayberry in Troy, a fundraiser for the Montgomery County DARE program in Troy, N.C. At least seven popular Mayberry tribute artists (including David "Mayberry Deputy" Browning) will also perform. Show time at the James Garner Center is 7 p.m. Tickets are $20 for reserved seats, $15 for general admission and $10 for kids ages 6-12. To order tickets in advance, call Jeff Branch at (910) 572-1313 or (704) 985-6987.
* Aug. 21-23: David Browning makes the circuit, first for Food City Family Race Night on Thurs. and then for the NASCAR scene on Fri. and Sat. at the Bristol (Tenn.) Motor Speedway.
* Aug. 30: David Browning makes the rounds on the diamond for the Mississippi Braves game in Pearl.
* Sept. 16-21: Ronnie Schell headlines in the Comedy Improv Room at Harrah's in Las Vegs, N.V.
* Sept. 25-28: 19th Annual Mayberry Days in Mount Airy, N.C. Stars confirmed so far include Doug Dillard, Rodney Dillard, Betty Lynn, Maggie Peterson Mancuso, James Best, Jackie Joseph, Elizabeth MacRae, LeRoy McNees and George Spence. For more info, visit: http://www.surryarts.org.
* Nov. 1-6: A Cruise to Mayberry (click here for more info and photos of past cruises) to the Bahamas aboard Carnival's Fascination ship. This 5-day cruise departs from Jacksonville, Fla., on Saturday, November 1, and cruises to: Nassau, Half Moon Cay, and 2- "Days at Sea" returning back to Jacksonville on Thursday, November 6. The VW Boys are joining the Mayberry family with their mixture of Music, Magic & Comedy. Tribute artists Kenneth "Otis" Junkin, Allan "Floyd" Newsome, Bob "Briscoe Darling" Mundy, Jeff "Howard Sprague" Branch, Jamie "Opie" Sullivan, Gary "Gomer" Crain, Tara "Juanita" Spath, and Samantha "The Manicurist" Miles. Others TBA. Rates start at $259 plus $179.92 Port Tax per person, based on two per cabin. For more info, call Sharon Euliss at All About Cruises in Burlington, N.C., at 1-800-832-7993. Or e-mail her at PWESJE@aol.com.
**** News of Cast & Crew ****
There was a nice big story about Andy Griffith in the February 17 edition of Norfolk's Virginian-Pilot newspaper. Just days earlier Andy also donated a sword he once used in The Lost Colony to the permanent collection of the outdoor drama on Roanoke Island, N.C., where he and wife Cindi live.
Andy also was featured in a political ad for Bev Perdue, a Democratic candidate for governor in North Carolina. (She won her primary election on May 6.) Here's a link to the place on her Web site that has the spot: http://www.bevperdue.com/u2b_gallery.asp?videoID=uGFDrHs6z18
No release date has been announced yet for Play the Game, the movie Andy filmed last fall. The film also features Rance Howard and Clint Howard.

Ron Howard is currently in post-production for the film version of Frost/Nixon, based on the hit play about David Frost's interviews with Richard Nixon after he resigned.
The film's release has recently been rescheduled for Dec. 5. And Ron is still in pre-production as director for Angels & Demons, the sequel to The Da Vinci Code that stars Tom Hanks. The release date for that film, originally set for release this Christmas, has been pushed back until May 2009 because of the writers strike.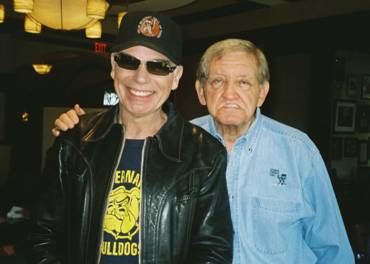 ABOUT FACE--George Lindsey mugs for the camera with Billy Bob Thornton during George's film festival at the University of North Alabama. Photo courtesy of UNA.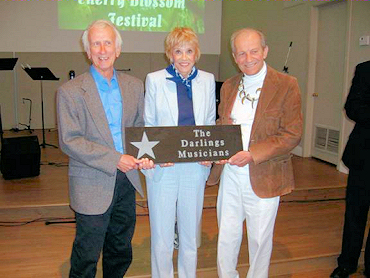 Maggie Peterson Mancuso joined Darling brothers Dean Webb (left) and Mitch Jayne for the induction of the Darlings into the Missouri Walk of Fame during the annual Cherry Blossom Festival in Marshfield on April 25. (Doug Dillard and Rodney Dillard were unable to attend the presentation.) Maggie and Dean were featured speakers for a luncheon, and Mitch gave a talk and did a book-signing the next day.

George Lindsey appeared in an American TV Icon segment on "The O'Reilly Factor" on the Fox News Channel that aired in March.

The video clip of that interview is not yet up on O'Reilly's Web site, but here's a link that does have the interview: O'Reilly Factor George Lindsey Fox News. This version has a few annoying advertising graphics with it, but as Goober once said, it's "better than nothin'."

And the 11th Annual George Lindsey/UNA Film Festival was another huge success that same weekend as the O'Reilly interview. The library at the University of North Alabama dedicated its Archives of George's memorabilia (totaling more than three thousand pieces!) during the festival.

And this year's special guest was Academy Award winner Billy Bob Thornton. He was joined by Lucas Black and Natalie Canerday for a Sling Blade cast reunion that drew overflow crowds.

Betty Lynn was a featured speaker for the "Best of Our State" conference hosted by North Carolina's Our State magazine in Asheville in early January. As always, she was a wonderful ambassador for Mayberry and Mount Airy. Betty also is honorary chairperson this year for the annual fundraising drive for the Surry Arts Council, which puts on Mayberry Days.

Mayberry maestro Earle Hagen is back home and doing well after a short hospital stay to get some heart matters squared away.

Maggie Peterson Mancuso is also recovering well from recent knee surgery…on both knees! (We bet she'll be carrying buckeyes in her pockets from now on!) She's already back performing, including some Vega dates with a group called the Cat Pack. She and husband Gus also did a show in her hometown of Greeley, Colo., earlier this year before her knee surgery.

The award-winning family film Moondance Alexander, featuring James Best (and written and produced by his daughter, Janeen Damian, and her husband, Michael Damian), is now out on DVD.

LeRoy McNees recently returned from a missionary trip to Guatemala with Solomon's Porch. The missionary group helped build a new facility, and LeRoy was also a performer for in a concert fundraiser for a local hospital. See more of LeRoy's goings-on on Floyd's bulletin board above.

Barbara Perry (Floss and other characters around Mayberry) checked in with us to say she has been doing fine and enjoys staying in touch with Mayberry news. Her most recent film role was as "Old Woman" in a swimming pool scene in Mr. Woodcock, starring Billy Bob Thornton and Susan Sarandon and Amy Poehler.

We're sad to report that actor Jim Begg, who played different characters in four episodes of TAGS, died on February. 15. He was 69. He was born in Battle Creek, Mich., on March 2, 1938. His career as an actor took him to New York and then to Los Angeles where he also became a successful voice actor and producer.

His live-action acting work consisted mostly of small parts in an interesting variety of films. His four appearances on TAGS were as movie character George in "Taylors in Hollywood," the Young Man (applying for a marriage license) in "The County Clerk," the first customer in "Opie's Drugstore Job" and witness Charles Keyes in "Aunt Bee the Juror."

Jim appeared in two episodes of "Gomer Pyle, U.S.M.C." and one episode of "Mayberry R.F.D." He was also in The Village of the Giants, Grand Theft Auto and an episode of "Happy Days" with Ron Howard. And he was in the Don Knotts features The Ghost and Mr. Chicken and The Love God? and in The Cat from Outer Space with Ken Berry and Ronnie Schell. He also provided the voice of Scoots in "Cattanooga Cats."

Private services were held for Jim Begg in Sherman Oaks and he was buried at Forest Lawn in Hollywood Hills. In lieu of flowers, donations in his memory can be made to the Motion Picture and Television Fund or Big Brothers and Big Sisters of Greater Los Angeles.

**** Update on Mayberry's Finest Line of Packaged Foods ****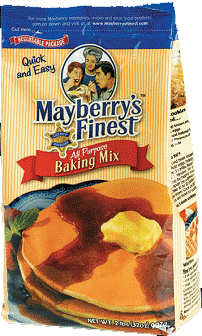 The full line of canned goods and baking mixes is now available in hundreds of stores and also online (with the additional offering of mail-order gift baskets) at the Mayberry's Finest Web site at www.mayberrysfinest.com. The Web site has an up-to-date list of stores and precise locations (organized by state) in its Foley's Market section.
Keep an eye out for Mayberry's Finest at your favorite store. If you don't find the products in the store where you shop, ask the store manager if the store can stock the items for you and others.
On the Mayberry's Finest site, you can also listen to their catchy jingle by the 2006 and 2007 International Bluegrass Music Association Entertainers of the Year, The Grascals, who are the official spokes-group for Mayberry's Finest.
And here's another tidbit about Mayberry's Finest…they have a page on MySpace at www.myspace.com/mayberrysfinestfoods. If you're a MySpacer, drop by and tell 'em hey.
Important Update: The Mayberry's Finest Recipe Contest has been suspended and postponed until a later time. It's sort of like the time Aunt Bee was called out of town to take care of Maude, Cousin Edgar's wife, when she came down with the bursitis. The folks at Mayberry's Finest want to make sure that Aunt Bee's back in Mayberry and has everything in apple-pie order at home before proceeding with this nationwide contest.
And besides, if Mayberry's Finest had completed the contest as quickly as originally projected, then whooosh, it would be over too fast, especially for Mayberry, where folks like things to be slower.
We'll have an update about when the contest resumes in a future issue. When the contest does restart, there will be plenty of time for everybody to be notified and get their entries in. And anybody who has already entered the contest need not worry. Your entry will still be valid when the contest resumes. You'll be receiving details about what's going on with the contest directly from Mayberry's Finest.
Meanwhile, use this extra time in the kitchen to perfect those recipes made using Mayberry's Finest!
**** POST NOTE ****
Between issues of the Weaver's Newsletter, keep up with the goings-on in Mayberry with the more-or-less daily "Who's Been Messin' Up the Bulletin Board?" Digest. It's a free subscriber list that consists entirely of comments, news flashes, and questions and answers from subscribers. You can sign up for that list by going to the "Mailing Lists" link at https://www.tagsrwc.com/.
TAGSRWC also publishes The eBullet in more or less alternate months to the Weaver's Newsletter. The eBullet is the online successor to our longtime printed newsletter, The Bullet. Like the Weaver's Newsletter, The eBullet is free. It includes some of the same news as the Weaver's Newsletter, but with more features and depth and a little less emphasis on merchandise news. To sign up, go to https://www.tagsrwc.com/ebullet/joinebullet.htm.
TAGSRWC's other main vehicle for Mayberry information is simply our Web site at http://www.tagsrwc.com. It has extensive content and links for just about everything a Mayberry fan might be looking for.
The next issue of Weaver's Newsletter is scheduled for June (with an eBullet coming out later this month).
That's all for now. We hope you have fun browsing at Weaver's and visiting http://www.mayberry.com.
To unsubscribe from Weaver's Newsletter enter your subscription email address: