I
f you cannot view our HTML newsletter with photos, click here to read it at our Web site.
Happy Valentine's Day to You and Yours!

Weaver's

Newsletter


An Online newsletter of
"The Andy Griffith Show" Rerun Watchers Club (TAGSRWC)
February 8, 2008

**** Merchandise Update ****

As we chug along at a Mayberry pace this winter, here are some of our newest and most popular Mayberry items at Weaver's Dept. Store at http://www.mayberry.com.


* Goober's Great 2008 Grab-Bag of Mayberry Stuff $60.00
https://www.weaversdepartmentstore.com/index.php?item=67

As he has been known to do in previous years, Goober was rummaging around in the garage again while taking year-end inventory and he came up with another Grab-Bag of interesting Mayberry items. All
of the items are no longer in production and are therefore now in the category of "collectible." At a minimum, each Grab-Bag has the following items:
* 1 Officially Licensed T-Shirt with Barney Fife on it (The shirt design included is our choice according to availability, but you'll need to specify in the Customer Comments section of the online order form whether you want Medium, Large, or 2XL. Size XL is not available for this offer. The default choice if you don't indicate a size is Large.)
* 1 110-card Set of Series 3 "Andy Griffith Show" Trading Cards (note this Grab-Bag includes Series 3 cards for the first time)
* 1 Mayberry-related book with an original price of at least $10
* 1 "Andy Griffith Show" ornament
* 2 Different newspapers with coverage of major Mayberry events
* 1 Officially-licensed Mayberry license plate
* 1 Mayberry mouse pad
* 2 Vintage (that is, not 2008) Mayberry wall calendars (still in their original shrink wrap)
* 3 Different wooden Mayberry building fronts (Mrs. Mendelbright's Boardinghouse, Mayberry Hotel, and All Souls Church)
* 3 Different Mayberry bumper stickers
* 1 Mayberry-related audio tape (still sealed)
* 5 Different Mayberry photos (8x10)
* 2 Pairs of 2 different Mayberry birthday balloons (a total of 4 balloons)
* Assorted Mayberry event and news publications and materials (fliers, newsletters, fans, magnets, buttons, etc.)

If the items were sold separately, their suggested retail prices would total over $120. But Goober is not the best at arithmetic and Ernest T. wasn't around to help us count by stomping his feet, so our price is only $60 for the whole Grab-Bag. We have only a handful to offer with this configuration of items because most of the items are in extremely short supply. Get 'em while you can.
All proceeds (not just the profits, but 100% of the $60 price) are going toward our annual support of the Surry Arts Council and its Mayberry Days festival in September in Mount Airy, N.C. So with a Grab-Bag purchase, you get a good deal while also supporting a good Mayberry cause!
* Waitress DVD (widescreen version) featuring Andy Griffith $25.00
https://www.weaversdepartmentstore.com/index.php?category=73
This hit independent film of 2007 features Andy Griffith as Old Joe, a crusty diner owner. It also stars Keri Russell.
There's a lot of wholesome pie-making in this romantic comedy, but there are also some mature themes that give it a PG-13 rating. The suggested price is $30.00, but our price at Weaver's is just $25.00.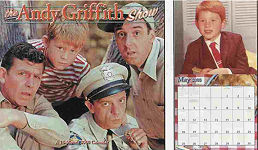 * 2008 "Andy Griffith Show" Wall Calendar $14.00
https://www.weaversdepartmentstore.com/index.php?category=44
Still haven't gotten your 2008 Mayberry wall calendar? Shazam! Well, it's not too late. This fifth straight year of an officially licensed TAGS Wall Calendar celebrates that milestone with all color photos for 2008. Now, don't panic..."all color" doesn't mean photos only from the color seasons. Several photos are from the black-and-white era. They just happen to be in "glorious color" because they are publicity stills. Some haven't been published since the first set of Mayberry trading cards in 1990.
For procrastinators and collectors, we also have a Calendar Combo with both the 2007 and 2008 Wall Calendars for only $22.00.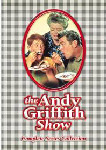 * All New Box Set of All Eight Seasons of "The Andy Griffith Show," Plus the "Danny Thomas" Pilot and Return to Mayberry $192.00
https://www.weaversdepartmentstore.com/index.php?maincat=72
The suggested retail price for this Box Set of every episode of "The Andy Griffith Show" (plus the "Danny Thomas" pilot episode and the 1986 Return to Mayberry movie) is over $240.00. The previous 8-season box-set release (without the pilot and the movie and now also discontinued) carried a suggested retail price of $320.00. We think our $192.00 price is an exceptional value.
We also sell individual Complete Seasons on DVD at nice discounts.
* Mayberry-opoly Board Game $30.00
https://www.weaversdepartmentstore.com/index.php?category=56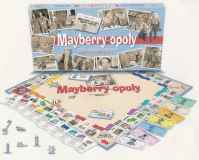 This board game, new in 2007, is a dream come true for "Barney Fife, Realtor" and anyone who has ever wished to own a little piece of that paradise we know and love as Mayberry!
If you love Monopoly and Mayberry or you know somebody who does, then you'll really love Mayberry-opoly.
At just $30.00 per game, Mayberry-opoly is worth the price just to have the cool design of the box and the board to look at or display. We think it's the most fun opoly game ever created.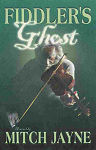 * Fiddler's Ghost by Mitch Jayne $15.00
https://www.weaversdepartmentstore.com/index.php?category=25
Darling boy Mitch Jayne's fascinating new novel, Fiddler's Ghost, is getting fantastic reviews. It's absorbing reading for anybody who loves a good ghost story, music, skillful writing, or just plain great storytelling from a true master. Few people have as much of a command and appreciation of language (especially the Ozark variety) as Mitch. We don't want to give away the plot, but we will say that it's a charming, entertaining and engrossing tale.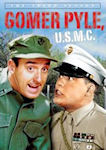 * Complete Third Season of "Gomer Pyle, U.S.M.C." on DVD $32.00
https://www.weaversdepartmentstore.com/index.php?category=91
The Complete Third Season of Gomer Pyle, U.S.M.C. (the first season featuring Elizabeth MacRae as Lou Ann Poovie) is now available at Weaver's, along with the Second and Third Seasons.
Two Other Mayberry-related items:

* The Complete First Season of "Matlock" is scheduled to be released on DVD on April 8. We'll stock it at our online Weaver's Dept. Store and start taking pre-orders in mid-March.
* Hallmark has a Mayberry greeting card with sound that's available in selected stores. We won't spoil potential surprises by telling what it is, but if Opie is shopping for a card, he might want to consider this one.
**** Floyd's Barbershop Bulletin Board & Event Calendar ****
* Now-April 28: Ronnie Schell and Ruta Lee return for a fourth year in Senior Class at the Annenberg Theater in Palm Springs, Calif. For more info, visit: http://www.seniorclassrevue.com.

* Feb. 15 and 16: George Kennedy ("The Big House") appears at the Hollywood Collectors Show at the Burbank Airport Marriott Hotel and Convention Center. For more info, visit http://hollywoodcollectorshow.com.


*Mar. 6-9: 11th Annual George Lindsey UNA Film Festival in Florence, Ala. Academy Award winner and huge Mayberry fan Billy Bob Thornton has been announced as the special guest of honor for this year's festival, which will feature a Sling Blade reunion. The complete schedule and complete information are now on the festival Web site at http://www.lindseyfilmfest.com. Check the news releases section of the site for the most up-to-date info.The University of North Alabama (UNA) is also showing some of Billy Bob's favorite movies and TAGS episodes and some of Billy Bob's own movies on selected dates between now and the festival. Again, check the festival Web site for details and further updates, including other guests for this year's festival.

*April 24-26: Back to Mayberry Festival benefiting Eagles' Wings, a foundation supporting adults with special needs in Tuscaloosa, Ala. The event includes a golf tournament on Thurs., the 24th; a banquet/auction with entertainment on Fri., the 25th; and Variety Show on Sat., the 26th. Special guest stars and lots of other details are TBA soon. Tribute artists confirmed include David "Mayberry Deputy" Browning, Allan "Floyd" Newsome, Jeff "Howard Sprague" Branch, Jamie "Opie" Sullivan, and Kenneth "Otis" Junkin.

*May 3: 21st Annual Uncle Jesse's Big Bass Classic in Paris, Tex., honoring the memory of its founder, Denver Pyle. For more info, visit http://unclejessefishing.com.
* June 28 & 29: James Best appears at DukesFest at the Atlanta Motor Speedway. Visit http://www.dukesfest.com for more info.
* July 5: Doug and Rodney Dillard and their band perform at the 22nd Annual Sally Mountain Park Bluegrass Festival in Queen City, Mo. They will also be doing a special workshop at 11 a.m. called "Stories of Mayberry." For more info, visit http://www.sallymountainshow.com.

* July 9: Jim Nabors is in concert at the American Music Theatre in Lancaster, Penn. For more info, visit http://www.americanmusictheatre.com.
* July 12: 8th Annual Mayberry Squad Car Nationals in conjunction with the 4th Annual Mayberry Comes to Graysville festival in Graysville, Ala.

* July 19: Tentative date for a tribute event to Don Knotts in Morgantown, W.V. Daughter Karen Knotts is among those expected to participate.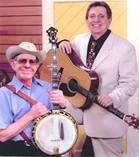 * Aug. 9: Doug and Rodney Dillard and their band and their TV sister Maggie Peterson Mancuso perform at the Second Annual Mayberry in Troy, a fundraiser for the Montgomery County DARE program in Troy, N.C. Show time is 7 p.m. More details TBA.
* Sept. 25-28: 19th Annual Mayberry Days in Mount Airy, N.C. Stars confirmed so far include Doug Dillard and Rodney Dillard. For more info, visit: http://www.surryarts.org.

* Nov. 1-6: A Cruise to Mayberry (click here for more info and photos of past cruises) to the Bahamas aboard Carnival's Fascination ship. This five-day cruise departs from Jacksonville, Fla., on Sat., Nov. 1, and cruises to: Nassau, Half Moon Cay and two "Days at Sea" returning back to Jacksonville on Thurs., Nov. 6. The VW Boys are joining the Mayberry family with their mixture of Music, Magic & Comedy. Tribute artists cruising so far are Phil "Ernest T." Fox, Ken "Otis" Junkin, Allan "Floyd" Newsome, Bob "Briscoe Darling" Mundy, Jeff "Howard Sprague" Branch, Jamie "Opie" Sullivan, Gary "Gomer" Crain, Tara "Juanita" Spath, and Samantha "The Manicurist" Miles. Others TBA. Rates start at $259 plus $179.92 Port Tax per person, based on two per cabin. For more info, call Sharon Euliss at All About Cruises in Burlington, N.C., at 1-800-832-7993. Or e-mail her at PWESJE@aol.com.
**** News of Cast & Crew ****
No release date has been announced yet for Play the Game, the movie Andy Griffith filmed last fall. Andy's back home in North Carolina and taking it easy this winter.

Ron Howard is currently in post-production for the film version of Frost/Nixon, based on the hit play about David Frost's interviews with Richard Nixon after he resigned. And Ron is still in pre-production as director for Angels & Demons, the sequel to The Da Vinci Code that also stars Tom Hanks. The release date for the film, originally set for release next Christmas, has been pushed back until 2009 because of the writers strike.
George Lindsey is the proud grandfather of a new grandson "Granddad, Granddad, Granddad!"), born on January 10, to George's daughter, Camden, and her husband, Russell. The cute little Goober's name is Andrew Liam. He weighed eight pounds, six ounces. He joins big brother Carson and top dog Wilson in the happy household. "
George is being interviewed this week for an American Icon segment on "The O'Reilly Factor" on the Fox News Channel. The segment could air as early as Friday the15th, but could also air on a later Friday.
Richard O. "Dick" Linke, TAGS associate producer, was profiled in the December issue of The Bandstand, official newsletter of the Big Band Academy of America.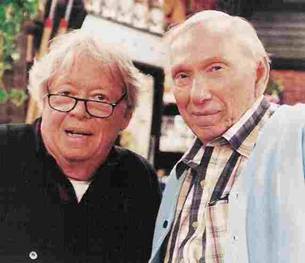 Bill Idelson (left) pictured with his friend and fellow TAGS writer Everett Greenbaum in 1998.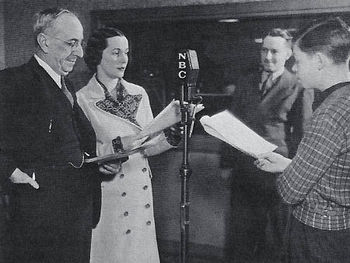 Bill Idelson (far right) provides the voice of Rush during a broadcast of radio's "Vic and Sade."
It is with great sadness that we report that Bill Idelson, one of the top TAGS writers, died in Los Angeles on December 31 from complications after he broke his hip last summer. He was 88.
During the fourth through seventh seasons of TAGS, Bill wrote 19 of the most memorable episodes with his usual writing partner, Sam Bobrick. Those episodes are: "The Shoplifters," "A Deal Is a Deal," "Barney and Thelma Lou, Phfftt!" "Barney's Bloodhound," "Barney Fife, Realtor," "Barney's Uniform," "Andy and Helen Have Their Day," Goober Takes a Car Apart," "The Case of the Punch in the Nose," "The Luck of Newton Monroe," "Off to Hollywood," "Taylors in Hollywood," "Aunt Bee Takes a Job," "Girl-Shy," "The Return of Barney Fife," "A Baby in the House," "The County Clerk," "Big Fish in a Small Town" and "A Visit to Barney Fife."
Bill won a Writers Guild of America Award for best episodic comedy writing for an episode of "Get Smart" and another for his "Shoplifters" episode of TAGS. "Barney Fife, Realtor" was based in large part on Bill's own experiences as a real estate agent.
Bill Idelson was born in Forest Park, Ill., on August 21, 1919. His first fame in entertainment came in radio, first on "Uncle Walt and Skeezix" and most notably as Rush on "Vic and Sade," which became one of the most popular radio shows of all time-and perhaps the original "show about nothing." Among its millions of devoted fans was a young Andy Griffith.
After about a dozen years in radio, Bill interrupted his career to join the Navy during World War II. He became a fighter pilot in the Pacific theater, where he flew missions over Japan. He was awarded five medals, including the Distinguished Flying Cross.
After the war, he went to Hollywood where he resumed work in radio, but also made his name as a TV writer and eventually a producer. Among the many shows for which he was a writer are "The Dick Van Dyke Show," "The Twilight Zone," "Gomer Pyle, U.S.M.C.," "Bewitched," "The Odd Couple," "The Bob Newhart Show," "M*A*S*H" and "Happy Days."
His producer credits include "The Bob Newhart Show," "Anna and the King," "The McLean Stevenson Show" and "Love, American Style."
Bill also continued to act from time to time. He was best known for playing Herman Glimscher, the boyfriend of Sally (Rose Marie) on "The Dick Van Dyke Show." He also played the fiancÚ of Sgt. Carter's sister in episode of "Gomer Pyle, U.S.M.C." He appeared more recently on "Will & Grace" and also in "The War at Home" just last year.
For many years, Bill taught a highly respected script-writing class in Hollywood. He was also the author of books about his career and war experiences and about how to write.
Bill Idelson is survived by his wife of 56 years, actress Seemah Wilder; three sons, Paul, Howie and Jonathan; and three grandchildren. His daughter, writer Ellen Idelson (who took the accompanying photo of Bill with Everett Greenbaum) died in 2003.
A memorial service will be held on February 21 at 7 p.m. at the Writers Guild Theater, 135 South Doheny Drive, Beverly Hills. In lieu of flowers, donations can be made to the Writer's Guild Foundation and/or the Strike Fund.
Bill Idelson's memorial in Mayberry will be the unforgettable episodes he gave us to enjoy the rest of our lives.
A memorial service will be held on February 21 at 7 p.m. at the Writers Guild Theater, 135 South Doheny Drive, Beverly Hills. In lieu of flowers, donations can be made to the Writer's Guild Foundation and/or the Strike Fund.
Bill Idelson's memorial in Mayberry will be the unforgettable episodes he gave us to enjoy the rest of our lives.
Allan Melvin Remembered (1923-2008)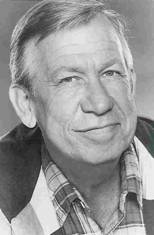 Allan Melvin
Allan Melvin passed away from cancer at his home in Brentwood, Calif., on January 17, 2008, at the age of 84. He is survived by Amalia, his wife of 64 years, daughter Jennifer Hanson and a grandson. The family held a private service.
The following article/interview originally appeared in November 15, 1997 issue (Volume 14, Issue 2) of The Bullet, which was the official printed newsletter of TAGSRWC from 1982 to 2001.

Allan Melvin -- Man of a Thousand Voices
and Eight Mayberry Characters!

By Jim Clark

Allan Melvin, one of the most familiar faces and voices in all of TV, was born in Kansas City, Mo., on February 18, 1923. His parents were Marie and Richard Melvin, a film salesman for Fox Film Association.
When Allan was a young boy, he and his family moved to New York City, the heart of radio entertainment. "I essentially grew up in New York," Allan says. From an early age, Allan enjoyed using his voice in amusing ways and making funny faces. "I always had that ability to do impressions," he recalls.
Though Allan was around the fringes of the entertainment business, he didn't really make his first foray into the business until after first seeing how he liked college. He attended Columbia University, but after a couple of years he decided that wasn't the right direction for him. Allan, who later would become best known for his roles as men in uniform, was himself part of the military machine when he helped build DE's for the U.S. Navy at Port Newark, New Jersey, during World War II.
But entertainment would be Allan's calling. Through networking, he got a job in radio.
"I got involved in the sound effects business at NBC," he says. "I met [British comedian] Peter Donald there. We became good friends and he helped me get a feel for the business." [Fans of Fifties game shows will remember Peter Donald as a frequent host and panelist.] "Peter was instrumental in opening some doors for me," says Allan.
It was during this time that Allan met the love of his life, actress Amalia Sestero Allan remembers, "Amalia and some college acting friends, including Frank Campanella and Thomas McDermott had started a theatrical group, The Unicorn Players, and Frank invited me to one of their meetings -- and the die was cast!" In 1994, Allan and Amalia celebrated their 50th anniversary.
"In about 1947, I met Richard Condon of Manchurian Candidate and Prizzi's Honor fame," Allan says. "We became close friends and Richard arranged an audition for me with Barney Josephson, owner of Cafe Society downtown, where I appeared for three months on the bill with Nellie Lutcher and Rose Murphy. I was billed as The Man of a Thousand Voices with a witty routine written for me by Richard Condon."
From his appearances as a mimic on the New York nightclub scene, Allan became noticed in other areas of entertainment. He appeared on the "Arthur Godfrey Talent Show" on radio and won. Then it was on to Broadway and feature role as Reed in the hit Stalag 17, which was produced by Richard Condon and Jose Ferrer. Allan performed in the show for one year on Broadway and one year in a tour of the country. Allan then returned to New York City, where he continued comedy club and radio work, and began appearing on some TV shows.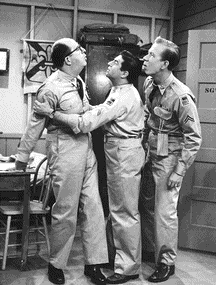 Phil Silvers, Harvey Lembeck and Allan Melvin on "The Phil Silvers Show."

His first big splash into TV was in the role of Corp. Henshaw, sidekick to Phil Silvers, on creator Nat Hiken's "You'll Never Get Rich" ("The Phil Silvers Show," aka "Sgt. Bilko"). Allan worked on "Sgt. Bilko" from 1955-59. TAGS producer Aaron Ruben wrote for and directed "Bilko" during the 1957-59 seasons. "Aaron was very helpful in my career, and 'Bilko' was a wonderful experience," Allan says. "We kibitzed around a lot and had a lot of fun."

Like so many other show business people in New York , Allan began to see the writing on the wall during the late 1950s. He knew that in order to survive in the booming TV market, he needed to be in Los Angeles. So in 1962, at Aaron Ruben's behest, Allan and Amalia and daughters Amalia and Jennifer made the move to the West Coast.

One of Allan's first acting jobs out west was as Rob Petrie's Army buddy Sol Pomerantz on "The Dick Van Dyke Show" in 1961. His first of eight TAGS appearances was as trailer park fugitive Clarence "Doc" Malloy in "Jailbreak" (Episode #50) in 1962.

"I didn't really play that many heavies in my career (besides a guest appearance on 'Route 66')," Allan remembers. "But I was always a heavy on 'Andy.'" "It seemed like I was on it [TAGS] more than I was." As far as any specific memories about working on TAGS, Allan says he really doesn't have any favorite anecdotes. He laughs and good-naturedly echoes a familiar Hollywood line: "I say the words, take the money and pop off home." But he adds, "I always enjoyed doing that show. We had a lot of fun doing it. They were a great bunch. Andy and I hit off right away, and between Aaron and Andy, I never for a moment felt like the 'new kid on the block.'"

And Mayberry fans likewise have always enjoyed his performances on TAGS. His eight different roles (in five different seasons) are a record for the show -- for both the number of pivotal guest star roles and for the number of different roles by an actor. In addition to "Jailbreak," Allan's other TAGS appearances were as hotel detective Bardoli in "Andy and Barney in the Big City" (Episode #57) in 1962, troublesome produce vendor Neil in "Lawman Barney" (Episode #73) in 1962, Jake (Myrt :"Hubcaps" Lesch's accomplice) in "Barney's First Car" (Episode #90) in 1963, the escaped prisoner in "Andy's Vacation" (Episode #118) in 1964, judo-recipient Fred Plummer in "Barney's Uniform" (Episode #135) in 1964 and Clyde Plaunt in "Howard's Main Event" in 1967.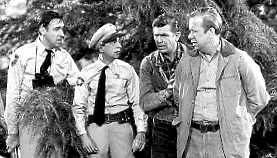 Allan captured Mayberry's attention once again in "Andy's Vacation."

During that time, Allan also appeared in several installments of the last season (1964-65) of the popular "Joey Bishop Show." He also continued his association with the Mayberry Enterprises production team and producer Aaron Ruben when he once again put on a uniform -- this time as Sgt. Charlie Hacker, Sgt. Carter's nemesis in the last four seasons (1965-69) of "Gomer Pyle, U.S.M.C."

Other TV shows that Allan worked on during the 1960s and early 1970s included episodes of "McHale's Navy," "Empire," "Grindl," "The Danny Thomas Show," "The Bill Dana Show," "My Favorite Martian," "Perry Mason," 'The Jackie Gleason Show," "Ben Casey," "Slattery's People," "Green Acres," "Run Buddy Run" "The Partridge Family," "Arnie," "Mayberry RFD" and three episodes of "Love, American Style." He also matched his TAGS episode tally with a total of eight episodes of "The Dick Van Dyke Show."

Fans of "The Brady Bunch" remember Allan as Sam Franklin, the butcher who dated housekeeper Alice Nelson for four seasons (1969-73). Prior to his "Brady" work Allan's impressive work with Norman Lear on a TV pilot called "Barnaby and Mr. O'Malley" (which didn't sell) planted seeds that eventually led to his getting the part of Barney Hefner, Archie Bunker's pal on "All in the Family" (1973-79). Allan's 10-year stint as Barney grew in prominence as the focus on the Bunkers shifted away from the Bunker household and more toward Archie's bar in "Archie Bunker's Place" (1979-83).

"'All in the Family' broke ground for a new wave in television," Allan says. "The Bunkers were the first 'real' family in TV and it was exciting to be a part of this honest and forthright transition to reality. It was a great cast and everyone's input was welcomed. I was Carroll O'Connor's friend and enigh on the show and I still am today."

Allan's one venture into feature films is filled with TAGS connections. He played the desk sergeant in With Six You Get Eggroll (1968, on video), which was directed by Howard "Ernest T." Morris and whose screenwriters included Allan's pals and top TAGS writers Harvey Bullock and Ray Allen. (A few years earlier Allan had starred in a pilot called "Man in the Middle," which also was written by Harvey Bullock and Ray Allen.) Along with stars Doris Day, Brian Keith, Barbara Hershey and George Carlin, Allan is joined by at least six other actors who appeared in Mayberry. "That was a lot of fun," Allan remembers. "I enjoyed working with Doris Day and Brian Keith."

And as testimony to Allan's versatility, he was Al the Plumber on the Liquid Plumr for 15 years during the 1970s and '80s. "That's thanks to the good services of Howard Morris, who directed the spots and is a good friend."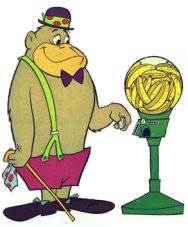 But as familiar as Allan Melvin's face is to millions of TV viewers during the past four decades, it is perhaps his voice that is even more famous. Likely his best-known voice-over subject is Magilla Gorilla on the popular "Magilla Gorilla Show."
He also appeared on "The Flintstones," "The Cattanooga Cats," "King Features Trilogy," "The All-New Popeye Hour" (as Bluto) and "Yogi's Gang." Other children's and cartoon shows he has appeared on include "Flash Gordon," "The Adventures of Gulliver" (as the voice of Bunko), as Drooper on "The Banana Splits," "Motor Mouse," "The Secret Lives of Waldo Kitty," "Around the World in 79 Days" (as Bumbler), "Alfred of the Amazon" and as the father in "Alice in Wonderland" (with Howard Morris and Sammy Davis Jr.). Besides Magilla, some of Allan's best-loved voice characters are Sgt. Snorkel on "Beetle Bailey," Barney Google, Punkin' Puss (teamed with Howard Morris's Mushmouse), and Bristle Hound.
Today, though he considers himself largely retired, you can still hear Allan's voice work on the occasional new cartoon or commercial. Mostly you'll find him relaxing on the golf courses in the Los Angeles area or near his summer home in Michigan. He enjoys visiting with his daughter Jennifer's family, including grandson Jon, who gleefully recognizes his grandfather's voice on various cartoons. (Allan's other daughter, Amalia, died in 1970 at age 25.)
Allan's other favorite pastime these days is writing and collecting higgledy-piggledys. One of his most recent creations has a Mayberry flair to it: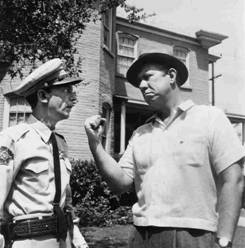 Higgledy Piggledy...
Merchant Fred Plummer,
Cited for littering
By Deputy Fife

Vowed vengeance on "Barn"
'Till he sampled his Judo --
Then, was humbled and glad
To escape with his life.
And that's an appropriate way to conclude this glimpse into Allan Melvin's career because he is a congenial man who is always ready with a hearty laugh or a way to make his audience laugh. One of the most universally beloved people to work in television, Allan Melvin keeps the smiles coming wherever he goes.

Original printed issues of The Bullet, including the issue with this article, are available online at Weaver's Dept. Store at https://www.weaversdepartmentstore.com/index.php?category=81
**** Update on Mayberry's Finest Line of Packaged Foods ****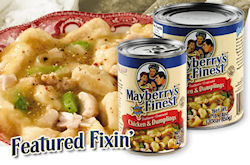 The Mayberry's Finest line of foods continues to roll into more grocery stores across the country every day. You can check out the Foley's Market section of their Web site at http://mayberrysfinest.com to see the current stores (now numbering several hundred!) carrying the foods. The stores are mostly in the Southeast, but they are also as far north as New Jersey and as far as west as Oklahoma and spreading out from there. You can also shop online and buy directly from the fine folks at Mayberry's Finest.
The Mayberry's Finest Recipe Contest is also underway. You'll find details about that in the Aunt Bee's Kitchen section of their site. And you'll discover all sorts of fun things to read and hear on their site. Just browse around.
The third issue of their Mayberry's Finest Gazette newspaper is due out next month. They'll mail out copies to Goobers they know, and they'll also have an online version. And keep an eye out for the Mayberry's Finest tour bus carrying Bluegrass Music's Entertainers of the Year, The Grascals, around the country again this year. You'll also find Mayberry's Finest on MySpace http://myspace.com/mayberrysfinestfoods and soon on YouTube.
Keep checking their Web sites for updates and new happenings from this enthusiastic (and delicious!) TAGS licensee.
**** Post Note****
In addition to accepting orders online or by mail, Weaver's has a phone number for orders only at (615) 604-1298. The phone number is generally in operation from 9 a.m. to 6 p.m. CT Monday through Saturday. Again, please call this number only for ordering or for inquiring about orders placed by phone. All inquiries about online orders and mail orders should be made online and by mail, respectively.
Between issues of the Weaver's Newsletter, keep up with the goings-on in Mayberry with the more-or-less daily "Who's Been Messin' Up the Bulletin Board?" Digest. It's a free subscriber list that consists entirely of comments, news flashes, and questions and answers from subscribers. You can sign up for that list by going to the "Mailing Lists" link at https://www.tagsrwc.com/.
TAGSRWC also publishes The eBullet in alternate months to the Weaver's Newsletter. The eBullet is the online successor to our longtime printed newsletter, The Bullet. Like the Weaver's Newsletter, The eBullet is free. It includes some of the same news as the Weaver's Newsletter, but with more features and depth and a little less emphasis on merchandise news. To sign up, go to https://www.tagsrwc.com/ebullet/joinebullet.htm.
TAGSRWC's other main vehicle for Mayberry information is simply our Web site at http://www.tagsrwc.com. It has extensive content and links for just about everything a Mayberry fan might be looking for.
The next issue of Weaver's Newsletter is scheduled for April (with an eBullet coming out in March).
That's all for now. We hope you have fun browsing at Weaver's and visiting http://www.mayberry.com.
To unsubscribe from Weaver's Newsletter enter your subscription email address: