I
f you cannot view our HTML newsletter with photos, click here to read it at our Web site.
Weaver's Newsletter
An Online newsletter of
"The Andy Griffith Show" Rerun Watchers Club (TAGSRWC)
November 27, 2007

Welcome to our Holiday Issue of Weaver's Newsletter! We know everybody gets really busy this time of year, so here's an abbreviated, quick look at the latest merchandise news and other goings-on in Mayberry.
**** Merchandise Update ****
Holiday Shipping Schedule: Our last shipping day for U.S. Mail to be delivered before Christmas is Noon Central Time on Dec. 20. We'll still be shipping on Fri., Dec. 21, but it'll take FedEx Overnight (at an extra charge) to guarantee those orders for delivery on Christmas Eve.
You'll find our full line of Mayberry items at Weaver's Dept. Store at http://www.mayberry.com, but here are some highlights: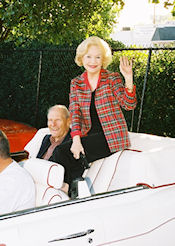 Elizabeth MacRae and husband Charlie Halsey are ready to proceed in the Mayberry Days parade.
* Complete Third Season of "Gomer Pyle, U.S.M.C." on DVD $32.00
https://www.weaversdepartmentstore.com/index.php?category=91
The Complete Third Season of Gomer Pyle, U.S.M.C. (the first season featuring Elizabeth MacRae as Lou Ann Poovie) is being released on Dec. 11. We're taking pre-orders now and will begin shipping on the 11th, in plenty of time for Christmas.
And there's also a Box Set of the Complete First Three Seasons of "Gomer Pyle, U.S.M.C." coming out the same day. The suggested retail price for the Box Set is $120.00, but we've got 'em for just $90.00!
And we still have a good supply of the Complete First and Second Seasons of "Gomer Pyle" sold individually at our introductory price of $32.00. Like the Third Season, they're 20% off the suggested retail price of $40.00.
* Waitress DVD (widescreen version) featuring Andy Griffith $25.00
https://www.weaversdepartmentstore.com/index.php?category=73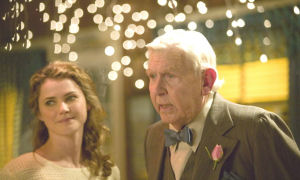 This DVD was released on Nov. 27. This hit independent film of 2007 features Andy as Old Joe, a crusty diner owner.
It also stars Keri Russell. There's a lot of wholesome pie-making in this romantic comedy, but there are also some mature themes that give it a PG-13 rating. The suggested price is $30.00, but our price at Weaver's is just $25.00.
* 2008 "Andy Griffith Show" Wall Calendar $14.00
https://www.weaversdepartmentstore.com/index.php?category=44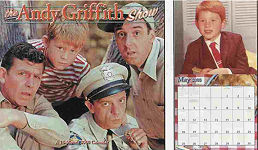 This fifth straight year of an officially licensed TAGS Wall Calendar celebrates that milestone with all color photos for 2008. Now, don't panic. "all color" doesn't mean photos only from the color seasons. Several photos are from the black-and-white era. They just happen to be in "glorious color" because they are publicity stills. Some haven't been published since the first set of trading cards in 1990.
We also have a Calendar Combo with both the 2007 and 2008 Wall Calendars for only $22.00.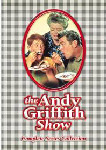 * All New Box Set of All Eight Seasons of "The Andy Griffith Show," Plus the "Danny Thomas" Pilot and Return to Mayberry $192.00
https://www.weaversdepartmentstore.com/index.php?maincat=72
The suggested retail price for this Box Set of every episode of "The Andy Griffith Show" (plus the "Danny Thomas" pilot episode and the 1986 Return to Mayberry movie) is over $240.00. The previous 8-season box-set release (without the pilot and the movie and now also discontinued) carried a suggested retail price of $320.00. We think our $192.00 price is an exceptional value.
We also sell individual Complete Seasons on DVD at very nice discounts.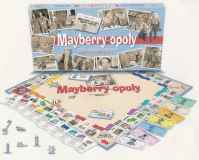 * Mayberry-opoly Board Game $30.00
https://www.weaversdepartmentstore.com/index.php?category=56
This brand new board game is a dream come true for "Barney Fife, Realtor" and anyone who has ever wished to own a little piece of that paradise we know and love as Mayberry!
If you love Monopoly and Mayberry or you know somebody who does, then you'll really love Mayberry-opoly.
At just $30.00 per game, Mayberry-opoly is worth the price just to have the cool design of the box and the board to look at or display. We think it's the most fun opoly game ever created.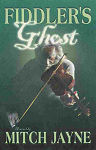 * Fiddler's Ghost by Mitch Jayne $15.00
https://www.weaversdepartmentstore.com/index.php?category=25
Step aside, Harry Potter! Darling boy Mitch Jayne's fascinating new novel, Fiddler's Ghost, has just been released. It's absorbing reading for anybody who loves a good ghost story, music, skillful writing, or just plain great storytelling from a true master. Few people have as much of a command and appreciation of language (especially the Ozark variety) as Mitch. We don't want to give away the plot, but we will say that it's a charming, entertaining and engrossing tale.
* And more...
Don't forget, we've got several items that are particularly timely for the holidays including these two releases featuring Andy Griffith:
| | | |
| --- | --- | --- |
| | and | |
| Animated DVD | | Book with Audio CD |
You can find Ol' Ben Weaver's full lineup of items, including apparel, at http://www.weaversdepartmentstore.com. (Or go to http://www.mayberry.com and click on the Weaver's link at the top right of that front page.)
We also have our phone order line available for shopping convenience. The number is (615) 604-1298. Our phone line has part-time hours. It is generally manned Mon.-Sat., 9 a.m.-6 p.m. CT, but there will not always be somebody there even during those times. However, you can always leave a message 24 hours a day and we'll call you back "on our nickel" to get your order at a time convenient to you. And of course you can always order online or by mail any time.
You can find most of our items at our location on the third floor of the Main-Oak Emporium at 245 City Hall Street in Mount Airy, N.C. We'll have our shelves especially well-stocked for the holidays.
**** Update on Mayberry's Finest Line of Packaged Foods ****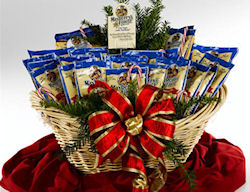 The new line of Mayberry's Finest packaged foods from Diversity Brands won't be on our shelves at Weaver's Dept. Store, but only because we're not exactly set up for cost-effectively shipping cans of beans and, eventually, jars of pickles.
However, the full line of canned goods and baking mixes (including special gift baskets like the one at left) is now available on the Mayberry's Finest Web site at http://www.mayberrysfinest.com. The foods also are starting to hit the shelves of grocery stores across the country. Their Web site has an up-to-date list of stores and locations in its Foley's Market section.
Keep an eye out for Mayberry's Finest at your favorite store. If you don't find the line in the store where you shop, ask the store manager if the store can stock the items for you and others.
There's going to be a Mayberry's Finest Recipe Contest beginning January 1, 2008. Check out the Mayberry's Finest Web site for complete info. Who knows...your recipe (and your picture) just might be the winner selected to be on the packaging for Mayberry's Finest All-Purpose Baking Mix! Plus the Grand Prize winner gets a trip for two to Mayberry Days 2008 (including airfare if you live far enough away to need a plane to get there!)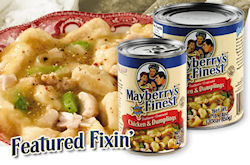 On their site, you can also listen to their catchy new jingle by the 2006 and recently re-crowned 2007 International Bluegrass Music Association Entertainers of the Year, The Grascals!
Also, if you happen to be in Nashville on December 7, look for the Mayberry's Finest squad car in the city's Christmas parade going down Broadway at 7 p.m. that night.
And one last note about Mayberry's Finest...they have a page on MySpace at http://www.myspace.com/mayberrysfinestfoods. If you're a MySpacer, drop by and tell 'em hey.
**** Floyd's Barbershop Bulletin Board & Event Calendar ****
2007
Ronnie Schell and Ruta Lee (both in red)) are flanked by Senior Class costar Gary Collins.
*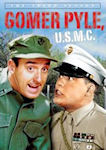 Dec. 11: Release date for the Complete Third Season of "Gomer Pyle, U.S.M.C." on DVD. Pre-orders are underway now at our Weaver's Dept. Store online.
* Dec. 31 - Apr. 28, 2008: Ronnie Schell and Ruta Lee return for a fourth year in Senior Class at the Annenberg Theater in Palm Springs, Calif. For more info, visit: http://www.seniorclassrevue.com/
2008
* Jan. 26: James Best appears at the Canton Hot Rod Custom Show in Canton, Ohio

*Mar. 6-9: 11th Annual George Lindsey UNA Film Festival in Florence, Ala. For more info, visit http://www.lindseyfilmfest.com/
* June 28 & 29: James Best appears at DukesFest at the Atlanta Motor Speedway. Visit http://www.dukesfest.com for more info.
* July 5: Doug and Rodney Dillard and their band perform at the 22nd Annual Sally Mountain Park Bluegrass Festival in Queen City, Mo. They will also be doing a special workshop at 11 a.m. called "Stories of Mayberry." For more info, visit http://www.sallymountainshow.com.
* July 9: Jim Nabors is in concert at the American Music Theatre in Lancaster, Penn. For more info, visit http://www.americanmusictheatre.com.
* July 12: 8th Annual Mayberry Squad Car Nationals in conjunction with the 4th Annual Mayberry Comes to Graysville festival in Graysville, Ala.
* July 19: Tentative date for a tribute event to Don Knotts in Morgantown, W.V.
*Aug. 9: Doug and Rodney Dillard and their band perform at the Second Annual Mayberry in Troy, a fundraiser for the Montgomery County DARE program in Troy, N.C. Showtime is 7 p.m. More details TBA.
* Sept. 25-28: 19th Annual Mayberry Days in Mount Airy, N.C. Stars confirmed so far include Doug Dillard and Rodney Dillard. For more info, visit http://www.surryarts.org.
**** New Home for Andy Griffith Collection ****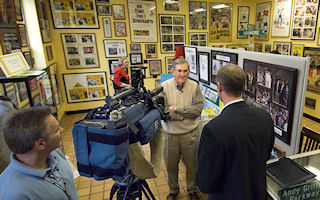 Photo by Hobart Jones
Emmett Forrest is interviewed during the opening of the exhibit of his Andy Griffith memorabilia at the Andy Griffith Playhouse in Mount Airy.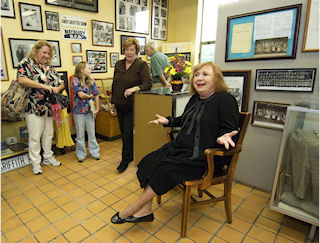 Photo by Hobart Jones
Betty Lynn looks right at home as she greets fans with memories and a smile during the festive opening of the collection at its new home.
Emmett Forrest's phenomenal Andy Griffith Collection of memorabilia has a new permanent home at the Andy Griffith Playhouse, the former Rockford Street Grammar School that Emmett and Andy both attended in Mount Airy, N.C.
Emmett's mission was to have the collection on display where it would always be free of charge to the public. When plans stalled for a new Mount Airy Visitors Center (also to be on the Playhouse grounds), the Surry Arts Council made space available for the collection in the existing building. It's a very happy home for Emmett's collection.
Among all of Emmett's fantastic memorabilia, there are some new, very special items in the collection donated by Francey Knotts, widow of Don Knotts. Those items include two of Don's salt-and-pepper suits and a bronzed chair (Barney's chair from the Courthouse!) signed by the cast and crew and other key people at CBS and presented to Don when he was leaving the show.

To the right are a couple of photos by Hobart Jones from the ribbon-cutting in October.
**** News of Cast & Crew ****
Andy Griffith provides the voice of Santa Claus in the animated Christmas Is Here Again. The film has an all-star cast including Ed Asner, Shirley Jones, Kathy Bates, Norm MacDonald, Brad Garrett, Dan Roebuck (who also is one of the producers) and Jay Leno as the narrator. It may make it on TV this holiday season, a possibility that was still pending as we were sending this issue out, but the writers' strike may increase its chances. At the very least, it'll be out on DVD for next Christmas.
In early October, Andy started filming an independent film called Play the Game. The movie also features Mayberry's Rance Howard and Clint Howard, as well as Doris Roberts (Ray Romano's TV mom), Liz Sheridan (Jerry Seinfeld's TV mom), Paul Campbell ("Battlestar Gallactica"), and Marla Sokoloff ("The Practice"). The film is slated for release in theaters next year.
Rance Howard also appears as a preacher in the big Sony Pictures release Walk Hard-The Dewey Cox Story, which will be in theaters Dec. 21. And he has bunches of other movie roles in the works, as does Clint.
Ron Howard is currently in post-production for the film version of Frost/Nixon, based on the hit play about David Frost's interviews with Richard Nixon after he resigned. Ron is also producer of The Changeling, which is being directed by Clint Eastwood and stars Angelina Jolie. And Ron is in pre-production as director for Angels & Demons, the sequel to The Da Vinci Code that also stars Tom Hanks. The film is slated for release at Christmastime of next year unless the writers' strike interferes with the production schedule.
LeRoy McNees was joined by Keith Thibodeaux and several popular Mayberry tribute artists for Cruise to Mayberry 2 in the Caribbean. It got wave reviews! After the cruise, LeRoy and wife Jan stayed in Florida to help build a house for Habitat for Humanity.
And Margaret Kerry (two episodes of TAGS, including "Christmas Story") has just returned this month from a Disney cruise to the Caribbean. Her autobiography, Tinker Bell Talks, is expected to be released in early 2008.
Joy Ellison, another "Christmas Story" cast member (as Effie Muggins), continues to stay busy as one of the top dialect coaches in Hollywood. She regularly works with Catherine Zeta-Jones, including on this year's No Reservations. She is currently working on The Mummy: Tomb of the Dragon Emperor, which is set for release in August.
Lots of events involving TAGS stars are beginning to take shape for 2008. It promises to be another fun year in Mayberry!
**** POST NOTE ****

Between issues of the Weaver's Newsletter, keep up with the goings-on in Mayberry with the more-or-less daily "Who's Been Messin' Up the Bulletin Board?" Digest. It's a free subscriber list that consists entirely of comments, news flashes, and questions and answers from subscribers. You can sign up for that list by going to the "Mailing Lists" link at https://www.tagsrwc.com/.
TAGSRWC also publishes The eBullet in more or less alternate months to the Weaver's Newsletter. The eBullet is the online successor to our longtime printed newsletter, The Bullet. Like the Weaver's Newsletter, The eBullet is free. It includes some of the same news as the Weaver's Newsletter, but with more features and depth and a little less emphasis on merchandise news. To sign up, go to https://www.tagsrwc.com/ebullet/joinebullet.htm.
TAGSRWC's other main vehicle for Mayberry information is simply our Web site at http://www.tagsrwc.com. It has extensive content and links for just about everything a Mayberry fan might be looking for.
The next issue of Weaver's Newsletter is scheduled for February (with an eBullet coming out in January).
That's all for now. We hope you have fun browsing at Weaver's and visiting http://www.mayberry.com.
To unsubscribe from Weaver's Newsletter enter your subscription email address:

Happy Holidays to You & Yours!