I

f you cannot view our HTML newsletter with photos, click here to read it at our Web site.

Weaver's Newsletter
An Online newsletter of
"The Andy Griffith Show" Rerun Watchers Club (TAGSRWC)
August 29, 2007 (Betty Lynn's Birthday!)

Welcome to our fourth issue of the Weaver's Newsletter for 2007! Several new items have come out during the last few months. Here are two newest: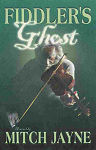 * Fiddler's Ghost by Mitch Jayne $15.00
https://www.weaversdepartmentstore.com/index.php?category=25
Step aside, Harry Potter! Darling boy Mitch Jayne's fascinating new novel, Fiddler's Ghost, has just been released. It's absorbing reading for anybody who loves a good ghost story, music, skillful writing, or just plain great storytelling from a true master. Few people have as much of a command and appreciation of language (especially the Ozark variety) as Mitch. We don't want to give away the plot, but we will say that it's a charming, entertaining and engrossing tale.
* 2008 "Andy Griffith Show" Wall Calendar $14.00
https://www.weaversdepartmentstore.com/index.php?category=44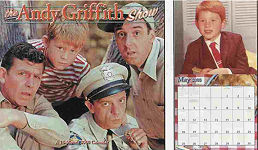 This fifth straight year of an officially licensed TAGS Wall Calendar celebrates that milestone with all color photos for 2008. Now, don't panic. "All color" doesn't mean photos only from the color seasons. Several photos are from the black-and-white era, but just in color because they are publicity stills. Some haven't been published since the first set of trading cards in 1990.
We also have a Calendar Combo with both the 2007 and 2008 Wall Calendars for only $22.00.
**** Update on New Line of Mayberry Packaged Foods ****
The exciting new Mayberry's Finest line of packaged foods from Diversity Brands won't be on our shelves at Weaver's Dept. Store (only because we're not exactly set up for cost-effectively shipping cans of beans and jars of pickles), but they will start hitting the shelves of grocery stores across the during the next few weeks. You'll see them first in the Carolinas then the Southeast, and later nationwide.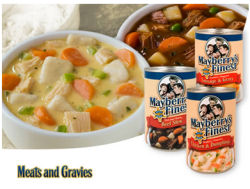 Keep an eye out for them at your favorite store. They're also a major sponsor of Mayberry Days in Mount Airy in September, so keep an eye out for them if you're attending. (The first store in the country to carry Mayberry's Finest products is Mayberry on Main, the unique foods store across the street from Floyd's City Barbershop and the Snappy Lunch in Mount Airy. You can find all available Mayberry's Finest foods there and at other retailers as they are released.)
And there's also going to be a Recipe Contest later this fall. Who knows...your recipe (and your picture) just might be the winner selected to be on the packaging for Mayberry's Finest All-Purpose Flour!
Check out their Web site at http://www.mayberrysfinest.com, where you can also listen to their catchy new jingle by the International Bluegrass Music Association Entertainers of the Year, The Grascals! The site has all kinds of neat features, including their Mayberry's Finest Gazette newsletter, which you can read online or download. And look for the colorful Mayberry's Finest tour bus for The Grascals as it crisscrosses the nation. You can't miss it!
**** Floyd's Barbershop Bulletin Board-Event Calendar ****
2007
* Sept. 1-3: David Browning is looking to make arrests for a-salt and buttery at the Popcorn Festival in Casey, Ill.
* Sept. 7 and 8: There's nothing tent-ative about David Browning's appearance for an event at Tom Johnson RV in Marion, N.C.
* Sept. 17-23: Ronnie Schell entertains at the Comedy Room at Harvey's Hotel and Casino in Lake Tahoe.
* Sept. 21: Maggie Peterson greets fans and signs autographs between 4 and 8 p.m. during Rocky's Celebrity Meet & Greet at Hooters Casino Hotel in Las Vegas. For more info, visit http://www.celebritymeetandgreet.com.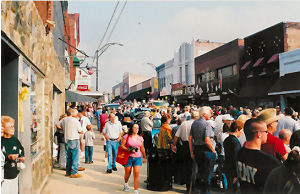 FACES IN THE CROWD--The Mayberry Days Parade makes its way down Main Street past the Snappy Lunch in Mount Airy.
* Sept. 27-30: 18th Annual Mayberry Days in Mount Airy, N.C. Guest stars from the cast confirmed so far include Mount Airy resident Betty Lynn, Doug Dillard, Rodney Dillard, Maggie Peterson Mancuso, James Best, Elizabeth MacRae, LeRoy McNees, Jackie Joseph, George Spence and David Morris (son of the late Howard Morris). For tickets and more info, visit http://www.surryarts.org/.
* Oct. 5 and 6: Roland White performs at the Oklahoma International Bluegrass Festival as part of a Country Gazette Reunion with: Roger Bush, Byron Berline, Alan Munde, and Kenny Wertz. For more information, visit http://www.OIBF.com
* Oct. 13: David Browning will be inventin' new ways to patrol at the Vinton Fall Festival in Vinton, Va.
* Oct. 19 and 20: Mayberry Comes to Cocoa 2 in Cocoa, Fla. CANCELED.
* Oct. 20: David Browning hosts the Voice of Bluegrass concert in Mount Airy, N.C.
* Oct. 20 and 21: George Lindsey helps folks slow down for a fun time at the Music & Molasses Festival at Nashville's Ellington Agricultural Center (440 Hogan Road, just off I-65 on Nashville's south side). In full Goober regalia, George will be greeting fans from 1 to 3 p.m. each day.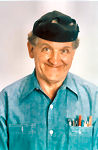 The folks from Mayberry's Finest (the new "Andy Griffith Show" packaged foods) will be at the festival with their Mayberry squad car replica and all sorts of goodies. Enjoy country & bluegrass music, free carriage rides, outdoor kettle cooking, and old-fashioned molasses making at the Music & Molasses Festival. Other activities and events scheduled include sheep herding with border collies, clogging, and arts & crafts.
* Oct. 21-25: Cruise to Mayberry 2 starring cast members Keith "Johnny Paul Jason" Thibodeaux and LeRoy "Country Boy" McNees, the VW Boys and assorted Mayberry Tribute Artists, including Allan "Floyd" Newsome, Kenneth "Otis" Junkin, Phil Ernest T." Lee, Jeff "Howard" Branch, Bob "Briscoe" Mundy, Gary "Gomer" Crain and Jamie "Opie" Sullivan, plus the Mayberry Momma, Jewell Kutzer. For details about this second annual cruise to the Caribbean, visit the cruise's Web site at http://www.mayberry.com/tagsrwc/wbmutbb/anewsome/private/cruise.htm
* Oct. 27: David Browning hopes you choose to see him as he lights up the Tobacco & Fall Festival with fun in Pennington Gap, Va.
* Nov. 3: Margaret Kerry is guest star for a weeklong Disney cruise to the western Caribbean. For more info, call GalaxSea Cruises and Tours at 1-800-357-9393.
* Dec. 11: Release date for the Complete Third Season of "Gomer Pyle, U.S.M.C." on DVD. Pre-orders begin at our Weaver's Dept. Store on Nov. 20.
* Dec. 31- April 2008: Ronnie Schell and Ruta Lee return for a fourth year in Senior Class at the Annenberg Theater in Palm Springs, Calif. For more info, visit: http://www.seniorclassrevue.com/
2008
* July 19: 8th Annual Mayberry Squad Car Nationals in conjunction with the 4th Annual Mayberry Comes to Graysville festival in Graysville, Ala.
**** More Merchandise News ****
Here are some other items we're highlighting at Weaver's.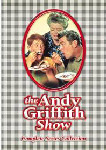 * All New Box Set of All Eight Seasons of "The Andy Griffith Show," Plus the "Danny Thomas" Pilot and Return to Mayberry $192.00
https://www.weaversdepartmentstore.com/index.php?maincat=72
The suggested retail price for this brand new Box Set of every episode of "The Andy Griffith Show" (plus the "Danny Thomas" pilot episode and the 1986 Return to Mayberry movie) is over $240.00. The previous 8-season box-set release (without the pilot and the movie and now also discontinued) carried a suggested retail price of $320.00.
We also sell individual complete seasons on DVD at a nice discount.
* Mayberry-opoly Board Game $30.00
https://www.weaversdepartmentstore.com/index.php?category=56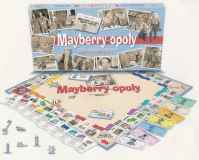 This game has just arrived this summer and we're now shipping.
This brand new board game is a dream come true for "Barney Fife, Realtor" and anyone who has ever wished to own a little piece of that paradise we know and love as Mayberry!
If you love Monopoly and Mayberry or you know somebody who does, then you'll really love Mayberry-opoly.
At just $30.00 per game, Mayberry-opoly is worth the price just to have the cool design of the box and the board to look at or display. We think it's the most fun opoly game ever created.
* Complete Second Season of "Gomer Pyle, U.S.M.C." on DVD $32.00
https://www.weaversdepartmentstore.com/index.php?category=91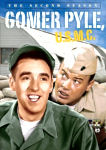 This Second Season of "Gomer" is one of the best. It includes visits from Opie and Goober. Our price is just $32.00 vs. the suggested retail price of $39.00 or more.
And we still have a good supply of the Complete First Season of "Gomer Pyle" at our introductory price of $32.00, which, like the Second Season, is about 20% off the suggested retail price. (The third season is being released on DVD on Dec. 11.)
**** NEWS OF CAST & CREW ****
Andy Griffith and his movie, Waitress, drew large audiences and outstanding reviews following the film's release in May. There's even early Oscar buzz about Andy's performance! Andy also provides the voice of Santa Claus in the animated Christmas Is Here Again, which will be released in November. The film has an all-star cast including Ed Asner, Shirley Jones, Kathy Bates, Norm MacDonald, Brad Garrett, Dan Roebuck (who also is one of the producers) and Jay Leno as the narrator.
Ron Howard is in preproduction as director for the film version of Frost/Nixon, the hit play about David Frost's interviews with Richard Nixon after he resigned.
George Lindsey has been enjoying a relaxing summer while the "Find Me a Man Like Goober" single and music video by country duo Moore & Moore continues to get play on a solid range of radio and TV outlets. George also attended one day of CMA MusicFest, where he joined pal Ralph Emery in greeting fans and signing autographs.
Betty Lynn was an invited guest for the private dedication ceremony of the Billy Graham Library in Charlotte, N.C., at the end of May. Former President Jimmy Carter was among the speakers. Betty returned to Charlotte in July for the Western Film Fair.
Mayberry maestro Earle Hagen recently signed with Spirit Music Group to administer his music catalog of more than 3,000 scores and themes, including those for TAGS. That could mean that we'll soon be hearing a lot more of Earle's compositions in a variety of formats and media besides the films for which they were created.
James Best has had a busy summer of personal appearances, including DukesFest in Nashville. He has also managed to find plenty of time for fishing. You can check out his Web site at http://www.jamesbest.com to get an idea of where some of the fishing spots are that he has been hitting.
James plays McClancy in Moondance Alexander, which will be in theaters nationwide this fall. The film, written and produced by James' daughter, Janeen, and her husband, Michael Damian (who also directed), has already won an award at April's Newport Beach Film Festival.
Jackie Joseph was a huge hit with the "hefty" crowd at the 7th Annual Mayberry Squad Car Nationals and 3rd Annual Mayberry Comes to Graysville festival in Alabama in July. Next stop for Jackie...Mayberry Days!
Doug Dillard, Rodney Dillard and Maggie Peterson Mancuso had capacity crowd for a swell concert fundraiser for the DARE program in Troy, N.C. They were joined by several of the favorite Mayberry tribute artists.
Margaret Kerry (Bess Muggins in "Christmas Story" and Helen Scobey in "Andy Forecloses") has done more than 80 press interviews and has been on a press tour to New York, Toronto and London promoting a new Tinker Bell movie for Disney. She's also doing a Disney cruise to the western Caribbean in November. And her memoirs, Tinker Bell Talks: Tales of a Pixie-Dusted Life, are scheduled to be published in the next six months or so.
We're sad to report that legendary actor Charles Lane, who played moonshining butter-and-egg man Mr. Frisbie in "Aunt Bee the Crusader" (Episode #111), died on July 9 from being 102 years old. He died at his home in Brentwood, Calif.
He was born Charles Levison in San Francisco on January 26, 1905, over a year before the Great San Francisco Earthquake. He started out as an insurance salesman, but moved on to the famed Pasadena Playhouse and then into films. He was a founding member of the Screen Actors Guild. His first film was Smart Money in 1931 with Edward G. Robinson and James Cagney.
By the time he shot It's a Wonderful Life for favorite director Frank Capra in 1946, Charles Lane had already appeared in about 200 films. (He would go on to perform in eight Capra pictures.) It's very possible that his combined total number of movie appearances and guest appearances in scripted TV episodes is more than for any other actor between the 1930s and 1970s.
Among his movies was The Ghost and Mr. Chicken with Don Knotts. He was also in two episodes of "Gomer Pyle, U.S.M.C." He is perhaps best remembered as cantankerous (that goes without saying!) Homer Bedloe in "Petticoat Junction" and also as Foster Phinney in episodes of "The Beverly Hillbillies."
Charles Lane's last on-camera film performance was in 1995. He also narrated The Night Before Christmas, a short in 2006. And he was in attendance at the TV Land Awards in 2005 when he was honored for his 100th birthday.
His wife of over seven decades, actress Ruth Covell, passed away in 2002. He is survived by son Tom and daughter Alice. Donations in his memory may be made to the Motion Picture & Television Fund or another charity.
Editor's Note: We believe that Charles Lane is so far the second-longest lived person to have worked on TAGS. We believe the longest lived was Lillian Culver (Barney's mother in "The Manhunt.) She died in 1999 at the age of 103 1/2.
We're also saddened by news getting to us just this month that Billy Booth, who played Roger, one of Ollie and Nora's sons in "Family Visit" (Episode #130), died of liver complications on Dec. 31, 2006, at the age of 54. He would have been 55 on the 3rd of this month. Billy Booth was best known for playing Tommy Anderson, best friend of Dennis Mitchell, in TV's "Dennis the Menace from 1959-62.
**** MORE MERCHANDISE INFO ****
You can find Mr. Weaver's full lineup of items at http://www.weaversdepartmentstore.com. (Or go to http://www.mayberry.com and click on the Weaver's link at the top right of that front page.)
We also have our phone order line available for shopping convenience. The number is (615) 604-1298. Our phone line has part-time hours. It is generally manned Mon.-Sat., 9 a.m.-6 p.m. CT, but there will not always be somebody there even during those times. However, you can always leave a message 24 hours a day and we'll call you back "on our nickel" to get your order at a time convenient to you. And of course you can always order online or by mail any time.
You can find most of our items at our location on the third floor of the Main-Oak Emporium at 245 City Hall Street in Mount Airy, N.C. We'll have our shelves especially well-stocked for Mayberry Days next month.
Shipping Notice: Our Shipping Dept. will be closed after Noon on Sept. 4 until Sept. 12. We'll still be able to receive orders online, by phone, and by mail during that time, but those orders won't begin shipping out until Sept. 12.
**** POST NOTE ****
Between issues of the Weaver's Newsletter, keep up with the goings-on in Mayberry with the more-or-less daily "Who's Been Messin' Up the Bulletin Board?" Digest. It's a free subscriber list that consists entirely of comments, news flashes, and questions and answers from subscribers. You can sign up for that list by going to the "Mailing Lists" link at https://www.tagsrwc.com/.
TAGSRWC also publishes The eBullet in more or less alternate months to the Weaver's Newsletter. The eBullet is the online successor to our longtime printed newsletter, The Bullet. Like the Weaver's Newsletter, The eBullet is free. It includes some of the same news as the Weaver's Newsletter, but with more features and depth and a little less emphasis on merchandise news. To sign up, go to https://www.tagsrwc.com/ebullet/joinebullet.htm.
TAGSRWC's other main vehicle for Mayberry information is simply our Web site at http://www.tagsrwc.com. It has extensive content and links for just about everything a Mayberry fan might be looking for.
The next issue of the Weaver's Newsletter is scheduled for October (with an eBullet coming out in September).
That's all for now. We hope you have fun browsing at Weaver's and visiting www.mayberry.com.