I
f you cannot view our HTML newsletter with photos, click here to read it at our Web site.
Weaver's
Newsletter
An Online newsletter of
"The Andy Griffith Show" Rerun Watchers Club (TAGSRWC)
**** Holiday Merchandise Update ****
Here are some of the newest items, including a great one that's coming out between now and Christmas:
"The Andy Griffith Show 50th Anniversary-The Best of Mayberry" DVD
https://www.weaversdepartmentstore.com/catalog.php?item=304
$25.00 $22.00 New!!
Release Date: Dec. 21st—Taking Pre-Orders Now!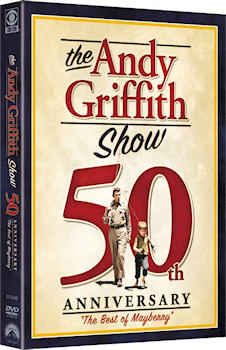 O.K., this is a really exciting new item-one we've long been hoping for-but it's really going to be cutting it close for Christmas. The official release date is Dec. 21. Yipes! The good news is that we're counting on our shipment arriving in time for us to ship a little bit before that date, so that the DVDs can be delivered to all Mayberry homes in time for Christmas. All indications from the distributor are that that should happen.
In any case, this is definitely a DVD worth waiting for. Here's some of what's on it:
* 17 Favorite Episodes:
"Christmas Story"

"The Pickle Story"

"Barney and the Choir"

"Mr. McBeevee"

"Convicts-at-Large"

"Man in a Hurry"

"Class Reunion"

"The Darlings Are Coming"

"Barney's First Car"

"Dogs, Dogs, Dogs"

"Mountain Wedding"

"Opie the Birdman"

"The Sermon for Today"

"Citizen's Arrest"

"Fun Girls"

"Barney's Sidecar"

"Goober and the Art of Love"
* "Danny Meets Andy Griffith" (the "Danny Thomas" pilot for TAGS)
* Clips from Season Premiere nights for the 1962-63 and 1963-64 seasons
* The 1986 Return to Mayberry reunion movie
* "Fishin' Hole" montage
* Sponsor commercials featuring cast members
* And a couple of more special features

This collection is chockfull of great Mayberry moments. And the price makes for a truly unbeatable combination of quantity, quality and value. It's a dream come true for Mayberry fans everywhere.

"A Mayberry Christmas" Color Print
https://www.weaversdepartmentstore.com/catalog.php?item=300
$60.00 $30.00 New!!!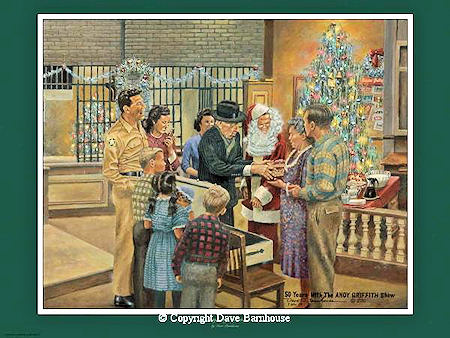 Released in time for the holidays, this is the third print in the initial release of three prints in the officially licensed series of Mayberry artwork by acclaimed artist Dave Barnhouse. (The first two in the series are called "Together Forever" and "Mayberry, My Hometown." See them below.)
Dave Barnhouse has captured the sentiment of the touching Courthouse scene in the "Christmas Story" episode when Ben Weaver generously expresses the spirit of Christmas. It's one of the all-time classic moments of the series, and one that is sure to instantly cause feelings of holiday joy for anyone who sees it.
The image size of the full-color print measures 18 in. x 24 in. (the image itself is 16 in. x 20 in.). Dave Barnhouse has signed each print in this open-edition work.
Apparently already feeling good with the Christmas spirits, Ol' Ben Weaver has trimmed the price of this outstanding print from $60 to an unbelievable $30. Yes, that's right....half off! We think Ben's feeling so generous just because he's depicted in the painting, but we'll take whatever price break he gives us! That 50% savings will definitely "merry up Christmas" for the rest us! Thanks, ol' Ben!
Bring a little Mayberry cheer into your home and the homes of friends...even if you don't have a skinny Santa Claus to deliver it!
"Mayberry, My Hometown" Color Print
https://www.weaversdepartmentstore.com/catalog.php?item=299
$60.00 $50.00 NEW!!!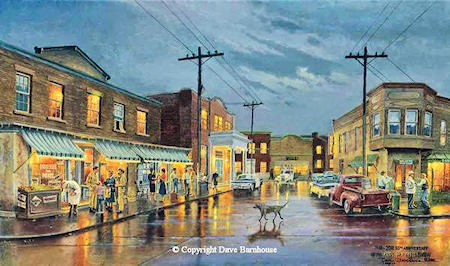 Released in September, this is the second print in the initial release of three prints in the officially licensed series of artwork by top nostalgia artist Dave Barnhouse.
The image size of this giant full-color paper print measures 17.5 in. x 30 in. The engaging scene of Main Street at night beautifully captures favorite Mayberry characters and landmarks. What a wonderful depiction of gentle Mayberry life!
Once you have this print on a wall, you can sit back and take a stroll with your imagination and escape into this inviting Mayberry scene!
Dave Barnhouse has signed each print in this open-edition work.
And as a bonus, we've now got this huge print at $10 off the suggested price!
.
Limited Edition "Together Forever" 50th Anniversary Color Lithograph
https://www.weaversdepartmentstore.com/catalog.php?item=298
by Dave Barnhouse $130.00 $100.00 NEW!!!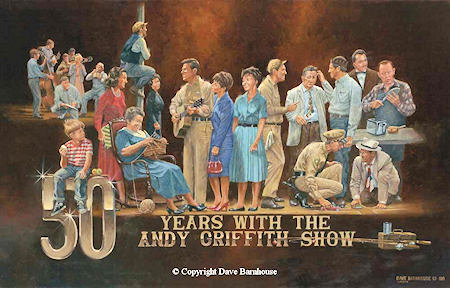 This spectacular print is titled "Together Forever" and is brand new and just in time for the 50th Anniversary of "The Andy Griffith Show." It's a beautiful rendering by renowned Americana artist Dave Barnhouse.
The image size of the full-color lithograph measures a generous 17.75 in. x 28 in. and includes 21 favorite Mayberry characters.
The Edition is limited to a total of 5,900 pieces, all signed by the artist. We expect them to sell out very quickly.
What a marvelous commemoration for the 50th and beyond that Dave Barnhouse has created for Mayberry fans!
And even better for Weaver's customers... we've now got this beautiful print for $30 off the suggested price. We've reduced it from $130 to $100 as a way to celebrate the 50th and make it a little kinder to Christmas budgets as we head into the holiday shopping season.
I Wish Life Was Like Mayberry CD
https://www.weaversdepartmentstore.com/catalog.php?item=301
by Rodney Dillard $16.00 NEW!!!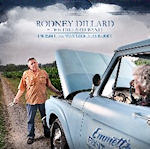 This CD, released in September, features Rodney Dillard singing lots of favorite Darlings tunes from "The Andy Griffith Show," along with other popular Dillards tunes and some later songs about the Darlings. These are some classic bluegrass and Mayberry songs for any fan of, well, bluegrass and Mayberry!
Features 19 tracks and some bonus material. Ol' Ben Weaver knows a toe-tappin' good deal when he sees one!
TRACKS:

1. MAYBERRY MOMENT

2. THE DARLIN' BOYS

3. THERE GOES THE NEIGHBORHOOD

4. THERE IS A TIME

5. WICKER ROCKING CHAIR

6. DOOLEY

7. DOUG'S TUNE (Instrumental)

8. SALTY DOG

9. EBO WALKER

10. THE MAYBERRY HAT

11. BANJO IN THE HOLLOW (Instrumental)

12. LEANING ON THE EVERLASTING ARMS

13. THE ANDY GRIFFITH SHOW

14. WET SHOES IN THE SUNSET SUITE

15. LEAKY BOAT

16. G-MAN BARNEY

17. PICTURES

18. GOOBER AND ROY

19. PARENTING
Bonus Material: A Tribute to Mayberry Values
From the archives of the popular radio show "Mayberry Minute," hosted by Rodney. The radio show ran nationally for three years as Rodney took a look back at "Andy Griffith Show" episodes and the life lessons they taught.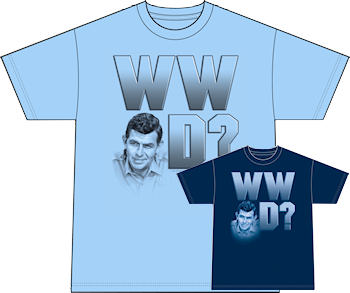 What Would Andy Do? T-Shirt NEW! $18.00
https://www.weaversdepartmentstore.com/catalog.php?item=302
This design on a preshrunk 100% cotton T-shirt in Carolina Blue poses the question whose answer will always get our attention. (Of course, we all already know the answer..."the right thing.")
Sort of like a rebus puzzle or the old "Concentration" TV game show, this shirt might give passersby a slight pause before they break into a knowing grin and nods of agreement.
This is a shirt that makes a statement without ever saying (or even spelling!) a word.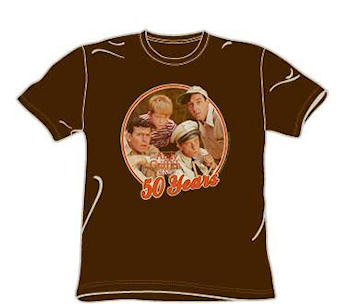 * 50th Anniversary T-Shirt $18.00
https://www.weaversdepartmentstore.com/catalog.php?item=290
Can it really be 50 years? Shazam! This shirt has a classic image of Andy, Barney, Opie and Gomer on a heavyweight 100% preshrunk cotton shirt. The color of the shirt? Courthouse Coffee, of course!
Limited Edition "The Andy Griffith Show" 50th Anniversary Portrait
Special Price: $60.00 $40.00
https://www.weaversdepartmentstore.com/catalog.php?item=259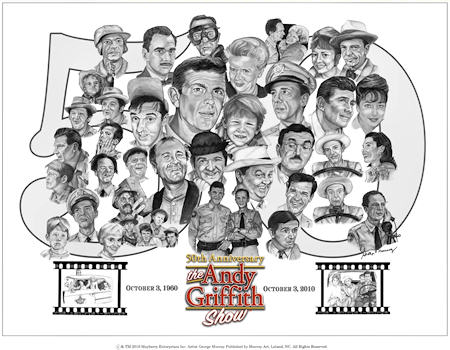 What a beautiful way to celebrate the 50th Anniversary of TAGS! This handsome print is sure to be a cherished lifetime keepsake marking this special time in the history of TAGS. But more than a keepsake, it's a superb work of art whose many smiling faces will bring instant grins to the faces of everyone who sees it.
Printed with premium inks on archival paper, this outstanding 12 in. x 16 in. collage pencil portrait is signed and numbered by talented Wilmington (N.C.) artist George Murray and officially licensed by CBS Consumer Products. It's limited to a maximum of 10,000 prints.
The suggested gallery price for this commemorative print is $60, but we've got it at Weaver's for just $40.
And More...
We have the first five seasons of "Matlock" (the Sixth Season is coming out in late January), along with all seasons of TAGS (including a Box Set with all eight seasons, the "Danny Thomas" pilot and the Return to Mayberry movie) and all five seasons of "Gomer Pyle, U.S.M.C." And we have a nice assortment of the best movies starring Andy Griffith and Don Knotts. They're in the DVDs Section at Weaver's. And we have a couple of different animated Christmas DVDs featuring Andy Griffith, as well as Andy's wonderful Christmas Guest CD and also a book version with some songs on a CD.
Also, be sure to check out our Collectibles & Special Items at Weaver's. There are some unique and rare items there that could make really special gifts. And we have a wide assortment of great licensed Mayberry products in the Cool Gifts section (including Barney thermometers to tell you how cold it is this winter, and Mayberry blankets/throws to keep warm!) and throughout the Weaver's shopping area at www.mayberry.com.
Holiday Shipping Schedule
We'll be shipping orders for Christmas that we receive as late as 2 p.m. CT on Dec. 22, but at that point, it likely will take FedEx overnight or 2-Day delivery, which will be an extra charge (whatever FedEx charges). Our deadline for Priority Mail shipments (no extra charge) will be Noon CT on Dec. 21. Delivery points fairly close to Nashville might get by with Priority Mail delivery as late as Dec. 22. But why chance it? Order early!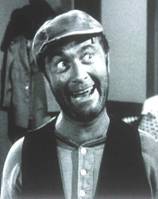 The Head Elf of our Shipping Dept.
As mentioned above, the production schedule for the 50th Anniversary DVD will be cutting it extremely close for Christmas delivery, but as of now it looks as though it will indeed make it under the wire at the very last minute. Just a little holiday excitement for the elves in our shipping department!
Phone Orders
In addition to accepting orders online or by mail, our Weaver's Dept. Store has a phone number FOR ORDERS ONLY (615) 604-1298. The phone number is generally in operation from 9 a.m. to 6 p.m. CT Monday through Saturday. (They sneak out to go fishin' a lot, so if you miss them during business hours, just leave a message with a number where they can call you back.)
Please call this number only for ordering or for inquiring about orders placed by phone. All inquiries about online orders and mail orders should be made online and by mail, respectively.


**** Coming Soon! ****
Mayberry's Finest Brand Foods, the official food licensee of "The Andy Griffith Show," is commemorating the show's 50th Anniversary with the issue of...
Mayberry's Finest Special 50th Anniversary Edition Lithographed Gift Tin
https://www.weaversdepartmentstore.com/catalog.php?item=303
Featuring a CD by The Grascals
$22.00 NEW!!!
Being Released in "Early 2011"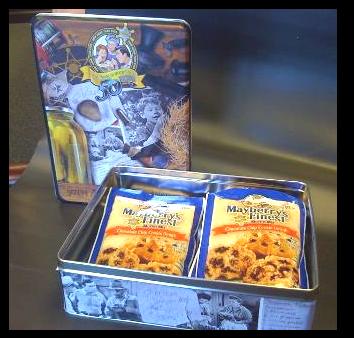 Fresh from the oven sometime in "early 2011, this gift tin will contain four of the most popular varieties of Mayberry's Finest baking mixes, such as Peach Cobbler and Cinnamon Toast muffins. As a treat for fans of the show, the collectible tin features images of some of Mayberry's most representative memorabilia.

And as a special feast for the ears, the gift tin will include a brand new CD of Mayberry tunes by the awarding bluegrass band The Grascals. Among the songs that will make you laugh is a tune they worked up just for this CD. It's called "Boy, Giraffes Are Selfish."

NOTE: We had hoped and expected to have this wonderful Gift Tin from Mayberry's Finest in time for Christmas delivery, but there were some unexpected production delays.

If you have already ordered this Gift Tin from us, you should have received an e-mail from us explaining the situation and possibly some options for your order. If you haven't ordered yet, we suggest that you hold off until we hear what the new production schedule is from the manufacturer.

Because so many people have heard about this Mayberry's Finest Gift Tin and have been searching for it, we're keeping the Gift Tin active on our site for now. However, we're recommending that you don't actually place an order for the tin until we know the new delivery schedule.

The Gift Tin won't be shipped with holiday orders. If you order the Gift Tin in the same order as other items intended for earlier delivery (such as for Christmas), the other items and the Gift Tin will be processed and shipped separately and have separate flat-rate $5 charges for shipping & handling. So it's really best to wait and order the Gift Tin later, rather than ordering it now with other items, because the Gift Tin will be treated as a separate order anyway.

Thanks for your patience in ordering this special item, which should definitely be worth a little extra wait.

Floyd's Barbershop
Bulletin Board & Event Calendar

The Andy Griffith Museum, featuring Emmett Forrest's amazing collection of Andy Griffith artifacts and memorabilia, is open on its regular daily schedule in Mount Airy, N.C. For info, visit the Web site at www.andygriffithmuseum.org or call (336) 786-1604.
* Oct. 3: 50th Anniversary of the airing of the first episode of "The Andy Griffith Show" on CBS!
* Dec. 21: It's a Mayberry Christmas when Betty Lynn greets fans at the Andy Griffith Museum in Mount Airy, N.C., from 12:30 to 5:00 p.m. Pick up last-minute Christmas gifts at the Museum Gift Shop. And Betty's autographs are $10 each and include an 8x10 photo.
**** 2011 ****
* Jan. 14: The Dilemma, Ron Howard's latest movie as director, opens in theaters nationwide.

* Mar. 3-5: The George Lindsey/UNA Film Festival in Florence, Ala. Details and guests TBA. For more info, visit: www.lindseyfilmfest.com.
* Sept. 23-25: 22nd Annual Mayberry Days in Mount Airy, N.C. Shows already confirmed include two concerts by The Doug Dillard Band, "An Afternoon with James Best," "Tied Up in Knotts" starring Karen Knotts, Memories of Elvis with Michael Hoover, the "Salute to Mayberry" with the VW Boys, Professor Brower's Lecture with Neal Brower, the Golf Tournament and Banquet, and Colonel Tim's Talent Time. Tickets are on sale online at www.mayberrydays.org. More stars and events TBA.
*Nov 12-17: A Cruise to Mayberry 6: A 5-day Western Caribbean cruise aboard Royal Caribbean's Jewel of the Seas. It leaves from Tampa, Fla., with ports-of-call in Cozumel and Costa Maya, and 2 days at sea. For more details, contact Sharon at All About Cruises by phone (10 a.m.-5 p.m. ET) at 1-800-832-7993. More details to come. (Note: You must be part of the "Mayberry Cruise" in order to attend Mayberry portions of the cruise.)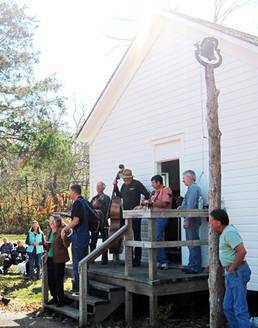 REMEMBERING MITCH-Members of Missouri Boatride, including Dean Webb on mandolin, played several songs written by Mitch Jayne during an afternoon of celebrating Mitch's life. Mitch's wife Diana is on the first step. Photo by Jo Schaper of www.riverhillstraveler.com.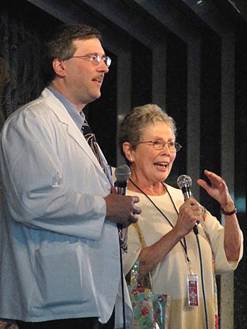 Allan Newsome and Jackie Joseph onstage during this year's Mayberry Cruise. Photo by Jan Newsome.

**** News of Cast & Crew ****

Andy Griffith was inducted into the North Carolina Music Hall of Fame on October 7. He did not attend the induction ceremony.

Ron Howard's current film as director is The Dilemma, which stars Vince Vaughn, Jennifer Connelly, Kevin James and Winona Ryder. It'll be in theaters in January. Father Rance Howard and brother Clint Howard have roles in the movie. Ron's Imagine Entertainment has also secured rights to make movies and a TV series of Stephen King's The Dark Tower. Production is set to begin next year. Ron is expected to direct at least one of the installments, probably the first.

Daughter Bryce Dallas Howard has a good role opposite Matt Damon in Clint Eastwood's Hereafter, which is now in theaters nationwide. And Ron has frequently been in the gallery watching son Reed play in golf tournaments during recent months (and years). After a successful collegiate career as an amateur, Reed is trying to qualify for the pro tour this fall.

Here's a link to a good interview with Ron by reporter Pat Gallagher for AOL's Popeater: Ron Howard Interview.

George Lindsey was recently profiled in his hometown (Jasper, Ala.) newspaper. Here's a link: MountainEagleGeorgeLindseyArticle. He and teammates from his collegiate football team at Florence State (now the University of North Alabama) were also honored during festivities at the school's final home game of the season.

Betty Lynn continues to greet visitors and sign autographs once a month at the Andy Griffith Museum. (She sometimes greets and signs more than once a month as she did in September and in October, when she was also at the Museum to mark the 50th Anniversary of TAGS on Oct. 3.) She's usually there during the afternoon of the third Tuesday of the month, but check the museum's website for the schedule and updates at www.andygriffithmuseum.org.

Elinor Donahue was a guest star as Judge Marie Robinson in three September episodes of "The Young and the Restless."

Peggy McCay (Andy Taylor's high school sweetheart Sharon DeSpain in "Class Reunion") has continued this year in her Emmy-nominated role as Caroline Brady on "Days of Our Lives." It's a role she has been playing since 1983!

Dean Webb and Missouri Boatride performed at the Celebration of Life held for Dean's fellow Dillards member and Darling boy Mitch Jayne. About 200 friends and family from hollers throughout Missouri and all across the country came by a little one-room schoolhouse in Alley Springs for music and fond recollections of Mitch. Dean's wife, Sandy, and Rodney and Beverly Dillard were among those attending.

Fresh on the heels of Mayberry Days, Jackie Joseph was a big hit on the Mayberry Cruise 5 to the Bahamas in October. She was joined by the VW Boys, several Mayberry tribute artists and waves of fans.

Just as we were gong to "press," we got word that Earle Hagen, the beloved late music director for TAGS, is being inducted into the Television Academy's Hall of Fame on Jan. 20. This is a tremendous and richly deserved recognition for Earle. Here's a link to the Television Academy's announcement.




**** Mayberry on the Web ****

For over two years now, www.mayberry.com/podcasts has been the home of the Two Chairs, No Waiting Internet Radio Show (a podcast) hosted by Allan Newsome.

As most of our readers likely know, Allan is our Webmaster at mayberry.com and has been very active in TAGSRWC since 1992. If you've attended various Mayberry events through the years, you've probably seen Allan as a tribute artist for Floyd the Barber.
Two Chairs, No Waiting has TAGS news, interviews and pretty much whatever happens to be going on in and around Mayberry. Allan is doing a really bang-up job on these podcasts. There's a new episode every Tuesday and also an Archives in case you want to listen to episodes you've missed. (There have been over 100 episodes so far!) We think you'll find these podcasts creative, fun and informative. There's a lot of info and discussions that you simply won't find anywhere else.
If you've got sound on your computer or have an iPod or similar device, you can easily tune in or download these podcasts. There are all sorts of ways to interact with the podcasts, including several options for giving your feedback. So pull up a chair and enjoy the fun of bringing what is basically Radio Free Mayberry to you wherever you are!
And TAGSRWC's official page on Facebook has just celebrated its first year! So far, over 6,000 friends have joined our Facebook group, which you can find at www.facebook.com/tagsrwc. We hope you'll check out our Facebook page and be a part of helping it grow and spreading the word about Mayberry news and activities by becoming a fan with TAGSRWC. Drop by when you have a chance and say, "Hey!"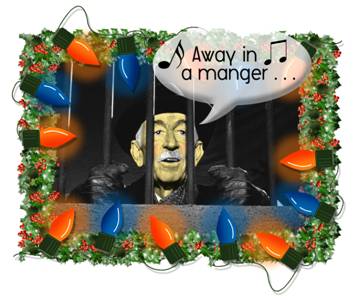 Merry Christmas...Even From Ol' Ben!

**** POST NOTE ****

Between issues of the Weaver's Newsletter, keep up with the goin's-on in Mayberry with the more-or-less daily "Who's Been Messin' Up the Bulletin Board?" Digest. It's a free subscriber list that consists entirely of comments, news flashes, and questions and answers from subscribers. You can sign up for that list by going to the "Mailing Lists" link at www.tagsrwc.com.

TAGSRWC also publishes The eBullet in more or less alternate months to the Weaver's Newsletter. The eBullet is the online successor to our longtime printed newsletter, The Bullet. Like the Weaver's Newsletter, The eBullet is free. It includes some of the same news as the Weaver's Newsletter, but with more features and depth and a little less emphasis on merchandise news. To sign up, go to www.tagsrwc.com/ebullet/joinebullet.htm.
TAGSRWC's other main vehicle for Mayberry information is simply our Web site at tagsrwc.com. It has extensive content and links for just about everything a Mayberry fan might be looking for.

The next issue of Weaver's Newsletter is scheduled for December with an issue of our main online newsletter, The eBullet, coming out in November.

That's all for now. We hope you have fun browsing at Weaver's and visiting mayberry.com.

To unsubscribe from Weaver's Newsletter enter your subscription email address: