I
f you cannot view our HTML newsletter with photos, click here to read it at our Web site.
Weaver's Newsletter
An Online newsletter of
"The Andy Griffith Show" Rerun Watchers Club (TAGSRWC)
October/November 2009
TAGSRWC
Celebrating 30 Years 1979-2009
**** Merchandise Update ****
As we head into the holiday shopping season and then turn the corner into the new year and begin celebrating the 50th Anniversary of "The Andy Griffith Show" in 2010, ol' Ben Weaver continues to offer a nice mixture of new items and old favorites for sale as just the right items for gifts-for yourself or for friends and family. It's an exciting time to be a fan of the Greatest TV Show of All-Time! Here are some current merchandise highlights:
* 2010 Andy Griffith Show Wall Calendar $15.00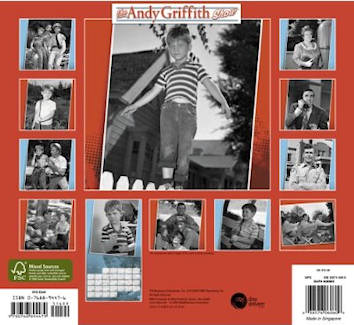 We've got the 2010 TAGS Wall Calendar in stock now. Like the 2009 calendar, it has all black-and-white images. Many will seem very familiar. We also have a Special Combo with 2009 and 2010 Wall Calendars for $23.00. And we still have several calendars from previous years. (They've become popular collectibles!)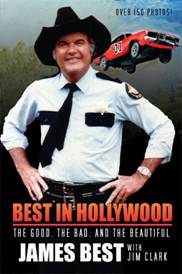 * Best in Hollywood-The Good, the Bad and the Beautiful by James Best $25.00 (autographed!)
https://www.weaversdepartmentstore.com/catalog.php?item=90
If you know James mostly as Rosco P. Coltrane on "The Dukes of Hazzard" and of course as Jim Lindsey on TAGS, then you'll have an opportunity to learn a lot more about his fascinating life, including the Golden Era of Hollywood. The 320-page book includes more than 150 photos from James' personal collection. It's getting a great response from readers all over the country. (And yes it does include a chapter on TAGS!)
We have a limited number of autographed copies (including a custom-made bookplate) of the soft-cover book for the cover price of $25 at Weaver's.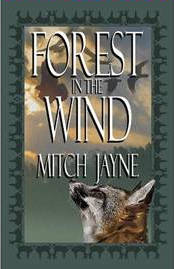 * Forest in the Wind, a novel by Mitch Jayne $15.00
https://www.weaversdepartmentstore.com/catalog.php?item=92
Originally published in 1966 when author Mitch Jayne was still making visits to Mayberry as one of the Darling Boys, "Forest in the Wind" has been revised and re-released this summer, and now includes wonderful illustrations by Diana Jayne, Mitch's wife.
The adventure story is told from the point of the animals, primarily a family of foxes in the Ozarks. This is a book for readers of all ages and for the Ages. This novel is 150 pages of reading that tells an inspiring story and leads us to a greater understanding of and appreciation for the beauty and power of Nature.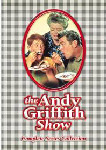 * "All New" Box Set of All Eight Seasons of "The Andy Griffith Show," Plus the "Danny Thomas" Pilot and Return to Mayberry $192.00
https://www.weaversdepartmentstore.com/catalog.php?category=36

The suggested retail price for this Box Set of every episode of "The Andy Griffith Show" (plus the "Danny Thomas" pilot episode and the 1986 Return to Mayberry movie) is over $240.00. The previous 8-season box-set release (without the pilot and the movie and now also discontinued) carried a suggested retail price of $320.00. We think that makes $192 a pretty swell price...about 77 cents an episode, plus the pilot and reunion movie!
We also sell individual complete seasons of TAGS on DVD at a nice price. And we have individual seasons and the complete series box set of "Gomer Pyle U.S.M.C." and the first three seasons of "Matlock."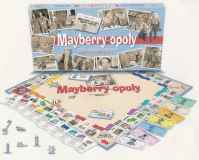 * Mayberry-opoly Board Game $30.00
https://www.weaversdepartmentstore.com/catalog.php?item=53
You won't be bored with this board game. It's a dream come true for "Barney Fife, Realtor" and anyone who has ever wished to own a little piece of that paradise we know and love as Mayberry!
If you enjoy Monopoly and Mayberry or you know somebody who does, then you're sure to love Mayberry-opoly.
At just $30.00 per game, Mayberry-opoly is worth the price just to have the cool design of the box and the board to look at or display. We think it's the most fun "opoly" game ever created.

* The Incredible Mr. Don Knotts $27.00 $22.00
https://www.weaversdepartmentstore.com/catalog.php?item=63
This oversized 320-page hardcover book (coffee-table style) is compiled by Steve Cox and Kevin Marhanka. The thoroughly researched book has lots of interviews with people who worked with Don Knotts and has more than 200 photos, including a 16-page section of color photos.
It's a great gift for any Barney Fife and Don Knotts fan to give or receive. And best of all, we've got it for $5.00 off!
As Barney himself said, "Aw, big ain't the word for it!"
And Weaver's also has nice deals on these great DVDs of favorite Don Knotts movies-the ideal accompaniment to this fascinating book about Don's film career: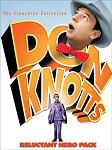 * Don Knotts 4-Movie Reluctant Hero DVD Pack $29.00
https://www.weaversdepartmentstore.com/catalog.php?item=142
Featuring The Ghost and Mr. Chicken, The Reluctant Astronaut, The Shakiest Gun in the West and The Love God? This super Hero collection of four classic Don Knotts movies from the 1960s on DVD is hard to beat. You get all four movies for a nice price that even cost-conscious Barney Fife would jump at.

* Classic Barney Necktie $25.00
https://www.weaversdepartmentstore.com/catalog.php?item=3
This tie is out of production, so it's now even more of a collectible. This silk necktie features Barney in black and white (it therefore coordinates with any outfit). Anyone who wears this tie is guaranteed to look suave and worldly. Wear it with the old salt and pepper, and it'll be just right for the dips. Made with fine silk from the Orient.
**** First One Thing and Then Another ****



Whether you're looking for a Mayberry T-shirt, something Mayberry for your car, decorative wooden building fronts (always especially popular during the holidays), Mayberry-related comedy and music CDs, posters, tin signs and artwork (including some autographed pieces), all variety of books and cookbooks, and even a Barney Fife light switch covers and a thermometer, we've got most things Mayberry online at Weaver's at mayberry.com. Drop by and have fun looking around.
Phone Orders
In addition to accepting orders online or by mail, our Weaver's Dept. Store has a phone number FOR ORDERS ONLY (615) 604-1298. The phone number is generally in operation from 9 a.m. to 6 p.m. CT Monday through Saturday.
Please call this number only for ordering or for inquiring about orders placed by phone. All inquiries about online orders and mail orders should be made online and by mail, respectively.


**** Floyd's Barbershop Bulletin Board & Event Calendar ****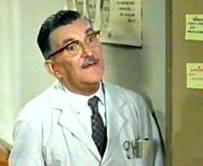 Some really exciting and big events are already on the calendar for next year...and the rest of this year. There's a lot of energy and excitement beginning to build for the best year ever for celebrating "The Andy Griffith Show" and all things Mayberry during its 50th Anniversary year. Here's what's already on tap in the coming months:
* Nov. 21: "I Didn't Know You Stranged" chapter in Moundville, Ala., will hold a Mayberry in Moundville family social at the Moundville Church of the Nazarene gym at 6:00 p.m. Several music groups will be performing. Local Mayberry squad car replicas will be on hand as well as Mayberry tribute artists, including Kenneth "Otis Campbell" Junkin and Allan "Floyd" Newsome. There will be whistling and trivia contests, episode watching, food, and who knows what-all. All proceeds will benefit the American Cancer Society's Relay for Life. More details TBA.
* Nov. 27-30: A Merry Christmas with Friends & Nabors starring Jim Nabors at the Hawaii Theatre in Honolulu. For tickets and more info, go to www.hawaiitheatre.com
* Dec. 9-12: Ronnie Schell performs at the Harvey's Comedy Room at Stateline in the Lake Tahoe area.
* Dec. 14: All aboard with Mayberry Deputy David Browning and a trainload of celebrities and others filled with goodwill in Stuart, Va., as they head out to spread holiday cheer to those in need in the Appalachian Mountains with the 23rd Annual Morgan Shepherd Charitable Fund Trip. For more info, visit www.morganshepherd.com.
**** 2010 ****
* Feb. 26 and 27: Ronnie Schell hosts Veterans of Comedy Wars X at McKenna Theater on the campus of San Francisco State University. Guests announced so far include Tim Conway, Tommy Smothers, Kevin Pollack, and Will Durst. More details TBA.

* Mar. 4-7: 13th Annual George Lindsey/UNA Film Festival at the University of North Alabama in Florence, Ala. Special guests announced so far include actress Lea Thompson, actor James Tolkan, actor Marc McClure, and screenwriter, director and producer Bob Gale. All have extensive credits, but their common bond is that they all worked on Back to the Future. So, the film festival will in part be a mini-reunion for that movie. For more info, visit www.lindseyfilmfest.com.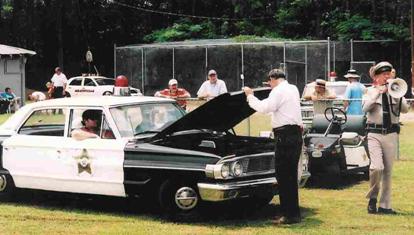 * July 10-11: 10th Annual Mayberry Squad Car Nationals and 6th Annual "Mayberry Comes to Graysville" Festival in Graysville, Ala. Doug Dillard and Rodney Dillard are the first guests announced. Other guests and details TBA.
* July 23-24: Mayberry in the Midwest IV in New Castle, Ind. After an absence of a few years, one of the favorite Mayberry events returns to the lineup to help celebrate the 50th Anniversary of "The Andy Griffith Show." Stars and other details TBA. And a Web site with ongoing updates will be up and running soon. For now, just mark the date!
* Sept. 23-26: 20th Anniversary Edition of Mayberry Days in Mount Airy, N.C. Details TBA. Tickets to some portions of the weekend are already available online at www.surryarts.org.
* Oct. 3: 50th Anniversary of the airing of the first episode of "The Andy Griffith Show" on CBS.
* Oct 16-21: A Cruise to Mayberry 5 to the Bahamas aboard Carnival's Fascination with the VW Boys and Mayberry tribute artists and others TBA. For more info, call (336) 538-4926 or toll-free (800) 832-7993, or visit www.allaboutcruisesnc.net.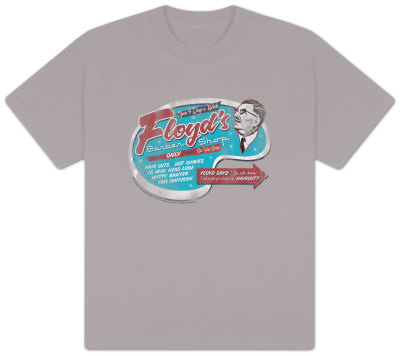 Floyd's T-shirt...available at Weaver's!
---
**** News of Cast & Crew ****
Many of the Cast & Crew have been very busy since our last issue. We'll tell a lot of their stories with photos.
Several TAGS cast members joined Mount Airy dignitaries and others for the official ribbon cutting for the opening of the Andy Griffith Museum during Mayberry Days. Pictured left to right are: Betty Lynn, N.C. State House Rep. Sarah Stevens, Emmett Forrest (whose Andy Griffith Collection is the heart of the museum), Emmett's daughter Terri Champney (face hidden by her father's left arm), Surry Arts Council Executive Director Tanya Jones, Mount Airy Mayor Jack Loftis, Steve Forrest and Dixie Beroth (son and daughter of Emmett), and Karen Knotts (daughter of Don). In the background on either side of Karen are Jackie Joseph and LeRoy McNees. Also present were James Best, Doug Dillard, Rodney Dillard, Maggie Peterson, Elizabeth MacRae and George Spence. Photo by Hobart Jones.
Karen Knotts performs her one-woman show, Tied Up in Knotts, at the sold-out Downtown Cinema during Mayberry Days. Photo by Hobart Jones.
TAGS cast members, Mayberry tribute artists and others gather onstage for the finale of Colonel Tim's Talent Time during Mayberry Days. Photo by Hobart Jones.
See more outstanding photos by Hobart Jones of Mayberry Days (and other Mount Airy arts events) in the Photo Gallery section of the Surry Arts Council Web site at www.surryarts.org.
You'll also find information on the Arts Council site about the Andy Griffith Museum. The museum is currently closed (probably through the first week or so of November) for the completion of sidewalks and other final construction. Though the museum will soon be open seven days a week, it's a good idea right now to check with the museum first before planning a visit.
The Friday of Mayberry Days, Sept. 25, on an island far, far away, Jim Nabors received the American Patriot Award from the Navy League of Hawaii. The award, presented in Waikiki, recognizes Jim's support of America's men and women in the military from his days as marine Gomer Pyle to his more recent support of troops serving in Afghanistan, Iraq and elsewhere.
A collection of 40 Jim Nabors albums was also part of the Mayberry Days Silent Auction, sponsored by TAGSRWC's online "Who's Been Messin' Up the Bulletin Board?" chapter. This year's auction raised $1,852.50. (Thanks to Jeff Koontz for organizing the auction each year!)
The Thursday following Mayberry Days, The Original Dillards (Doug Dillard, Rodney Dillard, Mitch Jayne and Dean Webb) were at the Ryman Auditorium in Nashville for their induction into the International Bluegrass Music Hall of Fame. Their dear friend John McEuen inducted them for this richly deserved honor.
Dean Webb, Rodney Dillard and Doug Dillard look on as Mitch Jayne reads a letter from Andy Griffith during his remarks after The Original Dillards were inducted into the IBMA Hall of Fame. Here's what Andy wrote: "You guys deserve this award. I'm glad I could use you guys in a positive way in the show. I couldn't be with you tonight, but my thoughts and my heart and my love are with you."
In the days and weeks after the IBMA Awards, Rodney and Doug were on the road for performance dates in South Carolina and Arkansas and beyond. Rodney and wife Beverly also recently appeared at churches with his Mayberry Values ministry and music. Mitch was back in Missouri writing (including his weekly newspaper column and perhaps another book), and Dean was also back home in Missouri, base for his Missouri Boatride band (www.missouriboatride.com).
And the weekend after Mayberry Days, Betty Lynn was aboard North Carolina's first Flight of Honor for a daytrip with World War II veterans to Washington, D.C., to see the World War II Memorial. Betty was there to express her gratitude to the surviving veterans and those memorialized. She was invited to make the trip because she performed in the USO for front-line troops in Burma, India and China during the war.
George Lindsey as Larry the Cable Guy's Great Grampa in the upcoming TV special. Photo by Carrie Moore-Reed.
Richard Jury (right) shows his strength as Clarence Earp with Jack Burns as Warren Ferguson.
George Lindsey was a bit under the weather in October, but he's back in "Goob" form. He's featured in "Larry the Cable Guy's Hula-Palooza Christmas Luau," which was taped in Nashville in August and will premiere on Country Music Television on Nov. 20. A DVD of the 90-minute special will be released on Nov. 24.
James Best has had several book signings and a bunch of media interviews in support of is autobiography, Best in Hollywood, which was published in July (see more about the book in the Merchandise section above).
Jackie Joseph has been busy working on a big fundraiser for her pet charity, Actors and Others for Animals. This year's fundraiser features a salute to TV's "Laugh-In" and is being held in Universal City, Calif., on Nov. 14.
Elizabeth MacRae and husband Charlie have recently moved from North Carolina to Los Angeles. ("Well, act-ually," West Hollywood.)
LeRoy McNees and wife Jan have settled into southern Georgia as their home base for the next few months..
We're sad to report that Richard Jury, who rode into Mayberry as Clarence Earp in "Wyatt Earp Rides Again" (Episode #179), died in Denver July 24 at age 82 from Alzheimer's disease.
Richard Jury (right) shows his strength as Clarence Earp with Jack Burns as Warren Ferguson.
He was born in Denver in 1926. He studied theater at the University of Denver. In addition to his four dozen TV productions, such as "I Love Lucy," "Gunsmoke" and Centennial (again with Andy Griffith), he had a long career on the stage. He was on Broadway in Inherit the Wind and was in numerous productions in the Denver area and elsewhere. He also stayed busy with voiceover work in commercials on radio and TV. He and wife Liz, an actress, director and producer, had six children.
There's no doubt Richard Jury was the man who was right to fight as Clarence Earp in Mayberry.
**** Mayberry on the Web ****
For the past year, www.mayberry.com/podcasts has been the home of the Two Chairs, No Waiting Internet Radio Show (a podcast) hosted by Allan Newsome.
As most of our readers likely know, Allan is our Webmaster at mayberry.com and has been very active in TAGSRWC since 1992. If you've attended various Mayberry events through the years, you've probably seen Allan as a tribute artist for Floyd the Barber.
Two Chairs, No Waiting has TAGS news, interviews and pretty much whatever happens to be going on in and around Mayberry. Allan is really doing a bang-up job on these podcasts. There's a new episode every Tuesday and also an Archives in case you want to listen to episodes you've missed. We think you'll find these podcasts creative, fun and informative.
If you've got sound on your computer or have an ipod or similar device, you can easily tune in or download these podcasts. There are all sorts of ways to interact with the podcasts, including several options for giving your feedback. And there are other links, including a companion Facebook page, to keep up with all the goings-on. And probably the easiest way to make sure you don't miss an episode is to subscribe to the podcasts. (They're free.)
So pull up a chair and enjoy the fun of bringing what is basically Radio Free Mayberry to you wherever you are!
And TAGSRWC has an official page on Facebook now, too! It's www.facebook.com/tagsrwc. We've just launched our page during the last few weeks. Of course, there are several tribute pages to TAGS on Facebook, including some for individual TAGSRWC chapters and members. There are some mighty good folks to have as Facebook Friends.
Mayberry on Facebook... almost as cool as Malcolm Merriweather's face on an egg!
The purpose of our official TAGSRWC page (the page called "The Andy Griffith Show" Rerun Watchers Club) is to serve as our Facebook clearinghouse for links to all of the assorted Mayberry fan and TAGS-related pages on Facebook-much as www.mayberry.com serves as our go-to place for Mayberry and TAGS info and links to related sites. It makes it simpler for us from an administration and communication standpoint. We can just direct TAGSRWC members and others to our Facebook page and the mayberry.com Web site, rather than needing to continually provide a laundry list of links, pages, and sites one at a time.
Our Facebook page is just getting underway, so you can be a part of helping it grow and spreading the word about Mayberry news and activities by becoming a fan with TAGSRWC on Facebook. We hope you'll check in regularly when you have a chance and say, "Hey!" (And no matter what Barney says, on Facebook, it's always O.K. to write on walls!)
Mayberry Castaways
MOTLEY CREW--Some of the cast and organizers for the "Cruise to Mayberry 4" aboard Carnival's Fascination in October. Photo by Alan Thornton.

**** POST NOTE ****

Between issues of the Weaver's Newsletter, keep up with the goin's-on in Mayberry with the more-or-less daily "Who's Been Messin' Up the Bulletin Board?" Digest. It's a free subscriber list that consists entirely of comments, news flashes, and questions and answers from subscribers. You can sign up for that list by going to the "Mailing Lists" link at www.tagsrwc.com.
TAGSRWC also publishes The eBullet in more or less alternate months to the Weaver's Newsletter. The eBullet is the online successor to our longtime printed newsletter, The Bullet. Like the Weaver's Newsletter, The eBullet is free. It includes some of the same news as the Weaver's Newsletter, but with more features and depth and a little less emphasis on merchandise news. To sign up, go to www.tagsrwc.com/ebullet/joinebullet.htm.
TAGSRWC's other main vehicle for Mayberry information is simply our Web site at tagsrwc.com. It has extensive content and links for just about everything a Mayberry fan might be looking for.

The next issue of Weaver's Newsletter is scheduled for December (with an eBullet coming out in mid-November.).

That's all for now. We hope you have fun browsing at Weaver's and visiting mayberry.com.

To unsubscribe from Weaver's Newsletter enter your subscription email address: