I
f you cannot view our HTML newsletter with photos, click here to read it at our Web site.
Weaver's Newsletter
An Online newsletter of
"The Andy Griffith Show" Rerun Watchers Club (TAGSRWC)
June/July 2009
TAGSRWC
Celebrating 30 Years 1979-2009
**** Merchandise Update ****
A couple of great new books written by TAGS cast members are being published this summer. Here's the scoop on how you can add an authentic touch of Mayberry to your summer reading list.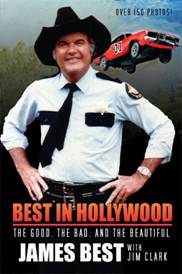 * Best in Hollywood -- The Good, the Bad and the Beautiful by James Best ($25.00, autographed) https://www.weaversdepartmentstore.com/index.php?category=25
If you know James mostly as Rosco P. Coltrane on "The Dukes of Hazzard" and of course as Jim Lindsey on TAGS, then you'll have an opportunity to learn a lot more about his fascinating life, including the Golden Era of Hollywood. The book includes more than 150 photos from James' personal collection.
We're going to have a limited number of autographed copies (including a custom-made bookplate) of the soft-cover book for the cover price of $25 at Weaver's. We're taking pre-orders now.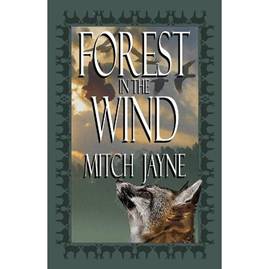 * Forest in the Wind, a novel by Mitch Jayne ($15.00)
https://www.weaversdepartmentstore.com/index.php?category=25
Originally published in 1966 when author Mitch Jayne was still making visits to Mayberry as one of the Darling Boys, "Forest in the Wind" has been revised and re-released this summer, and now includes wonderful illustrations by Diana Jayne, Mitch's wife.
The adventure story is told from the point of the animals, primarily a family of foxes in the Ozarks. This is a book for readers of all ages and for the Ages. This novel is 150 pages of reading that tells an inspiring story and leads us to a greater understanding of and appreciation for the beauty and power of Nature.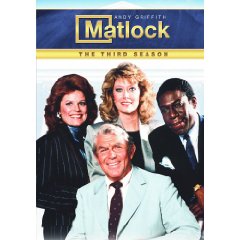 * Complete Third Season of "Matlock" $39.00
https://www.weaversdepartmentstore.com/index.php?category=73
After all that reading, are you ready just to sit back and watch a legendary actor perform? Well, this may be just the ticket for you. This Third Season of "Matlock" has 20 episodes on five discs. Released this month, the list price for this set is $50, but we've got it for only $39.00. We're shipping now!. And we also carry the first two seasons of "Matlock" for the same bargain price.


**** First One Thing and Then Another ****
Whether you're looking for a Mayberry T-shirt, something Mayberry for your car, decorative wooden building fronts, Mayberry-related DVDs and CDs, artwork (including some autographed pieces), books, board games and even Barney Fife thermometers and light switch covers, we've got most things Mayberry online at Weaver's. Drop by and have a look around.

Phone Orders
In addition to accepting orders online or by mail, our Weaver's Dept. Store has a phone number FOR ORDERS ONLY (615) 604-1298. The phone number is generally in operation from 9 a.m. to 6 p.m. CT Monday through Saturday.
Please call this number only for ordering or for inquiring about orders placed by phone. All inquiries about online orders and mail orders should be made online and by mail, respectively.

**** Floyd's Barbershop Bulletin Board & Event Calendar ****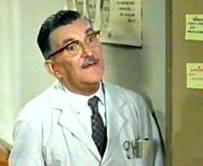 * July 18 and 19: Smoky Mountain Fan Fest featuring James Best and other members of the "Dukes of Hazzard" cast, at Smokies Stadium in Sevierville, Tenn. (The event also includes a concert with Merle Haggard!) Tickets are on sale now at (865) 286-2300, with info also at http://www.concertsinthesmokies.com.
* July 18 and 19: Hollywood Collector Show at the Burbank Airport Marriott Hotel and Convention Center in Burbank, Calif. There's a "Happy Days" cast reunion as part of this event. Ron Howard is not listed among the official attendees, but other key cast members are listed and there is mention of a "Happy Days" Special Guest, so you can draw your own conclusion about just who that might be. For more info, visit http://www.hollywoodcollectorshow.com.
* Aug. 8: Maggie Peterson joins two of her TV brothers, Doug Dillard and Rodney Dillard, and their band for a performance at the Third Annual Mayberry in Troy, a fundraiser for the Montgomery County DARE program in Troy, N.C. More details TBA.
* Aug. 27-29: James Best is among the stars at the Mid-Atlantic Nostalgia Convention in Aberdeen, Md. For more info, visit http://oldtimeradiotapes.homestead.com/conventionhome.html.
* Sept. 24-27: 20th Annual Mayberry Days in Mount Airy, N.C. Guests confirmed so far include Doug Dillard, Rodney Dillard, Betty Lynn, Maggie Peterson, James Best, LeRoy McNees, Jackie Joseph, George Spence, and Karen Knotts, daughter of Don Knotts, in her Mayberry Days debut. (Karen will be performing her one-woman tribute to her father and she will also be the guest for Neal Brower's lecture.) Further details TBA, but tickets are available online now for certain parts of the festival at http://www.surryarts.org.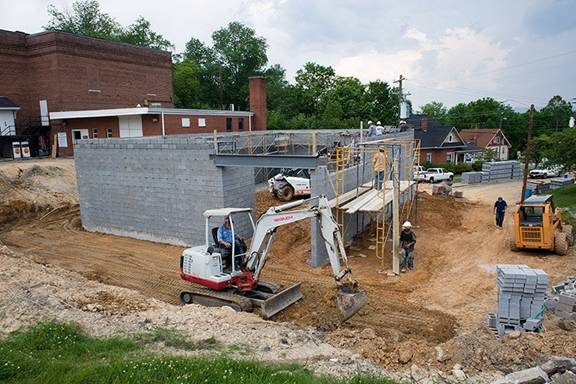 Construction is well underway for the new Andy Griffith Museum adjoining the Andy Griffith Playhouse in Mount Airy. This photo was taken on June 3. (As far as we've heard, there has been no dynamite blasting and no worry about a loaded goat!)
The museum will be home to Emmett Forrest's Andy Griffith Collection and other cultural exhibits and programs for the community. The museum is on track to be open this fall -- likely in time for Mayberry Days. Photo by Hobart Jones.
* Oct. 12-17: A Cruise to Mayberry 4 This year's cruise is a 5-day version and it's a relaxing, fun time for all. Being on the cruise is a bit like sitting on Andy's front porch and watching the traffic on the road--only there's no road and no traffic, just the waves and a breeze Visit the website for information and links to photos from previous Mayberry cruises.
---

**** News of Cast & Crew ****
Andy Griffith recently donated several more key original props from TAGS for friend Emmett Forrest's Andy Griffith Collection, currently housed at the Andy Griffith Playhouse in Mount Airy. You can see photos of these special items in the photo gallery section of the Surry Arts Council Web site at http://www.surryarts.org. And better yet, be sure check them out on display with the rest of this spectacular collection whenever you're in Mount Airy.
"Waitin' on a Woman," the Brad Paisley song featuring Andy, has won another award, this time for Music Video of the Year by the Academy of Country Music. The award was announced just prior to the national telecast of the awards show on April 5.
Angels & Demons, Ron Howard's current release as director, is having a very strong showing in theaters. It has topped the $130 million-dollar mark in U.S. ticket sales (and has made about $500 million worldwide. Ron also is executive producer of the new "œParenthood" TV series on NBC. It'™s the second series based on the 1989 Parenthood feature film directed by Ron.
Rance Howard, Ron's dad, does another great turn playing a clergyman--this time as Cardinal Beck--in Angels & Demons.
Look for Clint Howard on duty (and conjuring feelings of deja vu in another big summer film, Night at the Museum: Battle of the Smithsonian, now in theaters.

In other Howard family news, Paige Howard, daughter of Ron, has her first major credited role in a movie that has been in theaters this spring. She plays Sue O'Malley in Adventureland.

And another daughter, Bryce Dallas Howard, has a good role as Kate Connor in Terminator Salvation. That makes five Howard family members involved with four top film releases so far this year. (That would actually be six Howards if you also count the cameo of Cheryl Howard, Ron's wife, in Angels & Demons.)

It was a joy to see Jim Nabors back again at the Indy 500 to sing "Back Home in Indiana" as he has done most years for the more than three decades.

George Lindsey is mulling an offer for a part in a movie as also awaits word on the future of a possible TV series called "We're Not Dead Yet" with Ray Stevens and others.

James Best is having a busy summer. Along with getting in as much fishing as possible and working on various film productions with his Best Friend Films company, he has several of big personal appearances this summer (see Floyd's calendar above). And the really exciting news for James is that his memoirs, Best in Hollywood--The Good, The Bad, and the Beautiful, is being published this month! (See the listing above in the Merchandise section.)

Barbara Perry (Class Reunion-organizing Floss and other Mayberry characters) recently performed in Back-Up Plan, starring Jennifer Lopez. Barbara plays a dancer in the film, which is scheduled for release next year. Barbara also taped a dance segment for "The Tonight Show with Conan O'Brien," which is expected to be in an episode airing this summer. And Barbara appeared in an episode of "The Unit" this spring. She is enjoying a summer break now and visiting her daughter in Vienna.

**** POST NOTE ****
Between issues of the Weaver's Newsletter, keep up with the goin's-on in Mayberry with the more-or-less daily "Who's Been Messin' Up the Bulletin Board?" Digest. It's a free subscriber list that consists entirely of comments, news flashes, and questions and answers from subscribers. You can sign up for that list by going to the "Mailing Lists" link at https://www.tagsrwc.com/.

TAGSRWC also publishes The eBullet in more or less alternate months to the Weaver's Newsletter. The eBullet is the online successor to our longtime printed newsletter, The Bullet. Like the Weaver's Newsletter, The eBullet is free. It includes some of the same news as the Weaver's Newsletter, but with more features and depth and a little less emphasis on merchandise news. To sign up, go to https://www.tagsrwc.com/ebullet/joinebullet.htm.

TAGSRWC's other main vehicle for Mayberry information is simply our Web site at http://www.tagsrwc.com. It has extensive content and links for just about everything a Mayberry fan might be looking for.

The next issue of Weaver's Newsletter is scheduled for late August (with an eBullet coming out in late July or early August.).

That's all for now. We hope you have fun browsing at Weaver's and visiting http://www.mayberry.com.