I
f you cannot view our HTML newsletter with photos, click here to read it at our Web site.
Weaver's
Newsletter

An Online newsletter of
"The Andy Griffith Show" Rerun Watchers Club (TAGSRWC)
April/May 2009
TAGSRWC
Celebrating 30 Years 1979-2009
**** Merchandise Update ****
* Four New T-shirt Designs for 2009!
https://www.weaversdepartmentstore.com/index.php?category=3
We have four new T-shirt designs in the Apparel Section of Weaver's. All are available in adult sizes Small to 2X-Large. They're proving to be some of our most popular offerings in a while. They're $17 each and made of sturdy 100% preshrunk cotton. We think they add good fun to our lineup of licensed Mayberry T-shirts!
Here's a quick look at the four new designs: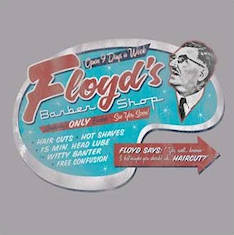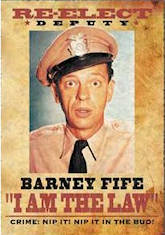 Floyd's Barbershop Re-Elect Deputy Barney Fife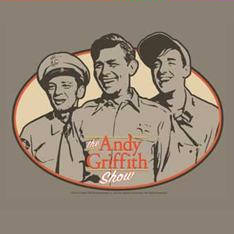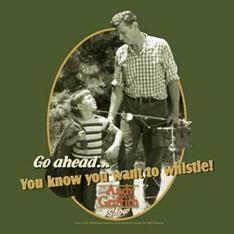 Mayberry Trio Mayberry Whistlers
And the Apparel Section of Weaver's has sweatshirts, Goober beanies, and more than 20 designs of T-shirts (most available in Adult sizes Medium through 2X, and several also available in Small).
* The Incredible Mr. Don Knotts $27.00 $22.00

Available at a Really Nice Discount!
https://www.weaversdepartmentstore.com/index.php?category=26
This oversized 320-page hardcover book (coffee-table style) is compiled by Steve Cox and Kevin Marhanka. The thoroughly researched book has lots of interviews with people who worked with Don Knotts and has more than 200 photos, including a 16-page section of color photos.
It's a great gift for any Barney Fife and Don Knotts fan to give or receive. And best of all, we've got it for $5.00 off the cover price right out of the gate!
As Barney himself said, "Aw, big ain't the word for it!"
* And Weaver's also has nice deals on these great DVDs of favorite Don Knotts movies—the ideal accompaniment to this fascinating book about Don's film career:
* 2009 Andy Griffith Show Wall Calendar $14.00
https://www.weaversdepartmentstore.com/index.php?category=44

This 2009 edition of "The Andy Griffith Show" Wall Calendar turns back the clock and has all black-and-white photos, all of which are also from the black-and-white seasons (1960-65).

There's a nice variety of Mayberry characters in this calendar. In addition to Andy, Barney, Aunt Bee, Opie, and Gomer, there are photos of Goober, Floyd, Fun Girl Daphne, and even Mr. McBeevee. Several of these photos have never before been published. We have just a few left this year.

Also, if you haven't gotten your "highly collectible" 2008 Wall Calendar, we still have some left, including in a special combo offer with this 2009 calendar for only $22.00.

https://www.weaversdepartmentstore.com/index.php?category=7

Many graduations—not to mention Father's Day—are just around the corner. This tie is out of production, so it's now even more of a collectible. We unexpectedly received one last small shipment from the licensed manufacturer. We've got just those few left, and then that'll be it for this popular fashion statement.

This silk necktie features Barney in black and white (it therefore coordinates with any outfit). Anyone who wears this tie is guaranteed to look suave and worldly. Wear it with the old salt and pepper and it'll be just right for the dips. Made with fine silk from the Orient.

**** First One Thing and Then Another ****

Whether you're looking for a Mayberry T-shirt (or for winter, maybe a sweatshirt), a felt Goober beanie for your noggin, something Mayberry for your car, decorative wooden building fronts, Mayberry-related DVDs and CDs, artwork (including some autographed pieces), books, board games and even Barney Fife thermometers and light switch covers, we've got most things Mayberry online at Weaver's. Drop by and have a look around. (We probably even have that special Mayberry item that Santa might not have remembered to put on his sleigh this year.)

Phone Orders

In addition to accepting orders online or by mail, our Weaver's Dept. Store has a phone number FOR ORDERS ONLY (615) 604-1298. The phone number is generally in operation from 9 a.m. to 6 p.m. CT Monday through Saturday.


Please call this number only for ordering or for inquiring about orders placed by phone. All inquiries about online orders and mail orders should be made online and by mail, respectively.
NOTE: This order number does not ring to TAGSRWC HQ, so you shouldn't call this number with questions about general fan club operations, trivia or various events, etc., but only to place an order by phone or inquire about orders placed by phone.


We Accept!

Ol' Ben Weaver heard that Stevens' Department Store over in Mount Pilot is accepting these three credit cards, so, following Bert Miller's gentle advice, Ben has grudgingly agreed to accept these for his customer's purchases, too.

**** Floyd's Barbershop Bulletin Board & Event Calendar ****

2009
* May 6-TBA: Ronnie Schell stars in Don't Leave It All to the Children--The Musical at the Actors' Temple Theatre, 339 West 47th Street in New York City. Performance times are 3 p.m. Wed., Sat., and Sun. and 8 p.m. on Sat. Visit http://www.telecharge.com for tickets and more info.
* May 13: It's going to be BIG when David Browning patrols the Small Business Expo in Sanford, N.C.
* May 29: Get ready to rumble when David Browning rolls into the Salem Avalanche baseball game in Salem, Va.
* May 30: Relax and enjoy yourself while David Browning is on patrol at the Clinch River Festival in St. Paul, Va.
* June 3: Don't dare miss David Browning at the DARE Graduation in Rocky Mount, Va.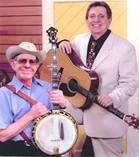 * June 6: Yoo-hoo! Do you know who should see David Browning at the Jane Lew Celebration in Jane Lew, W.V.? You, that's who!
* June 25: We don't know whether he'll be a pinch hitter or whether he'll be crawling the bases, but David Browning will be at the Blue Crabs baseball game today in Waldorf, Md.
* July 8-12: Ronnie Schell headlines at Budd Friedman's Comedy Improv Room at Harvey's Hotel in Lake Tahoe, Nev.
* July 11: 9th Annual Mayberry Squad Car Nationals and 5th Annual "Mayberry Comes to Graysville" festival in Graysville, Ala. Details TBA.
* July 18 and 19: Smoky Mountain Fan Fest featuring James Best and other members of the "Dukes of Hazzard" cast, at Smokies Stadium in Sevierville, Tenn. (The event also includes a concert with Merle Haggard!) Tickets are on sale now at (865) 286-2300, with info also at http://www.concertsinthesmokies.com.
* Aug. 8: Maggie Peterson Mancuso joins two of her TV brothers, Doug Dillard and Rodney Dillard, and their band for a performance at the Third Annual Mayberry in Troy, a fundraiser for the Montgomery County DARE program in Troy, N.C. More details TBA.
* Sept. 24-27: 20th Annual Mayberry Days in Mount Airy, N.C. Guests confirmed so far include Doug Dillard, Rodney Dillard, Betty Lynn, James Best, LeRoy McNees, Jackie Joseph, George Spence, and Karen Knotts, daughter of Don Knotts, in her Mayberry Days debut. Additional stars and further details TBA, but tickets are already available online now for certain parts of the festival at http://www.surryarts.org.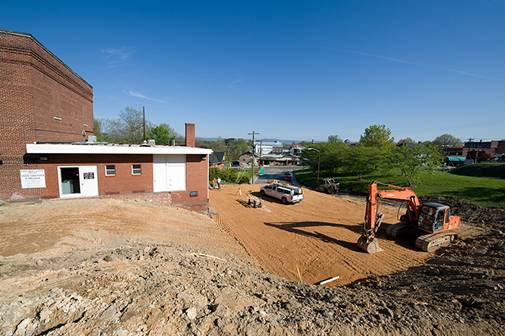 The ground has been prepared and actual construction is now beginning for the new Andy Griffith Museum adjoining the Andy Griffith Playhouse in Mount Airy. (As far as we've heard, there has been no dynamite blasting and no worry about a loaded goat!)
The museum will be home to Emmett Forrest's Andy Griffith Collection and other cultural exhibits and programs for the community. The museum is on track to be open this fall—likely in time for Mayberry Days. Photo by Hobart Jones.
* Oct. 12-17: A Cruise to Mayberry 4 This year's cruise is a 5-day version and it's a relaxing, fun time for all. Being on the cruise is a bit like sitting on Andy's front porch and watching the traffic on the road--only there's no road and no traffic, just the waves and a breeze Visit the website for information and links to photos from previous Mayberry cruises.
---
**** News of Cast & Crew ****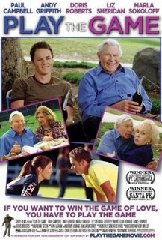 Play the Game, Andy Griffith's latest movie, was released in a limited number of theaters in February. It's starting to get some wider release, but it remains to be seen how many theaters eventually show it, especially with the crowded schedule of summer blockbusters around the corner. But that was the same story for Waitress, Andy's 2007 independent film that followed a similar release schedule and went on to become a critical and box-office success against big-budget competition.

The cast of Play the Game also includes Doris Roberts (Raymond's mom on "Everybody Loves Raymond"), Liz Sheridan (Jerry's mom on "Seinfeld") and Rance Howard and Clint Howard, so the film has several talented people who should stir some interest with audiences.

And "Waitin' on a Woman," the Brad Paisley song featuring Andy, has won another award, this time for Music Video of the Year by the Academy of Country Music. The award was announced just prior to the national telecast of the awards show on April 5.
Ron Howard was in the audience at the Academy Awards in February. His Frost/Nixon film had several nominations (including Best Picture and Best Director), but didn't pick up any statues. Angels & Demons, Ron's next release as director will be in theaters May 15.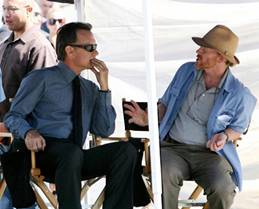 Tom Hanks and Ron Howard on the set of Angels & Demons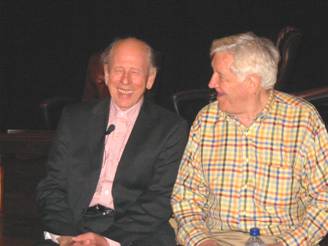 Rance Howard and George Lindsey enjoy a laugh together during George's film festival at the University of North Alabama in March.
Photo by Dennis Beal.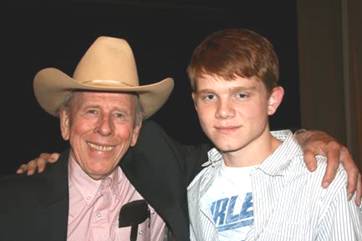 It's déjà vu for Rance Howard as he poses with Opie tribute artist Jamie Sullivan at the George Lindsey/ UNA Film Festival.
Photo by Tammy Sullivan
Look for Clint Howard on duty in another big May film, Night at the Museum: Battle of the Smithsonian, which is coming out on May 22. In other Howard family news, Paige Howard, daughter of Ron, has her first major credited role in a movie that has been in theaters this spring. She plays Sue O'Malley in Adventureland.
Rance Howard has also been busy. He's in several movies that are in various stages of production. And he was in a poignant episode of "ER" in February. He played Dr. Oliver Kostin, a patient (and inspiring doctor) of the ER in an episode called "A Long, Strange Trip."
Rance also joined Lee Majors as guest of honor at the 12th Annual George Lindsey/UNA Film Festival in Florence, Ala., in early March. The festival was another big success this year. And it was reunion for Rance and George Lindsey, who have known each other for more than 50 years. They first worked together in New York City on the "Kraft Television Theatre" in 1957.
This year's festival kicked off with a special presentation by TAGSRWC's Kenneth Junkin, representing Partlow State School in the Tuscaloosa area. Partlow is home of the Geor ge Lindsey Aquatic Center, which was built in conjunction with Special Olympics with funds raised through George's celebrity golf tourney in the 1970s and 1980s. Kenneth expressed the Tuscaloosa community's deep appreciation for George's efforts and presented George beautiful photos of the aquatic center. The photos will be part of the permanent George Lindsey Collection at the University of North Alabama.
James Best has been busy writing this winter. (His autobiography will be out this summer, and Weaver's of course will be stocking it. What a life's story he has to tell!) But for now his attention is turning to important things…such as fishing. He recently took time out for a trip to Florida. He also has some personal appearances coming up this year, including a big "Dukes of Hazzard" reunion in Pigeon Forge, Tenn. (See Floyd's bulletin board for more info.)
Betty Lynn reports that she's doing well. She has been keeping a busy social calendar in Mount Airy, including attending the Arts Ball, an annual fundraiser for the Surry Arts Council in March.
We had missed the news of the passing in November of three actors who appeared in single episodes of TAGS passed in November. Paul Gilkes, one of our unofficial correspondents, recently heard news about them and contributed to this report:
Michael Higgins died Nov. 5, 2008, in New York City of heart failure. He was 88. He played U.S. diplomat Mr. Clifford in "Barney Holds a Summit Meeting," Episode 240, and had a long and distinguished career in films and on the stage. He is survived by Elizabeth, his wife of 62 years, and three children.
Wayne Heffley died Nov. 19, 2008, in Montrose, Calif., of kidney failure at age 81. He played Harry (definitely no cream puff) in "Howard's Main Event," Episode 225. Among his many credits were a couple of episodes of "Gomer Pyle, U.S.M.C." and on episode of "Matlock." H e excelled in the roles of tough guys and authority figures in a career spanning more than 50 years.
June Vincent died on Nov. 20, 2008, in Aurora, Colo. She played The Actress "Taylors in Hollywood," Episode 167. She also appeared in an episode of "Mayberry, R.F.D." and was a leading lady in films going back to the 1940s.
**** POST NOTE ****
Between issues of the Weaver's Newsletter, keep up with the goin's-on in Mayberry with the more-or-less daily "Who's Been Messin' Up the Bulletin Board?" Digest. It's a free subscriber list that consists entirely of comments, news flashes, and questions and answers from subscribers. You can sign up for that list by going to the "Mailing Lists" link at https://www.tagsrwc.com/.
TAGSRWC also publishes The eBullet in more or less alternate months to the Weaver's Newsletter. The eBullet is the online successor to our longtime printed newsletter, The Bullet. Like the Weaver's Newsletter, The eBullet is free. It includes some of the same news as the Weaver's Newsletter, but with more features and depth and a little less emphasis on merchandise news. To sign up, go to https://www.tagsrwc.com/ebullet/joinebullet.htm.
TAGSRWC's other main vehicle for Mayberry information is simply our Web site at http://www.tagsrwc.com. It has extensive content and links for just about everything a Mayberry fan might be looking for.
The next issue of Weaver's Newsletter is scheduled for June (with an eBullet coming out in late May).
That's all for now. We hope you have fun browsing at Weaver's and visiting http://www.mayberry.com.
To unsubscribe from Weaver's Newsletter enter your subscription email address: