I
f you cannot view our HTML newsletter with photos, click here to read it at our Web site.
Weaver's
Newsletter

An Online newsletter of
"The Andy Griffith Show" Rerun Watchers Club (TAGSRWC)
February/March 2009
**** Merchandise Update ****

Ol' Ben Weaver is doing his best to get the American economy humming again, and to keep folks employed by keeping his store stocked with all the best of Mayberry.
The way Ben figures it, if everybody bought just one of his products, the economy would be just fine. Well, at least for ol' Ben, that is. But he does have some nice things, his orneriness not withstanding.
For example, this month Ben has a stimulus package of four super new T-shirt designs that are sure to spruce up any Mayberry wardrobe. Summer will be here before you know it, and you know you're going to want a cool new Mayberry T-shirt or two for those hot summer days.
And browse the complete lineup of items at Weaver's Dept. Store at http://www.mayberry.com.
* Four New T-shirt Designs for 2009!
https://www.weaversdepartmentstore.com/index.php?category=3
We have four brand new T-shirt designs in the Apparel Section of Weaver's. All are available in adult sizes Small to 2X-Large. They're $17 each and made of sturdy 100% preshrunk cotton. We think they add good fun to our lineup of licensed Mayberry T-shirts!
Here's a quick look at the four new designs: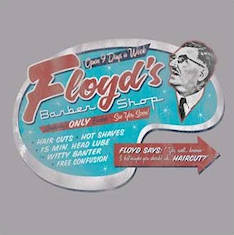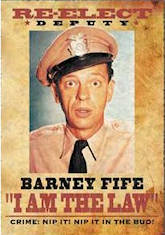 Floyd's Barbershop Re-Elect Deputy Barney Fife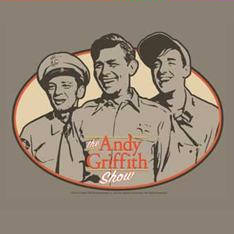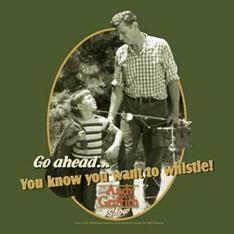 Mayberry Trio Mayberry Whistlers
And the Apparel Section of Weaver's has sweatshirts, Goober beanies, and more than 20 designs of T-shirts (most available in Adult sizes Medium through 2X, and several also available in Small).
* The Incredible Mr. Don Knotts $27.00 $22.00

Available at a Really Nice Discount!
https://www.weaversdepartmentstore.com/index.php?category=26
This oversized 320-page hardcover book (coffee-table style) is compiled by Steve Cox and Kevin Marhanka. The thoroughly researched book has lots of interviews with people who worked with Don Knotts and has more than 200 photos, including a 16-page section of color photos.
It's a great gift for any Barney Fife and Don Knotts fan to give or receive. And best of all, we've got it for $5.00 off the cover price right out of the gate!
As Barney himself said, "Aw, big ain't the word for it!"
* And Weaver's also has nice deals on these great DVDs of favorite Don Knotts movies—the ideal accompaniment to this fascinating book about Don's film career: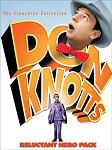 * Don Knotts 4-Movie Reluctant Hero DVD Pack $29.00
https://www.weaversdepartmentstore.com/index.php?category=73
Featuring The Ghost and Mr. Chicken, The Reluctant Astronaut, The Shakiest Gun in the West and The Love God? This super Hero collection of four classic Don Knotts movies from the 1960s on DVD is hard to beat. You get all four movies for a nice price that even cost-conscious Barney Fife would jump at.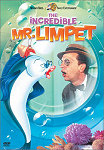 * The Incredible Mr. Limpet DVD $16.00
https://www.weaversdepartmentstore.com/index.php?category=73
This classic film starring Don Knotts and featuring the voice of Elizabeth MacRae is a wonderfully entertaining and innovative use of animation and live action. Includes introduction by Don Knotts and other special features.
* "Gomer Pyle U.S.M.C." DVDs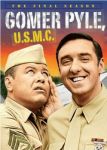 https://www.weaversdepartmentstore.com/index.php?category=91*
The final season (the fifth) of "Gomer Pyle, U.S.M.C." is now available. We also carry the other four seasons. And we have a brand new Box Set of All Five Seasons of "Gomer Pyle," too. Individual seasons are $32.00 each (vs. a list price of $40.00). The Five-Season Box set is just $145.00 (vs. a list price of $190.00). Shazam indeed!
* 2009 Andy Griffith Show Wall Calendar $14.00
https://www.weaversdepartmentstore.com/index.php?category=44

This 2009 edition of "The Andy Griffith Show" Wall Calendar turns back the clock and has all black-and-white photos, all of which are also from the black-and-white seasons (1960-65).
There's a nice variety of Mayberry characters in this calendar. In addition to Andy, Barney, Aunt Bee, Opie, and Gomer, there are photos of Goober, Floyd, Fun Girl Daphne, and even Mr. McBeevee. Several of these photos have never before been published. We have just a few left this year.
Also, if you haven't gotten your "highly collectible" 2008 Wall Calendar, we still have some left, including in a special combo offer with this 2009 calendar for only $22.00.
* Otis the Artist's Grab-Bag of Mayberry Art $25.00
https://www.weaversdepartmentstore.com/index.php?maincat=16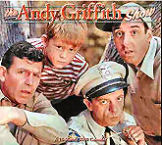 This special Grab-Bag, inspired by Otis and his artistic efforts with mosaics, pieces together several collectible Mayberry items that will add beauty and grace to any wall in home or office...or courthouse cell!
Each of Otis's Grab-Bags contains at least the following:
* 1 Officially Licensed Large Limited Edition Lithograph of Barney Sipping Soda by artist Brad Keim
* 1 2008 "Andy Griffith Show" Wall Calendar (now a collectible)
* 2 Oversized Mayberry event posters
* 1 Portrait of Otis (8 x 10)
All proceeds (not just the profits, but 100% of the $25 price) are going toward our annual support of the Surry Arts Council and its Mayberry Days festival in September in Mount Airy, N.C. So with a Grab-Bag purchase, you get a good deal while also supporting a good Mayberry cause!
https://www.weaversdepartmentstore.com/index.php?category=7
This tie is out of production, so it's now even more of a collectible. We unexpectedly received one last small shipment from the licensed manufacturer. We've got just those few left, and then that'll be it for this popular fashion statement.
This silk necktie features Barney in black and white (it therefore coordinates with any outfit). Anyone who wears this tie is guaranteed to look suave and worldly. Wear it with the old salt and pepper and it'll be just right for the dips. Made with fine silk from the Orient.

And we also have several classic, out-of-print Mayberry books, including Inside Mayberry, The Official Andy Griffith Show Scrapbook, Mayberry My Hometown, and Aunt Bee's Mealtime in Mayberry. (Those last two titles are in especially pristine condition and even still in their original shrink wrap from their publishers!)
**** First One Thing and Then Another ****
Whether you're looking for a Mayberry T-shirt (or for winter, maybe a sweatshirt), a felt Goober beanie for your noggin, something Mayberry for your car, decorative wooden building fronts, Mayberry-related DVDs and CDs, artwork (including some autographed pieces), books, board games and even Barney Fife thermometers and light switch covers, we've got most things Mayberry online at Weaver's. Drop by and have a look around. (We probably even have that special Mayberry item that Santa might not have remembered to put on his sleigh this year.)
Phone Orders
In addition to accepting orders online or by mail, our Weaver's Dept. Store has a phone number FOR ORDERS ONLY (615) 604-1298. The phone number is generally in operation from 9 a.m. to 6 p.m. CT Monday through Saturday. Please call this number only for ordering or for inquiring about orders placed by phone. All inquiries about online orders and mail orders should be made online and by mail, respectively.
NOTE: This order number does not ring to TAGSRWC HQ, so you shouldn't call this number with questions about general fan club operations, trivia or various events, etc., but only to place an order by phone or inquire about orders placed by phone.
A Sad Loss for Weaver's and Mayberry
Ruth Spencer 1930-2009
Weaver's and the Mayberry community at large lost one of our most beloved, nicest, and most talented friends on February 19. That's the day that Ruth Spencer died at the age of 78.
Many Mayberry fans got to know Ruth through her attending many events that were reasonably reachable by car from her home in Kingsport, Tenn. She attended these Mayberry events with her son Gary Wedemeyer, whom lots of Mayberry fans know from his many associations and significant contributions to Mayberry during the last 25 years.
Ruth (or 'Aunt R" as she didn't seem to mind our taking the liberty to call her) also had a special connection to Weaver's. She is the person who lovingly made hundreds of the felt Goober beanies that we've sold over the years. One of our all-time most popular items at Weaver's, these beanies have found a home on happy heads from Oregon to Nova Scotia and beyond. Ruth marveled at the popularity of her simple felt hats, but we knew the secret was in the care that she put into each one.
Ruth was one of those people who made you feel instantly at ease with her happy demeanor. You could tell that she genuinely enjoyed life, was grateful for her blessings, and was secure in her faith and the love she shared with family and friends.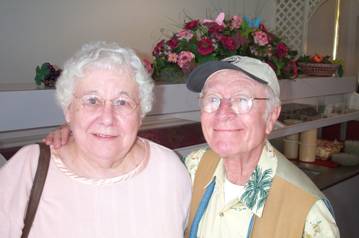 Ruth Spencer with Howard Morris at Mayberry in
the Midwest in New Castle, Ind. in 2002.
What some of us didn't know until after she passed away was that she was an instructor for airborne radar repairmen at Keesler Air Force Base in Biloxi, Miss., during the Korean War. She also worked in the printing business for four decades before retiring about a dozen years ago, which was about when she began really hitting the Mayberry trail in earnest with Gary.
Ruth has left a permanent hug in the memories of all who knew her. And recipients of Goober beanies from Weaver's also now know that they have much more than a Goober-style cover for their heads. They have a heartfelt piece of craftsmanship made by a very special person.
In addition to son Gary, Ruth Spencer is survived by another son, their wives, four grandchildren, a brother, three sisters, and many nieces and nephews. Our thoughts and prayers are with them.

**** Floyd's Barbershop Bulletin Board & Event Calendar ****
2009


* Mar. 5-8: 12th Annual George Lindsey UNA Film Festival in Florence, Ala. George welcomes Rance Howard and Lee Majors as his special guests this year. The Amazing Rhythm Aces will also be performing. Check out the complete schedule at http://lindseyfilmfest.com.
* Mar. 7: Mayberry Comes to Grace Fellowship 2, featuring David "Mayberry Deputy" Browning, Allan "Floyd" Newsome, and other Mayberry tribute artists and entertainment, from 10 a.m. to 3 p.m. For more info, call 561-333-4222, ext. 232.
* Apr. 25: David Browning entertains at the Talent Show fundraiser at Berea First Baptist Church in Greenville, S.C.
*Apr. 30 and May 1: Mayberry-Themed Fundraiser for Eagles' Wings featuring a golf tournament including celebrities on Thurs. and a Dinner, Auction, and Mayberry Show in the Zone at Bryant-Denny Stadium in Tuscaloosa, Ala., beginning at 6 p.m. on Fri. Stars and details TBA. For more info, visit http://eagleswingsoftuscaloosa.org or call 205-345-5484. 205-345-
* May 13: It's going to be BIG when David Browning patrols the Small Business Expo in Sanford, N.C.
* May 29: Get ready to rumble when David Browning rolls into the Salem Avalanche baseball game in Salem, Va.
* May 30: Relax and enjoy yourself while David Browning is on patrol at the Clinch River Festival in St. Paul, Va.
*June 3: Don't dare miss David Browning at the DARE Graduation in Rocky Mount, Va.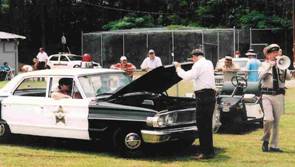 * June 6: Yoo-hoo! Do you know who should see David Browning at the Jane Lew Celebration in Jane Lew, W.V. ? You, that's who!
* June 25: We don't know whether he'll be a pinch hitter or whether he'll be crawling the bases, but David Browning will be at the Blue Crabs baseball game today in Waldorf, Md.
* July 11: 9th Annual Mayberry Squad Car Nationals and 5th Annual "Mayberry Comes to Graysville" festival in Graysville, Ala. Details TBA.
* July 18 and 19: Smoky Mountain Fan Fest featuring James Best and other members of the "Dukes of Hazzard" cast, at Smokies Stadium in Sevierville, Tenn. Tickets are on sale now at (865) 286-2300, with info also at www.concertsinthesmokies.com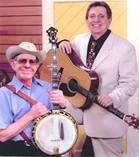 * Aug. 8: Maggie Peterson Mancuso joins two of her TV brothers, Doug Dillard and Rodney Dillard, and their band for a performance at the Third Annual Mayberry in Troy, a fundraiser for the Montgomery County DARE program in Troy, N.C. More details TBA.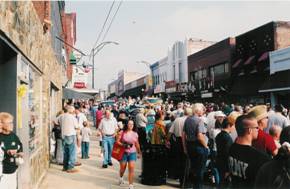 * Sept. 24-27: 20th Annual Mayberry Days in Mount Airy, N.C. Details TBA, but tickets are available online now for certain parts of the festival at http://www.surryarts.org.
* Oct. 12-17:
A Cruise to Mayberry 4 This year's cruise is a 5-day version and it's a relaxing, fun time for all. Being on the cruise is a bit like sitting on Andy's front porch and watching the traffic on the road--only there's no road and no traffic, just the waves and a breeze Visit the website for information and links to photos from previous Mayberry cruises.
---
**** News of Cast & Crew ****
Andy Griffith read a poem written by his wife Cindi for the inauguration of North Carolina Governor Bev Perdue on Jan. 10. It was a big hit with the thousands gathered for the occasion.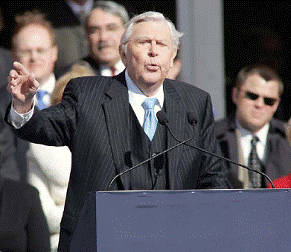 Frost / Nixon, the latest film directed by Ron Howard, has been receiving great reviews, has many award nominations and several wins and is doing well at the box office. Among the award nominations were ones for Best Director and Best Picture Oscars.
Look quick in Frost/Nixon and you can spot Rance Howard as Ollie, a photographer at the White House. And Clint Howard has a nice part as the Lloyd, the floor director for David Frost's interviews with Richard Nixon.
Also, Ron's Angels & Demons, the sequel to The Da Vinci Code that stars Tom Hanks, has a release date set for May 15. And Ron is producing a planned Arrested Development movie, which he might also direct. (Yeah, but he might not.)
Ron and Cheryl Howard on Oscars weekend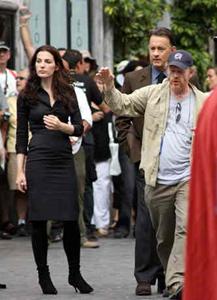 Ron Howard on the set with Angels & Demons stars Ayelet Zurer and Tom Hanks.
George Lindsey has been in the studio for some voiceover dubbing for a TV pilot he shot with Ray Stevens. There's no word yet on when the pilot might be made available for viewing.
Betty Lynn reports that she's doing fine and is wintering well in Mount Airy, N.C. After more than sixty years in L.A., Betty had become used to not wintering at all, but her childhood winters in Kansas City prepared her for the rediscovery of the wonders of seasonal changes.
TAGS associate producer and personal manager Richard O. "Dick" Linke and wife Bettina became proud grandparents for the third time with the arrival of Elle Marie, daughter of their daughter Bettina Marie and her husband earlier this month.
We're sad to report the passing of legendary actor Pat Hingle, who died Jan.3, at his home in Carolina Beach, N.C., after battling blood cancer. He was 84.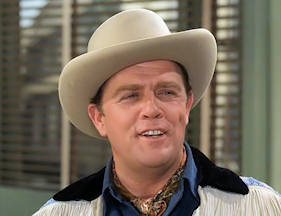 Though he was a star of Broadway, more than 50 movies (including four as Commissioner Gordon in Batman movies, three with Clint Eastwood, and several Oscar nominees and winners), and about 200 hundred TV segments, Mayberry fans remember his colorful portrayal of Fred Gibson in "Wyatt Earp Rides Again" (Episode #179).
His refrain of, "The man who can fight is the man who is right" still echoes through Mayberry." Pat Hingle himself was a fighter, in both World II and the Korean War.
Martin Patterson Hingle was born in Miami on July 19, 1924. In 1959, he survived a 50 foot fall down an elevator shaft in his apartment building. That fall caused life-threatening injuries that interrupted his career for over a year. He lost a finger and some key roles on stage and in film, but once he recovered, his career continued to rise to the top floors of his profession.
Pat Hingle is survived by his wife Julia, three children from his first marriage, two stepchildren, and two sisters.
**** POST NOTE ****
Between issues of the Weaver's Newsletter, keep up with the goin's-on in Mayberry with the more-or-less daily "Who's Been Messin' Up the Bulletin Board?" Digest. It's a free subscriber list that consists entirely of comments, news flashes, and questions and answers from subscribers. You can sign up for that list by going to the "Mailing Lists" link at https://www.tagsrwc.com/.
TAGSRWC also publishes The eBullet in more or less alternate months to the Weaver's Newsletter. The eBullet is the online successor to our longtime printed newsletter, The Bullet. Like the Weaver's Newsletter, The eBullet is free. It includes some of the same news as the Weaver's Newsletter, but with more features and depth and a little less emphasis on merchandise news. To sign up, go to https://www.tagsrwc.com/ebullet/joinebullet.htm.
TAGSRWC's other main vehicle for Mayberry information is simply our Web site at http://www.tagsrwc.com. It has extensive content and links for just about everything a Mayberry fan might be looking for.
The next issue of Weaver's Newsletter is scheduled for late April (with an eBullet coming out in late March or early April).
That's all for now. We hope you have fun browsing at Weaver's and visiting http://www.mayberry.com.
To unsubscribe from Weaver's Newsletter enter your subscription email address: