I

f you cannot view our HTML newsletter with photos, click here to read it at our Web site.




Weaver's

Newsletter


An Online newsletter of
"The Andy Griffith Show" Rerun Watchers Club (TAGSRWC)


October 21, 2008







Happy Halloween!!
Boo!…And welcome to our fifth Weaver's Newsletter for 2008!
We have several new items and lots of favorites on Mr. Weaver's shelves in plenty of time for the holidays. And we have bunches ("bunches, bunches") of other news to report, so we'll jump right in.
**** Merchandise Update ****
You can check out our full line of Mayberry items at http://www.weaversdepartmentstore.com, but here are some highlights:
* The Incredible Mr. Don Knotts $27.00 $22.00

Hot Off the Press This Month and at a Really Nice Discount!!
https://www.weaversdepartmentstore.com/index.php?category=26
This brand new, oversized 320-page hardcover book (coffee-table style) is compiled by Steve Cox and Kevin Marhanka. The thoroughly researched book has lots of interviews with people who worked with Don Knotts and has more than 200 photos, including a 16-page section of color photos.
It's a great gift for any Barney Fife and Don Knotts fan to give or receive. And best of all, we've got it for $5.00 off the cover price right out of the gate!
As Barney himself said, "Aw, big ain't the word for it!"
* And Weaver's also has nice deals on these great DVDs of favorite Don Knotts movies—the ideal accompaniment to this fascinating book about Don's film career: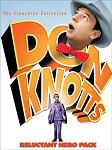 * Don Knotts 4-Movie Reluctant Hero DVD Pack $29.00
https://www.weaversdepartmentstore.com/index.php?category=73
Featuring The Ghost and Mr. Chicken, The Reluctant Astronaut, The Shakiest Gun in the West and The Love God? This super Hero collection of four classic Don Knotts movies from the 1960s on DVD is hard to beat. You get all four movies for a nice price that even cost-conscious Barney Fife would jump at.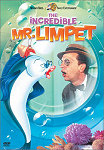 * The Incredible Mr. Limpet DVD $16.00
https://www.weaversdepartmentstore.com/index.php?category=73
This classic film starring Don Knotts and featuring the voice of Elizabeth MacRae is a wonderfully entertaining and innovative use of animation and live action. Includes introduction by Don Knotts and other special features.
* 2009 Andy Griffith Show Wall Calendar $14.00
https://www.weaversdepartmentstore.com/index.php?category=44

After having all color photos in the 2008 calendar, this 2009 edition turns back the clock and has all black-and-white photos, all of which are also from the black-and-white seasons (1960-65).
There's a nice variety of Mayberry characters in this calendar. In addition to Andy, Barney, Aunt Bee, Opie, and Gomer, there are photos of Goober, Floyd, Fun Girl Daphne, and even Mr. McBeevee. Several of these photos have never before been published.
Also, if you haven't gotten your "highly collectible" 2008 Wall Calendar, we still have some left, including in a special combo offer with this 2009 calendar for only $22.00.
* Two Holiday DVDs Featuring Andy Griffith:
* Christmas Is Here Again DVD $15.00 NEW!
https://www.weaversdepartmentstore.com/index.php?category=73
Available Nov. 4. We're taking pre-orders now!
Even Scrooge-like Ben Weaver is excited to offer this new Holiday DVD featuring Andy Griffith as Santa Claus! The all-star cast of voices in this 75-minute animated production includes Ed Asner, Kathy Bates, Shirley Jones, Norm MacDonald and Jay Leno as the narrator.
Enjoy watching the beginning of a new Holiday tradition!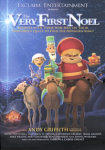 P.S. We also still have a handful left of Andy Griffith's other recent holiday DVD, The Very First NoŽl. $11.00 https://www.weaversdepartmentstore.com/index.php?category=73
Andy tells the story of the first NoŽl, based on the beloved Biblical story. Accompanied by an endearing Hawaiian Christmas carol soundtrack, The Very First Noel has become an instant Christmas classic—drawing families together every holiday season. Length: 23 minutes.
* Andy Griffith's The Christmas Guest book and CD Single $12.00
https://www.weaversdepartmentstore.com/index.php?category=33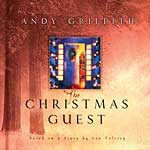 This handsomely illustrated hardcover book measures 6 x 6 inches and has 64 pages.
The hero in this classic story of delight and despair, sacrifice and celebration shows us the beauty of a life where Jesus is not just a guest in the home, but a resident in the heart. Andy Griffith brings new life to this timeless tale. Included in the back cover of the book is a CD, which has a narrative of the story by Andy Griffith.
This CD single also features Andy singing "Go Tell It on the Mountain."
* Otis the Artist's Grab-Bag of Mayberry Art $30.00
https://www.weaversdepartmentstore.com/index.php?maincat=16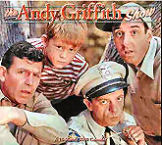 This special Grab-Bag, inspired by Otis and his artistic efforts with mosaics, pieces together several collectible Mayberry items that will add beauty and grace to any wall in home or office...or courthouse cell!
Each of Otis's Grab-Bags contains at least the following:
* 1 Officially Licensed Large Limited Edition Lithograph of Barney Sipping Soda by artist Brad Keim
* 1 2008 "Andy Griffith Show" Wall Calendar
* 2 Oversized Mayberry event posters
* 1 Portrait of Otis (8 x 10)
All proceeds (not just the profits, but 100% of the $30 price) are going toward our annual support of the Surry Arts Council and its Mayberry Days festival in September in Mount Airy, N.C. So with a Grab-Bag purchase, you get a good deal while also supporting a good Mayberry cause!

Classic Barney Necktie $25.00
https://www.weaversdepartmentstore.com/index.php?category=7
This tie is out of production, so it's now even more of a collectible. We've unexpectedly received one last small shipment from the licensed manufacturer. We've got just those few left, and then that'll be it for this popular fashion statement.
This silk necktie features Barney in black and white (it therefore coordinates with any outfit). Anyone who wears this tie is guaranteed to look suave and worldly. Wear it with the old salt and pepper and it'll be just right for the dips. Made with fine silk from the Orient.
* It's Me, It's Me, It's Ernest T. T-Shirt $20.00
https://www.weaversdepartmentstore.com/index.php?category=3
Now you can dress like a rock star! This classic T-shirt was produced in limited quantities under the auspices of Howard Morris, Ernest T. Bass himself. We're proud to be able to offer the last handful of these officially sanctioned shirts honoring this wily and beloved character, a true rocker if there ever was one!
All proceeds from the sale of this shirt are going toward our support of the Surry Arts Council in its work to put on Mayberry Days in Mount Airy, N.C., in September.
Rock on!

* Complete First Season of "Matlock" on DVD $39.00
https://www.weaversdepartmentstore.com/index.php?category=73
After years of anticipation, "Matlock" is finally available on DVD! The first season has 23 episodes plus the movie pilot on seven discs. "Matlock" always had great guest stars, and the first season certainly set the pace with Dick Van Dyke, Roddy McDowall, Billy Bob Thornton, Pipe Laurie, Desi Arnaz Jr., Norman Fell, Billy Zane, Josť Ferrer and lots of other familiar faces. The list price for this set is $50, but we've got it in stock now for just $39.00! Note: Season 2 will be released in January. We'll be stocking it as soon as it's available.
* Barney Fife's Guide to Life Love and Self-Defense $15.00
https://www.weaversdepartmentstore.com/index.php?category=28

This fun 1993 book (hardback, 166 pages) by brothers Len and John Oszustowicz imagines worldly advice coming from the mind of Barney Fife. Nuff said.
The popular book has been out of print for over 10 years and is now a sought-after collectible. We have a few copies from the First Printing that are still in brand new condition. And best of all, we're offering the book for just a few dollars more than the cover price (and less than the annual inflation rate has been.) Get 'em while you can before we change our minds about the price.

And we also have several other classic, out-of-print Mayberry books, including Inside Mayberry, The Official Andy Griffith Show Scrapbook, Mayberry My Hometown, and Aunt Bee's Mealtime in Mayberry. (Those last two titles are in especially pristine condition and even still in their original shrink wrap from their publishers!)
Coming Soon: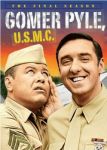 * The final season (the fifth) of "Gomer Pyle, U.S.M.C." is schedule for release on Nov. 25, right before Thanksgiving. We'll be carrying it, along with the other four seasons that we currently stock. We'll begin taking pre-orders on Nov. 1.
**** Widening Our Scope ****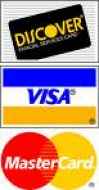 Along with Visa and MasterCard, Weaver's Dept. Store now is set up to accept DiscoverCard.
**** Update on Mayberry's Finest Line of Packaged Foods ****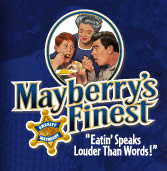 The full line of canned goods and baking mixes is available in about 2,000 stores and also online (with the additional offering of mail-order gift baskets—especially handy for the holidays!) at the Mayberry's Finest Web site at http://www.mayberrysfinest.com. The Web site currently has a partial list of stores and precise locations (organized by state) in its Foley's Market section. Look for them in even more stores soon!
Among the new items expected for 2009.Pickles!!! (We're just holding our breath that they'll be good ol' store pickles and not bad ol' home pickles. With Mayberry's Finest at the helm, we're pretty sure they'll be good ol' store pickles. After all, they will be in stores!)
**** Floyd's Barbershop Bulletin Board & Event Calendar ****
* Oct. 21-26: Ronnie Schell performs at Harvey's Hotel & Casino in Lake Tahoe, Nev.
* Oct. 26: David Browning is on the track to write up any and all speeders at the Atlanta Motor Speedway's NASCAR race in Hampton, Ga. (Better bring an extra ticket book, deputy!)
* Oct. 27: The Plummeting Man: A Conversation with Norman Lloyd (father of Josie Lloyd) at 7 p.m., UNA Performance Center, Florence, Ala. A one-on-one discussion (moderated by Terry Pace) with the legendary Hollywood actor (Saboteur, "St. Elsewhere," Dead Poets Society), director and producer ("Alfred Hitchcock Presents," "The Alfred Hitchcock Hour") and longtime associate of Hitchcock, Charles Chaplin, Orson Welles, Jean Renoir, Lewis Milestone, Martin Scorsese and Curtis Hanson, followed by a book signing of Lloyd's 1993 autobiography, Stages … Of Life in Theatre, Film and Television. The seminar is FREE!
* Oct. 28: Spellbound: The Hypnotic Power of "The Jar" at 7 p.m., UNA Performance Center, Florence, Ala. A screening of the Emmy Award-winning 1964 episode of "The Alfred Hitchcock Hour," based on the classic gothic-horror story by Ray Bradbury. Followed by a panel discussion (moderated by Terry Pace) featuring the show's director, Norman Lloyd, plus George Lindsey, James Best and (via live videoconference) Ray Bradbury. Followed by an autograph session with the stars present. The seminar is FREE!
* Nov. 1-2: Doug Dillard and Rodney Dillard perform during Mayberry Values Days at the Great American Entertainment and Event Center in Ramseur, N.C. Details TBA. Check for updates http://www.thegreatamerican.net.
* Nov. 1-6: A Cruise to Mayberry (click here for more info and photos of past cruises) to the Bahamas aboard Carnival's Fascination ship. This 5-day cruise departs from Jacksonville, Fla., on Saturday, Nov. 1, and cruises to: Nassau, Half Moon Cay, and 2 "Days at Sea" returning back to Jacksonville on Thursday, Nov. 6. The VW Boys are joining the Mayberry family with their mixture of music, magic and comedy. Tribute artists onboard include Ken "Otis" Junkin, Allan "Floyd" Newsome, Bob "Briscoe Darling" Mundy, Jeff "Howard Sprague" Branch, Jamie "Opie" Sullivan, Gary "Gomer" Crain, Tara "Juanita" Spath and Samantha "The Manicurist" Miles. Rates start at $259 plus $179.92 Port Tax per person, based on two per cabin. For more info, call Sharon Euliss at All About Cruises in Burlington, N.C., at 1-800-832-7993. Or e-mail her at PWESJE@aol.com.
* Nov. 20: David Browning is booked for the Friends of Smyth-Bland Regional Library Meeting in Marion, Va. No word yet on whether he'll be reading from Poems of Romance by T. Jonathan Osgood.
* Dec. 15: David Browning is aboard for the 22nd Second Annual Morgan Shepherd Christmas Charity Trip in Stuart, Va., and through the mountains to nearby communities. For more info, visit http://www.morganshepherd.com
2009
* Jan. 23-Feb. 15: Ronnie Schell performs in the musical-comedy revue Don't Leave It All to the Children at Hollywood Playhouse in Hollywood, Fla. For more info, visit http://www.hollywoodplayhouse.com/.
* Mar. 5-9: 12th Annual George Lindsey UNA Film Festival in Florence, Ala. Details TBA.
* Sept. 24-27: 20th Annual Mayberry Days in Mount Airy, N.C. Details TBA, but tickets are available online now for certain parts of the festival at http://www.surryarts.org.
**** News of Cast & Crew ****
Brad Paisley's hit music video "Waitin' on a Woman," which stars Andy Griffith, is nominated for a Country Music Association Award. The "CMA Awards Show" will be broadcast live from Nashville on ABC-TV on Wed., Nov. 12.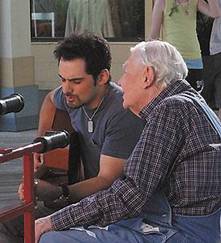 Brad Paisley and Andy Griffith
making the video for "Waitin' on
a Woman."
There's still no release date announced for Play the Game, the movie Andy filmed last fall. The film also features Rance Howard and Clint Howard.
Frost / Nixon, the latest film directed by Ron Howard, will begin opening in theaters on Dec. 5. The movie is based on the hit play about David Frost's interviews with Richard Nixon after he resigned. The film has its world premiere this month at the Times BFI 52nd London Film Festival.
Also, Ron is currently directing Angels & Demons, the sequel to The Da Vinci Code that stars Tom Hanks. The release date is planned for May 2009.
And look for Ron in "Ron Howard, 50 Years in Film," a 90-minute special about his career, on Turner Classic Movies (TCM) in December. It should be a top night.
Doug Dillard, Rodney Dillard, Betty Lynn, Maggie Peterson Mancuso, James Best, Jackie Joseph, LeRoy McNees, George Spence and David "Ernest Too" Morris (son of Howard Morris) were all on hand last month for the 19th Annual Mayberry Days in Mount Airy, N.C.
There were big doin's throughout the four-day event, but the biggest news was the groundbreaking for the Andy Griffith Museum, which will house Emmett Forrest's spectacular collection of Andy Griffith and Mayberry memorabilia. All of the stars and other dignitaries were onstage inside the packed Andy Griffith Playhouse for the ceremony.
Betty Lynn read a beautiful statement by Francey Knotts, widow of Don Knotts. A little later in the ceremony, Maggie Mancuso read a very nice letter from Cindi and Andy Griffith. And then a recorded audio message of Andy Griffith thanking Maggie and congratulating Mount Airy and Emmett was played for all to hear.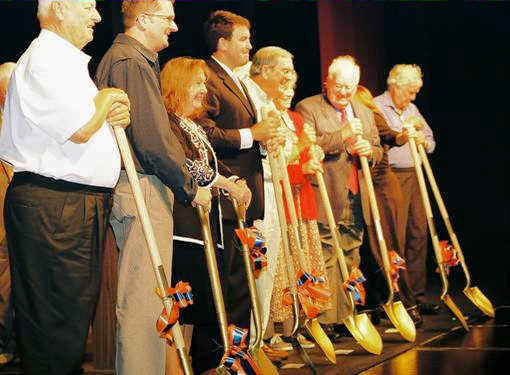 SOMEBODY HAD BETTER CHECK THOSE SQUAD CAR TRUNKS!—
TAGS stars and local officials show that they "dig" the new Andy Griffith
Museum during Groundbreaking festivities in Mount Airy. Among those
seen here are Betty Lynn (third from left), Emmett Forrest (fifth from left),
Maggie Mancuso (in red sweater), Mayor Jack Loftis (red tie) and James
Best (far right).
With a little luck and lots of hard work, by Mayberry Days 2009, we'll all have a sparkling new building to visit when enjoying Emmett's collection. And the museum building will also be home for other arts-related functions that will benefit the local community and visitors.
In addition to donating several nice items that belonged to Don Knotts to Emmett Forrest's collection in Mount Airy, Francey Knotts also recently donated some items to West Virginia University in Morgantown (Don's alma mater and hometown). Among the items was a watch presented to Don by the cast and crew of TAGS when he left the show. (Yes, it's inscribed with "5" on it, and also this message: "See, we thought we'd put 5 on it because you've been here 5 years.")
George Lindsey will be filming a comedy pilot in early November. And later this month he'll be participating with James Best and Norman Lloyd in a seminar about "The Jar," an episode of "The Alfred Hitchcock Hour." (See Floyd's bulletin board above for details.)
Elinor Donahue reports that she and husband Lou have been enjoying traveling and visiting family members all around the country. She says hey to all her friends and fans in Mayberry. She's also scheduled to receive the Gold Circle Award from the National Academy of Television Arts and Sciences honoring her 50 years in television. The presentation of the award will take place next year in Palm Desert, Calif.
Maggie Peterson Mancuso joined Doug Dillard and Rodney Dillard for a sold-out DARE fundraiser in Troy, N.C., in August. More power to 'em!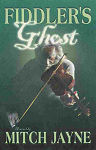 And hearty congratulations to Mitch Jayne, who has been named the 2008 Governor's Humanities Book Award recipient for his novel Fiddler's Ghost. Attaboy, Mitch! He'll receive the award in a ceremony at the Missouri governor's mansion in October. It's just one more testimony that Fiddler's Ghost is a truly great read…especially with Halloween coming up!
Bernard Fox says that he's doing fine and sends greetings to his many friends in Mayberry. If the logistics are favorable, maybe he'll be able to participate in another Mayberry fan event before long. It has unfortunately been a few years now since his last Mayberry outing. He receives a good number of scripts and film offers, but he generally declines more roles than he accepts these days. He's just waiting for one that's a real bobby-dazzler!
James Best recently received the Florida Motion Picture and Television Association's Lifetime Achievement Award at the association's 19th Annual Crystal Reel Awards Gala in Plant City. Way to go, Jimmie!
Richard O. "Dick" Linke called to let folks know that he's doing fine after a serious bout with pneumonia in July. He was in the hospital for several days. He's back close to full speed as he approaches his 91st birthday in October. He and wife Bettina made a rare trip from Hawaii to the mainland the same weekend as Mayberry Days in order to attend homecoming at Ohio University, their alma mater. Dick was toasted by the university that week and was grand marshal of the homecoming parade (he and Bettina rode in a Mayberry squad car replica).
Other Noteworthy News:
* Event organizer and Howard Sprague tribute artist Jeff Branch received TAGSRWC's Mayberry Friendship Award during the fan club's Annual Meeting during Mayberry Days. And Deloris Cummings of "Hearty Eatin' Men and Beautiful, Delicate Women" chapter (Tuscaloosa, Ala.) received the Jim Schwenke Memorial Award. The two awards are the highest honors presented by TAGSRWC each year. Congratulations to Jeff and Deloris, two very deserving recipients!
* The Taylor Home Inn (an official "Andy Griffith Show" licensee) is featured in the Winter issue of Out Here, the newsletter for Tractor Supply Co. You can pick up a copy, while they last, at any Tractor Supply Co. store. And you can read the story and take a Mayberry trivia quiz online at http://TractorSupply.com/OutHere. (Once there, click on the link that says "Now Available at Your Local Tractor Supply store" to get to the online version of the story about the Wisconsin B&B. The Mayberry quiz is found through a separate link.)
* The Mayberry Days Silent Auction (sponsored by the online members of TAGSRWC) raised $2,542, funds that will be earmarked by the Surry Arts Council for Mayberry Days. Thanks to all who donated items, helped with manpower and bid on items. And a special thanks to Jeff Koontz, organizer of the auction.
**** POST NOTE ****
Between issues of the Weaver's Newsletter, keep up with the goin's-on in Mayberry with the more-or-less daily "Who's Been Messin' Up the Bulletin Board?" Digest. It's a free subscriber list that consists entirely of comments, news flashes, and questions and answers from subscribers. You can sign up for that list by going to the "Mailing Lists" link at https://www.tagsrwc.com/.
TAGSRWC also publishes The eBullet in more or less alternate months to the Weaver's Newsletter. The eBullet is the online successor to our longtime printed newsletter, The Bullet. Like the Weaver's Newsletter, The eBullet is free. It includes some of the same news as the Weaver's Newsletter, but with more features and depth and a little less emphasis on merchandise news. To sign up, go to https://www.tagsrwc.com/ebullet/joinebullet.htm.
TAGSRWC's other main vehicle for Mayberry information is simply our Web site at http://www.tagsrwc.com. It has extensive content and links for just about everything a Mayberry fan might be looking for.
The next issue of Weaver's Newsletter is scheduled for December (with an eBullet coming out in November).
That's all for now. We hope you have fun browsing at Weaver's and visiting http://www.mayberry.com.
To unsubscribe from Weaver's Newsletter enter your subscription email address: