Weaver's Newsletter
An Online newsletter of
"The Andy Griffith Show" Rerun Watchers Club (TAGSRWC)
July 3, 2006

Welcome to our third issue of the Weaver's Newsletter for 2006!
PRODUCT NEWS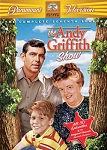 * The Complete Seventh Season of "The Andy Griffith Show" is scheduled for release on DVD on Aug. 29. We'll begin taking pre-orders at Weaver's on Aug. 1. We'll have some combo offers as well as the Seventh Season by itself. Rumor has it that the Eighth and final season will be released in December, but CBS hasn't made an official announcement yet. It's also rumored that the first DVD release of "Gomer Pyle, U.S.M.C." might happen in December, but again, there's not an "official verification" yet.
Here's a sneak peek at the artwork for the Seventh Season DVD box:
**** NEW PRODUCTS ****
We have one new Mayberry-related product since our last Weaver's Newsletter. Also, if you're a fan of Superman, check out some of our Super products in the Other TV Classics section at Weaver's https://www.weaversdepartmentstore.com/index.php?maincat=62
But here is the newest Mayberry-oriented item:
* The Dillards Early Recordings-1959
https://www.weaversdepartmentstore.com/index.php?category=37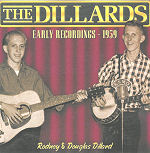 This CD contains the earliest existing recordings by Doug and Rodney Dillard, before The Dillards group was even formed. (Vocals and astonishing picking tracks by Dillards mandolin player Dean Webb were added later.)
These recordings were found deep in the Dillards Archives. That is to say, Doug stumbled across them in a forgotten box in a closet one recent day. These recordings were made at Doug and Rodney's home (they always got good sound in there) in St. Louis when Doug was 21 and Rodney was just 16. The music and the musicianship (and the musicians!) are crisp and pure...and already oh-so fast. These first serious and permanent recordings of Doug and Rodney are the rarest of recordings of the two bluegrass and folk music legends.
We're tickled to offer this wonderful collection, which has been re-mastered for extry good modern-day listening that'll make you want to dance till your stockings are hot and raveling...assuming that the licks and vocals don't knock your foot coverings completely off right from the get-go, which they very well just might do.
Here are the tunes on this CD:
1. Banjo in the Hollow
2. Old Blue
3. Rainbow
4. Katy Cline
5. West Virginia Blues
6. John Hardy
7. It's Rainin' Here This Morning
8. Watermelon on the Vine
9. Old Man at the Mill
10. Cannonball Blues
**** Other Recent Products ****
* Sixth Season DVDs
The Complete Sixth Season of "The Andy Griffith Show" was released on DVD on May 9. We've got the set by itself and in combos (including a box set of the first six seasons).
The Sixth Season introduces the characters of Warren Ferguson and Howard Sprague. Barney Fife appears in the first two of his five episodes in color. This season also includes Ernest T. Bass and Malcolm Merriweather together in their final appearances, Morgan Brittany, Jamie Farr, Ronnie Schell, Keevy Hazelton, Wyatt Earp, one of only two color episodes with Otis, and the only multi-episode story arc of the entire series with the Taylors' trip to Hollywood. There's a whole lot to enjoy about this key season of life in Mayberry.
Here are offers from Weaver's for the Complete Sixth Season DVD sets:
* Sixth Season Special #1: Warren's E.S.P. Sixth Season Combo $40.00
This is the same straightforward combo of a season on DVD and a trading-card set that we've offered for the releases of the previous five seasons, but it's as square a deal as ever, and we're proud to offer it again. We know you knew we were going to offer this combo again. It just makes a lot of Sixth sense!

* Complete Sixth Season of "The Andy Griffith Show" on DVD
* Complete Set (factory sealed) of Series 2 of "The Andy Griffith Show" Trading Cards (110 cards; rare collectible, out of production since 1992)
The price for both the DVD set and the card set is only $40.00, which once again is the suggested retail price of the DVD set by itself.
* Sixth Season Special #2: Howard's County Clerk Calendar Combo $42.00
O.K., so you've dragged your feet about getting the 2006 Wall Calendar long enough. Obviously, no one took all your hints about giving you one. You've still got several months left in the year to enjoy using the calendar. And once the year's over, you'll have yourself a genuine collectible that'll be usable again in just eleven years. Here's Howard Sprague's offer:
* Complete Sixth Season of "The Andy Griffith Show" on DVD
* 2006 "Andy Griffith Show" Wall Calendar
By themselves, theses items have a suggested price of $53.00, but with this combo, you get both together for just $42.00. Hurry and get in on this deal before the County Clerk realizes his mathematical error!
* Sixth Season Special #3: Miss Crump's Happy Homework Combo $52.00
We really can't believe Miss Crump talked us into this offer, but she really wants to encourage summer reading when school's out. Here's the deal:

* Complete Sixth Season of "The Andy Griffith Show" on DVD
* Set of Back Issues of The Bullet and The Pocket
The Set of Back Issues includes at least 30 issues of TAGSRWC's Bullet newsletter that were published between 1991 and 2001, and at least nine issues of The Pocket, the smaller successor to The Bullet. In all, the newsletters contain a whopping 600+ pages of reading, including in-depth interviews and profiles of the show's cast and crew, Professor Brower's Class discussions of episodes, trivia, recipes, news (now history), and lots of exclusive photos. Back issues of The Bullet are usually $2 each or $30 when purchased as a set with the issues The Pocket. But you can get the set in this deal that also includes the Complete Sixth Season DVD Set for just $52.00. We thought Howard Sprague went wild with his Calendar Combo until Miss Crump came up with this one. She's completely off her rocker. She just wants us to read so much! Make Miss Crump proud, and maybe you'll get a diploma for learning just like Ernest T. did.
* Complete Sixth Season of "The Andy Griffith Show on DVD $32.00
This is our no-frills offer with all 30 episodes that make up the Complete Sixth Season DVD, all by themselves at a great price. The suggested retail price is $40.00, but we're offering the set for 20% off that price, $32.00.
* Box Set of the Complete First Six Seasons of "The Andy Griffith Show" $197.00
The Complete First, Second, Third, Fourth, Fifth, and Sixth Seasons of the show (a total of 189 episodes) are included in this box set. The suggested retail price is over $240.00. Ol' Ben Weaver is wringing his hands, but we got him to knock our price down to just $197.00 or about 20% off. What a collection!

* Mayberry Trio Silk Necktie
https://www.weaversdepartmentstore.com/index.php?category=7
This new necktie is 100% silk and features three of Mayberry's finest in black and white. And it's at a fine price, too-just $18.00 at Weaver's.
* Mayberry Moments, Volume 1 CD by Rodney Dillard (liner autographed by Rodney) $15.00
https://www.weaversdepartmentstore.com/index.php?item=151
Listen to a Darlin' Boy talk! Rodney Dillard finds inspiration for lessons in episodes of "The Andy Griffith Show." In 25 one-minute segments that were originally syndicated radio broadcasts, Rodney recalls scenes and episodes and applies them to daily living. While those Darling boys weren't talking, they obviously were doing more thinking than some folks gave them credit for.
**** EVENT CALENDAR ****
* July 5: David Browning is on the move in the Summer Motion Festival in Ashland, Ky.
* July 7: David Browning aims for the stars at the Greeneville (Tenn.) Astros baseball game.
* July 8: Doug and Rodney Dillard perform at the Old Mill Bluegrass Festival in West Liberty, Ky. Tickets and info will be available at (606) 743-4407. (Rodney and Beverly Dillard will also perform a Gospel show on July 9 in conjunction with the festival.)
* July 13: David Browning does a double-take with the Elizabethton (Tenn.) Twins baseball game.
* July 14: David Browning slides in for another appearance with the Salem (Va.) Avalanche baseball game.
* July 15: George Lindsey performs with the Cornfield Country Show at the Dragon's Dome in Pekin, Ill. For more info, visit the venue's Web site at http://www.dragonsdome.com/
* July 15: David Browning leads the fun at the Blue Ridge Jamboree at the Andy Griffith Playhouse in Mount Airy, N.C.
* July 15 and 16: Betty Lynn and Ronnie Schell are scheduled to appear at the Hollywood Collectors & Celebrities Show at the Hilton Burbank Airport Hotel and Convention Center in Burbank, Calif. For updates and more info, visit http://www.hollywoodcollectorshow.com/
* July 20: David Browning gets a line and a pole and heads down to Mayberry Night at the Hickory (N.C.) Crawdads baseball game.
* July 22: Doug and Rodney Dillard are joined by Maggie Peterson Mancuso for two performances at the Oakboro Music Hall in Oakboro, N.C. Show times are 2:30 p.m. and 8 p.m. Reserved seats are $20; General Admission tickets are $18. For more info, visit http://www.oakboromusichall.com/
* July 22: James Best is special guest for the Alexandria (Wis.) Beetles baseball game.
* July 26: James Best shines at the Mankato (Minn.) Moondogs baseball game.
* July 29: 6th Annual Mayberry Squad Car Nationals in Graysville, Ala. Details TBA. Check the Event Calendar at www.mayberry.com for updates in the next couple of weeks.
* July 29: James Best is on hand for the quack of the bats at the Madison (Wis.) Mallards baseball game.
* July 31: James Best roars in for the Thunder Bay (Ont.) Border Cats baseball game.
* Aug. 5: George Lindsey performs with the Hagars at the Crystal Grand Theatre in Wisconsin Dells, Wis. Show times are 3:00 and 8:00 p.m. For more info, visit http://www.crystalgrand.com/ .
* Aug. 5: David Browning scouts Mayberry Night at the Danville (Va.) Braves baseball game
* Aug. 8: David Browning packs heat at the Princeton (W.V.) Devil Rays baseball game.
* Aug. 9: David Browning jockeys for position at the Lexington (Ky.) Legends baseball game.
* Aug. 11: David Browning finds makes a Rome (Ga.) run with the Braves baseball game.
* Aug. 11-13: James Best is guest for the Super Summer Cruise car show at Shepherd of the Hills in Branson, Mo. For more info, visit http://theshepherdofthehills.com/.
* Aug. 17: Guess who's on patrol at the Bristol (Va.) White Sox baseball game.
* Aug. 18: Mayberry Night at the Oakboro Music Hall in Oakboro, N.C. David "Mayberry Deputy" Browning, Allan "Floyd" Newsome, Kenneth "Otis" Junkin, Phil "Ernest T." Fox, Jamie "Opie" Sullivan, and a Darlings-style band are among those joining host Jeff "Howard" Branch for the lively show. Reserved seats are $18; General Admission tickets are $16. For more info, visit http://www.oakboromusichall.com/.
* Aug. 19. David Browning keeps things snappy at the Blue Ridge Jamboree at the Andy Griffith Playhouse in Mount Airy, N.C.
* Aug. 24-26: David Browning is off to the races at the Bristol Motor Speedway.
* Aug. 29: Release date for the Complete 7th Season of TAGS on DVD. Weaver's pre-orders begin Aug. 1.
* Sept. 2: David Browning rubs everybody the right way at the Mississippi Braves baseball game in Pearl.
* Sept. 9 and 10: James Best is guest star at the Marigold Festival in Pekin, Ill.
* Sept. 21-24: 17th Annual Mayberry Days in Mount Airy, N.C. Stars announced so far include Doug and Rodney Dillard, Betty Lynn, Maggie Peterson Mancuso, LeRoy McNees and George Spence. Visit http://www.surryarts.org/or http://www.mayberrydays.org/ for more info as it becomes available.
* Oct. 23 -27: Mayberry Cruise to the Caribbean aboard Carnival's Fascination ship. The 4-day cruise departs Miami for Key West, Cozumel, and a day at sea. Maggie "Charlene Darling" Peterson Mancuso and Dobro-playing Country Boy LeRoy McNees (from the episode "Mayberry on Record" and a regular at Mayberry Days) have been confirmed to be cruising. Neal Brower, Author of Mayberry 101 will present Professor Brower's Lecture. Tribute artists Allan "Floyd" Newsome, Phil "Ernest T." Lee, Kenneth "Otis" Junkin, Tim " Goober" Pettigrew, Jeff "Howard" Branch, Jamie "Opie" Sullivan, and Bob "Briscoe" Mundy will also be cruising. Other Mayberry stars and "tribute artists" TBA. Rates start at $249 plus $132 Port Tax per person, based on two per cabin. For more info, visit http://www.mayberry.com/tagsrwc/wbmutbb/anewsome/private/cruise.htm or call Sharon Euliss at All About Cruises in Burlington, N.C., at 1-800-832-7993. Or e-mail her at PWESJE@aol.com.
Remembering Mayberry Great Harvey Bullock
By Jim Clark
Mayberry sadly lost another giant and more than that, a grand friend, when extraordinary writer Harvey Bullock died on April 23. He was 84.
If you haven't already done so, I encourage you to read about Harvey's wonderful life and career on our www.mayberry.com Web site. We have included a detailed obituary and other information compiled by Webmaster Allan Newsome, Harvey's family, TAGSRWC, and the Writers Guild of America. There's also a link to our Memorial Page for Harvey, where you are invited to leave your comments and read those left by others, including Harvey's son, Andy.
A memorial "party" for Harvey at his home on April 29 was a lovely send-off for a wonderful human being. The day before the memorial gathering, Harvey's family had scattered his ashes at sea in front of his cliff-top home overlooking the Pacific. The next day, the home was filled with friends-folks that one could tell were longtime friends who truly knew the magic of having Harvey in their lives. Several friends (including Andy Griffith) and members of Harvey's family shared favorite memories about Harvey
The gathering concluded with the beckoning sound of horns and drums out in front of the house. Everyone then went outside to hear a local marching band in full Duke-style blue-and-white uniforms paying tribute to Harvey with several tunes. One lanky saxophone player was wearing more than a Duke-style uniform. He was wearing Harvey's actual Duke uniform from the college days when Harvey was drum major. When the sax player stepped forward for his finale solo, the full emotion of the occasion was delivered.
Having a marching band was the perfect exclamation point for Harvey's farewell party. (He and wife Betty actually had hired a marching band once before for a party.) This man who gave us 31 classic episodes of TAGS (including "The Pickle Story," "Mr. McBeevee," "The Haunted House," "Opie the Birdman" and all of the Malcolm Merriweather episodes) had as much creative brilliance, curiosity about life and genuine interest in people as any person I've ever known. Just his writing...just his Mayberry writing...just "Opie the Birdman"...even just those last two lines of the second act of "Birdman" are enough to rank him as a legendary force.
But Harvey Bullock did so much more. He made whimsical walking canes with training wheels and wooden neckties that were works of art that seemed almost practical. He built Opie birdhouses (including a load of them for TAGSRWC to use as a fund-raiser for Hurricane Andrew relief in 1992.) Harvey even built an electric miniature marching band/flag-waving machine that plays "The Stars and Stripes Forever." He easily could have been a leading engineer or physicist if playing with words hadn't intrigued him so.
One of the things about Harvey that was beyond words was his generosity. He was an encouraging and patient cheerleader for would-be writers, including me. He would sometimes ask me questions, such as, "When you write, do you use an outline?" I had a sense that he had real interest in knowing the methods of other writers. Of course, the real lesson in that question in my case was that it also was not just a question. It was a gentle, instructive tip by one of the greatest writers of all time. Rewritten, that question was an answer: "Jim, none but a blockhead would dare venture to build a career as a writer without regularly using the fundamental tool of an outline."
The black-and-white group photo accompanying this column is from a trip to Harvey and Betty's home that Neal Brower and Jim Ballance (both members of Barney chapter in Greensboro, N.C.) and I made in 1997. Shortly after we arrived, Harvey bestowed the oversized, goofy sunglasses upon us. He had a stash of them in a desk drawer in his office. When you were around Harvey, it seemed the most natural thing in the world to wear those glasses. To this day, I keep my pair on my top of computer monitor. I wear them from time to time, especially when I feel a moment of need for some Harvey-ish inspiration when writing. Lately, I'm wearing them a lot.
For our bedtime reading while we were guests at the Bullocks' home, Harvey allowed us full access to his original TAGS scripts. Imagine our delight. "Mr. McBeevee" (which Harvey's script called "Mr. McTeevee") was my first and still strongest memory of a TAGS episode. The opportunity to read the original script under the roof of the man who created it seemed as make-believe as Mr. McBeevee himself might have been. And yet the experience was also every bit as real and wonderful as Mr. McBeevee turned out to be.
And for those fans and friends of Harvey who might have sent him letters, photos and other items over the years, you can be sure that those items were truly appreciated and cherished by Harvey. Glancing around Harvey's home office during his memorial party, I recognized several items from TAGSRWC members and other friends in Harvey's life. (Tim White of the VW Boys, if you're reading this, you'll be proud to know that one of the jars of Tennessee Pickled Possum that you once gave to me was passed along to the "Pickle Story" writer and was prominently displayed in his office.) Elegant writer that he was, Harvey knew what was important to keep and what should be discarded both on paper and in life. Fake pickled possum he knew to be a keeper.
Those are just a few of so many special memories about Harvey. My goodness...how about his hilarious letters that many friends and fans were fortunate to receive as they corresponded with him over the years. They were as priceless as his episodes.
Please drop by our mayberry.com site to read some more about this special man, his family, and his amazing, golly-wobbler of a life that was filled to the rim with the magic of "Tuscarora!"
TAGSRWC has made a donation in memory of Harvey to the family's designated charity, the Duke University Marching Band. We encourage others who are so inclined to do the same. Checks should be made payable to Duke University with a memo or cover note earmarking the check as a "Memorial gift in honor of Harvey Bullock for the Marching Band Special Projects Fund." Mail your donation to:
Duke University Alumni Records
Box 90581
Durham NC 27708
TAGSRWC also plans to participate in a Mayberry-related memorial gift to honor Harvey. Pending family approval, we should have details ready in time for the July eBullet.
In the meantime, we are left to ponder how it is that, even though our earthly "cage sure looks awful empty," don't the heavens "seem nice and full."
Don Knotts: Celebration of a Life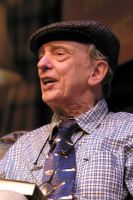 Arriving from at least 10 states, several hundred friends of Don Knotts joined members of his family at the Writers Guild Theater in Beverly Hills on May 4 for a reception and "Celebration of a Life." It was an evening of many laughs and also thoughtful reflection about the life of a man who touched countless lives.
Ron Howard opened the evening with some of his memories about knowing and working with Don. After laying a solid foundation for the evening, Ron then introduced Andy Griffith who shared some of the funny and poignant moments of a deep friendship that remained strong for more than 50 years. Betty Lynn also stepped to the podium and eloquently shared some of her touching memories about not only working with Don, but the caring friendship that continued until Don's death.
A person couldn't ask for three better friends to offer eulogies. On this evening, there would be 18 more, ranging from childhood friend Richard Ferraro to TV Land president Larry Jones, from Tom Poston and Bill Dana to Bob Newhart and Tim Conway. Other speakers with Mayberry ties were Al Checco (who appeared in two episodes and was also an Army buddy of Don's) and Ronnie Schell, who, as master of ceremonies, kept the evening moving beautifully.
Among those with Mayberry connections who were on hand to pay their respects were Earle and Laura Hagen, Maggie Peterson Mancuso, Betty Bullock, Bernard and Jacquie Fox, Rance and Judy Howard, Clint and Melanie Howard, Barbara Eden, and writer Sam Bobrick. George Lindsey, Jr., was also in attendance to represent his family.
Saying goodbye to someone as beloved as Don Knotts could never be easy, but celebrating his life with the memories of some of the many others who miss him created an exceptionally fitting tribute. As Francey Knotts and other family members led a champagne toast to Don to wrap the evening's eulogies, there was a sense of joy in the recognition of a man who lived a happy life and made a significant, positive difference in our world.
Before and after the program in the theater, those attending were able to mingle and visit in the reception area where the centerpiece was an ice sculpture of Mr. Limpet (as a fish), complete with wire-rim glasses. Don had to be smiling down at that.
TAGSRWC is still cogitating about the precise nature of a charitable donation to be made by our organization in memory of Don. We have some thoughts about what would be an appropriate tribute for us to do. We do know that a portion of our memorial gift will go to the American Lung Association.
**** NEWS OF CAST & CREW ****
Jim Nabors was inducted into the Alabama Stage and Screen Hall of Fame in a gala event on the campus of Tuscaloosa's Shelton State Community College on April 22. Mayberry-related guests on hand for the tribute included Maggie Peterson Mancuso and Jim's "Gomer Pyle, U.S.M.C." co-stars Ronnie Schell (a superb emcee for the evening), Elizabeth MacRae and Barbara Stuart. HBO Sports exec Rick Bernstein also was inducted.
The night before the induction, Maggie, Ronnie, Elizabeth and Barbara were joined by Doug and Rodney Dillard and their band, plus eight Mayberry tribute artists for a lively Mayberry Variety Show at Shelton State. Jim Nabors was in the audience for that show and also made some gracious remarks from the stage.
In an evening of many highlights, the show-stopper that night was Elizabeth's intentionally atrocious recreation of Lou Ann Poovie's singing of "That Old Black Magic" on "Gomer Pyle, U.S.M.C." Dressed in a swanky red evening gown (with a hot-pink feather boa), she held back nothing as she sashayed, gestured and belted out that song with all her heart to her beloved "Guh-om-er." "Well, act-u-al-lee," she had the whole audience under her spell. Even so, when she looked ready to continue with a second number, Miss Bunny climbed on the stage, armed and ready to spare the audience's ears any further misery.
The combination of the fun variety show one evening and the festive Hall of Fame induction the next evening made for a thrilling, memorable weekend for several hundred friends and fans from near and far.
Speaking of near and far, George Lindsey returned from a performance in North Dakota just in time to catch his breath and head to Alabama, where he was inducted into the Walker County Athletic Hall of Fame on May 19. (George was a cheerleader and played football at Walker County High and went on to play college football at Florence State, now the University of North Alabama.)
Betty Lynn was one of six inaugural inductees into the Missouri Walk of Fame at the Cherry Blossom Festival in Marshfield in April. The other prominent Missourians honored with a star on the Missouri Walk of Fame at the Webster County Museum were The Unsinkable Molly Brown, President Harry Truman, author Laura Ingalls Wilder, astronomer Dr. Edwin P. Hubble and Mickey Carroll (surviving Munchkin from 1939's The Wizard of Oz. Family members of 26 U.S. presidents were on hand for the festival.
Betty also appeared at the highly successful Mayberry in Tuscaloosa fund-raiser for Eagles' Wings in June. She was joined by Keith Thibodeaux (Johnny Paul Jason), the VW Boys and several Mayberry tribute artists.
That same weekend Peggy McCay (Andy's high school sweetheart Sharon DeSpain) delighted her fans with an appearance at a fund-raiser for the Elephant Sanctuary in Only, Tenn.
Doug and Rodney Dillard have had an active touring schedule so far this year. One of the highlights was their first-ever performance at MerleFest, the venerated music festival in Wilkesboro, N.C. It was especially nice that Maggie Mancuso was able to join them for a few tunes. And doubly nice for Maggie (and the audience!) was that festival host Doc Watson invited her to join him on stage to sing with him during one of his sets. Big!
We're sad to report that actress Alberta Nelson Gilman, who appeared in four episodes of TAGS, passed away on April 29 in Millcreek, Penn. She was 68.
Billed as Alberta Nelson before her 1971 marriage to Herbert Gilman, she first appeared on TAGS as Nettie Albright in "The Return of Barney Fife" (Episode 176). She later appeared in three episodes as diner waitress Flora Malherbe: "Eat Your Heart Out" (Episode 182), "Goober's Replacement" (Episode 186) and "Emmett's Anniversary" (Episode 245). She also appeared as Flora in one episode of "Mayberry R.F.D."
Her published obituary tells us that Alberta Nelson was born on August 14, 1937, daughter of the late Frank and Catherine Nelson. She attended Villa Maria Academy and later graduated from Andrews High School in Willoughby, Ohio. As an actress, she performed on Broadway (Once There Was a Russian and The Wall) and at the Erie Playhouse and the Erie Roadhouse. Her Hollywood movies included several of the "bikini" beach flicks of the 1960s, most notably Pajama Party (1964) and Beach Blanket Bingo (1965). She also appeared in a 1965 episode of "The Dick Van Dyke Show."
Alberta's family reports that she loved flowers, books, and needle working. In addition to her husband, she is survived by a loving family, including Linda Ochin; Bob Gilman and his wife, Joyce; Cathy Chester and her husband, Mike; three grandchildren; and one great-grandchild. She is also survived by her uncle, George Machuga, and his wife, Jean, and many close friends. Memorials may be made to Shriners Hospitals for Children, 1645 W. 8th St., Erie, PA 16505.
**** MORE MERCHANDISE INFO ****
You can find Mr. Weaver's full lineup of items at https://www.weaversdepartmentstore.com. (Or go to http://www.mayberry.com and click on the Weaver's link at the top of the front page.)
We also have our phone order line available for shopping convenience. The number is (615) 604-1298. Our phone line has part-time hours. It is generally manned Mon.-Sat., 9 a.m.-6 p.m. CT, but there will not always be somebody there even during those times. However, you can always leave a message 24 hours a day and we'll call you back "on our nickel" to get your order at a time convenient to you. And of course you can always order online or by mail any time.
You can find most of our items at our location on the third floor of the Main-Oak Emporium at 245 City Hall Street in Mount Airy, N.C.
**** POST NOTE ****
Between issues of the Weaver's Newsletter, keep up with the goings-on in Mayberry with the more-or-less daily "Who's Been Messin' Up the Bulletin Board?" Digest. It's a free subscriber list that consists entirely of comments, news flashes, and questions and answers from subscribers. You can sign up for that list by going to the "Mailing Lists" link at http://www.tagsrwc.com/.
TAGSRWC also publishes The eBullet in more or less alternate months to the Weaver's Newsletter. The eBullet is the online successor to our longtime printed newsletter, The Bullet. Like the Weaver's Newsletter, The eBullet is free. It includes some of the same news as the Weaver's Newsletter, but with more features and depth and a little less emphasis on merchandise news. To sign up go to http://www.tagsrwc.com/ebullet/joinebullet.htm.

TAGSRWC's other main vehicle for Mayberry information is simply our Web site at http://www.tagsrwc.com. It has extensive content and links for just about everything a Mayberry fan might be looking for.
The next issue of the Weaver's Newsletter is scheduled for late August (with an eBullet coming out in the meantime, around late July).
That's all for now. We hope you have fun browsing at Weaver's and visiting http://www.mayberry.com.
UNSUBSCRIBE INFORMATION:
To Unsubscribe from the Weaver's Newsletter,
visit this link
and scroll to the bottom of the page to enter e-mail address which is subscribed.