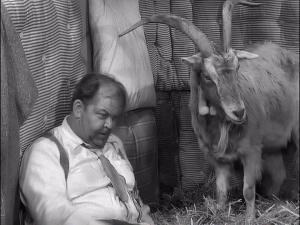 "Uncle Nat! You're not Uncle Nat....you're a goat!" - Otis Campbell
Weaver's is proud to have been chosen as the Official online retailer of Loaded Goat merchandise! The Loaded Goat is a family friendly, veteran-owned, sports pub & grill in Andy Griffith's hometown of Mount Airy, NC.

"Jimmy" is the mascot for The Loaded Goat and has a striking resemblance to Otis' uncle Nat. This fun "Jimmy" design has been a hit from the first time it was spotted on the official t-shirts of The Loaded Goat employees. So much so that patrons asked to buy the tees for themselves. Here's your chance to have one (or two) of your very own.
Only $5 shipping and handling PER ORDER (not per item) by U.S. Mail.
Express Shipping by UPS (extra charge applies) upon request.
Registration/Login are NOT required in order to shop at Weaver's.
Sales at Weaver's online help support all TAGSRWC activities and also go toward our helping out with a wide variety of Mayberry events and occasions. So when you're looking for gifts to give your favorite Mayberry fan, thanks for thinking of us. We appreciate it.