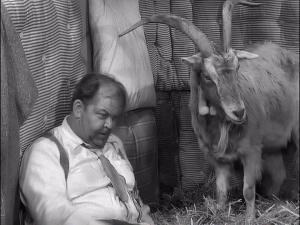 "Uncle Nat! You're not Uncle Nat....you're a goat!" - Otis Campbell
Weaver's is proud to have been chosen as the Official online retailer of Loaded Goat merchandise! The Loaded Goat is a family friendly, veteran-owned, sports pub & grill in Andy Griffith's hometown of Mount Airy, NC.

"Jimmy" is the mascot for The Loaded Goat and has a striking resemblance to Otis' uncle Nat. This fun "Jimmy" design has been a hit from the first time it was spotted on the official t-shirts of The Loaded Goat employees. So much so that patrons asked to buy the tees for themselves. Here's your chance to have one (or two) of your very own.